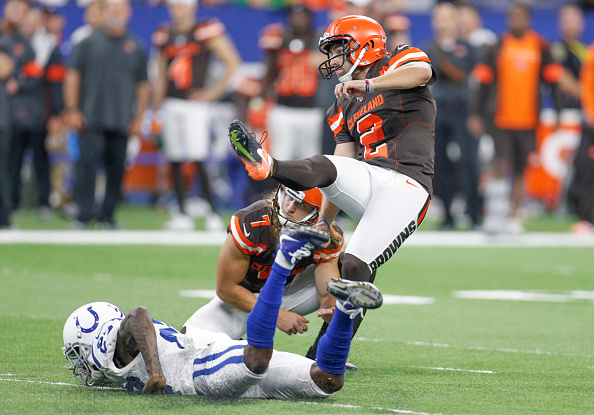 Coming into training camp, there were two areas of concern on the Cleveland Browns' roster – kicker and right guard.
Less than three weeks away from the regular season opener, said areas of concern still aren't resolved. In fact, you could argue they've gotten worse.
Cleveland continues to search for answers when it comes to its two biggest roster issues, as competitions for each position have yielded no clear winners. It goes without saying these red flags are worrisome, especially so when you consider the fact the Browns are the ones who created them in the first place.
Right guard became a question mark the second GM John Dorsey traded Kevin Zeitler back in March. The assumption that unproven Austin Corbett could pick up the slack left behind felt lofty back then, and seems laughable five months later.
Corbett has been all but eliminated from the running at right guard. He received zero snaps at the position during last Saturday's preseason game against the Indianapolis Colts, despite playing into the fourth quarter. Instead, he served as Cleveland's center, often sending QB Garrett Gilbert jumping after botched snaps.
Corbett's struggles have been well-documented. However, when looking at the hole Cleveland is dealing with at guard, the problems start the team's handling of him.
The Browns banked on an unproven player to replace one of the league's better guards. In doing so, they set themselves up for trouble if he ended up not panning out. This appears to be what we're seeing now, forcing Cleveland to hope Eric Kush, Kyle Kalis or newcomer Drew Forbes can not only win the job, but do so convincingly.
It's safe to say we're not close to seeing that take place, especially with coach Freddie Kitchens continuing to insist he's in no hurry to name a starter.
As for kicker, Cleveland was wise to create a competition there. That said, the way the team went about it likely has a hand in the struggles we've been seeing.
The Browns decided to spend a fifth-round pick on Oklahoma kicker Austin Seibert, intending to create some pressure on incumbent Greg Joseph. While the latter performed admirably after Cleveland acquired him early last season, he still left a lot to be desired.
Despite this plan making sense on paper, it's created a situation where neither kicker is standing out.
Kicking update: both 4-6
Austin Seibert: 27✅, 33✅, 37❌, 48✅, 53❌, 56✅

Greg Joseph: 27✅, 33✅, 37✅, 48✅, 53❌, 56❌

— Daryl Ruiter (@RuiterWrongFAN) August 19, 2019
Both Joseph and Seibert appear to be dealing with a serious case of the yips. Instead of one out-performing the other, both continue to mix makes with misses.
It doesn't feel like a leap to think both kickers are buckling under the burden created by Cleveland's competition.
Joseph likely feels increased pressure knowing he's suddenly fighting for a roster spot after spending 14 games with the team last year.
Meanwhile, Seibert is dealing with increased expectations thanks to the Browns feeling he was talented enough to merit using a draft pick on him.
To be clear, the Browns weren't wrong in attempting to resolve their kicking position through competition. In doing so, though, they've effectively shaken the confidence of the two guys vying for the job.
Kitchens is apparently still willing to count on either Joseph or Seibert running away with the competition, as he claims Cleveland won't be bringing in additional kickers.
While that's commendable encouragement, one of these two better start standing out soon. The last thing the Browns need is to give a roster spot to a kicker because he wasn't as bad as the guy they cut.
Bottom line – the regular season is fast approaching, yet Cleveland is still miles away from resolving the two biggest holes on its roster.
The player we expected to play right guard is closer to being cut than he is to getting the starting gig.
The pressure of Cleveland's kicking competition has created too much anxiety for either competitor to deal with.
The Browns may have had good intentions with their approaches to guard and kicker. Right now, though, said approaches are backfiring in a bad way.

NEO Sports Insiders Newsletter
Sign up to receive our NEOSI newsletter, and keep up to date with all the latest Cleveland sports news.