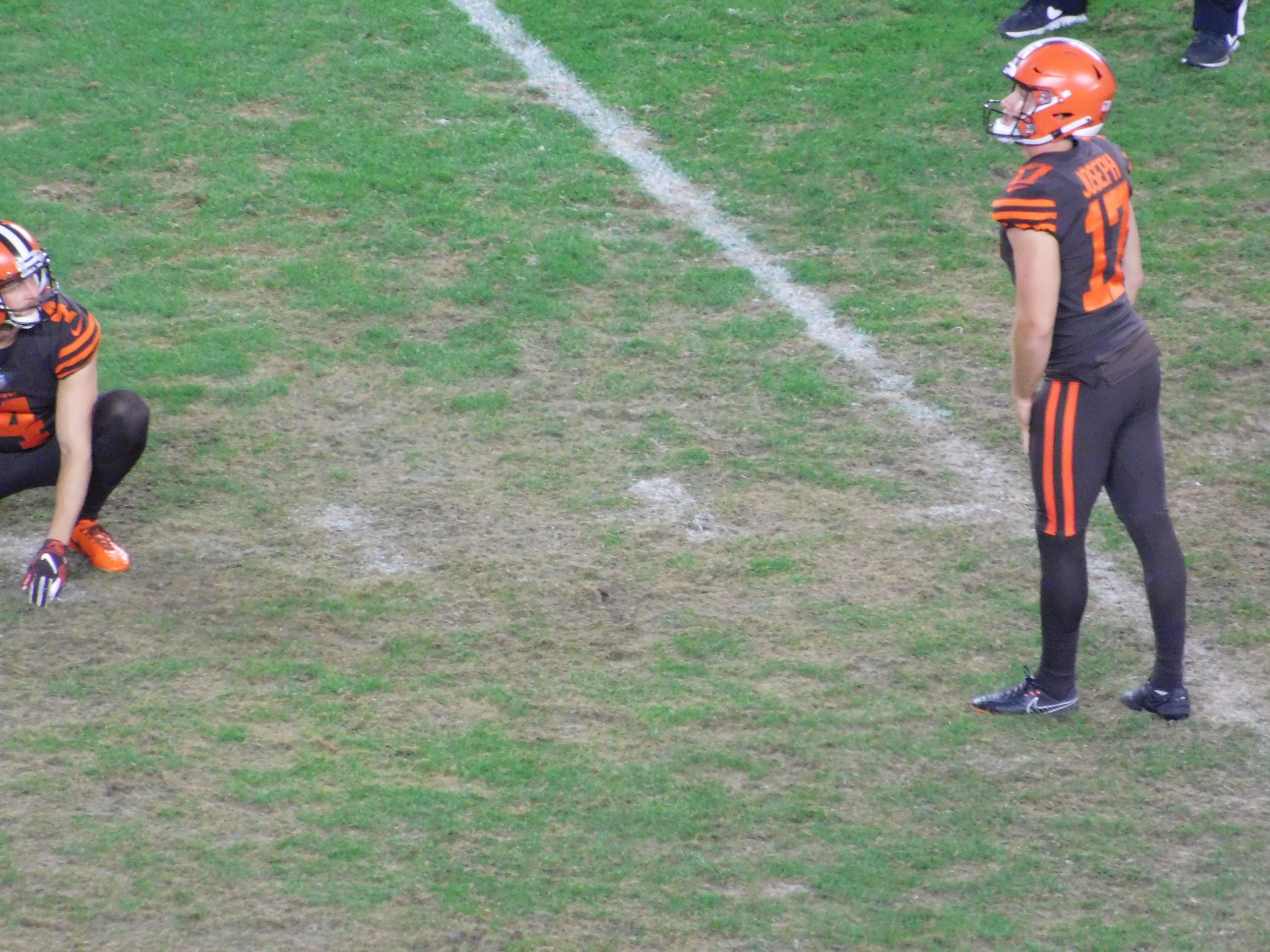 An embarrassment of riches is one way someone could describe the Browns current roster. In fact there is so much talent that the long-tortured Browns are receiving the second most bets in Vegas to win the Lombardi Trophy.
But there's one area that is becoming a much too hard to ignore problem for this team. And it's one that could derail a Super Bowl dream in a matter of seconds.
The Browns in their current construct don't have any resemblance of a reliable kicker in Greg Joseph or fifth-round pick Austin Seibert. Both guys missed field-goals beyond 50 yards in Saturday's preseason win over the Colts (Joseph from 53 and Seibert from 52). For Joseph, it was his second miss of the preseason after he pooched an extra point against the Redskins last week. Add in the countless misses from the 25-year-old and the rookie at practice and it's been an utter disaster of a battle to sort out.
Maybe the only person not freaking out about it though is the mild-mannered Freddie Kitchens.
"Critical errors are just as important as the missed field goals themselves," Kitchens said of an illegal hands to the face penalty that pushed Joseph's attempt on Saturday to that 53-yard territory. "But are they expected to make a 53-yard field goal? Yes, they are. Am I concerned about it? No, because we're not playing for real yet, but I will be."
No, misses in the preseason and at practice aren't hurting the team right now. That said,With the lofty expectations surrounding the Browns this year, there's also a legitimate concern that they could lose games solely because of inconsistent kicking.
"When we send the field goal team out there I don't want to send them out there thinking 'hmmm, maybe we'll make it,'" Kitchens joked. "I wanna know that they're gonna make it. I want to be able to send them out there, turn around and go talk to the offense and hear about the score.
"Everything they do is just like every other position. It starts with technique and having the confidence to go do it. But sometimes to get that confidence you gotta do it correctly, you gotta do it with success. I can't kick it for them."
Despite being noticeably frustrated, Kitchens is trying to stand by Joseph and Seibert. The Browns head man sternly made it known that they're not looking to bring in a new kicker right now.
"We're not looking to replace them right now," Kitchens said. "We're looking to get these guys better. The process of judging them has not concluded yet."
'Yet' is the key word though. Time is running out for one Joseph or Seibert to prove themselves worthy of handling the kicking duties on gameday and if neither can the Browns will be forced to pursue other options.

NEO Sports Insiders Newsletter
Sign up to receive our NEOSI newsletter, and keep up to date with all the latest Cleveland sports news.