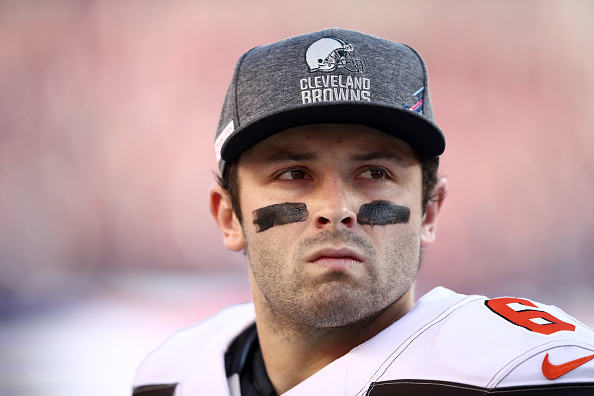 There's no longer any point in being subtle about Baker Mayfield's performance from this season. It's been bad, and the Cleveland Browns are struggling as a result.
One year after displaying unflappable confidence, and the performance to back it up, Mayfield has been astoundingly timid and shaky through five games this season. It's been jarring to watch, to say the least.
After yet another ugly showing Monday night, Mayfield and the Browns now host an equally imposing threat this weekend, welcoming the 4-1 Seattle Seahawks to Cleveland. It's safe to say how he responds in this upcoming contest will tell us a whole lot about his ability to recover from this brutal start to the year.
I said it Monday, and will certainly continue to hammer this home – what we've seen from Mayfield this year in no way confirms last season was a mirage. Regardless of the defenses he went up against in 2018, breaking a rookie passing record is hardly a fluke.
That said, he just hasn't looked the same this season. Statistically, Mayfield has been a mess. He leads the NFL in interceptions, and boasts the worst completion percentage, passer rating and QBR of any quarterback with at least four starts.
However, a bounce-back in the box score isn't what I'm keeping an eye out for this weekend. Instead, what will tell us the most about him is how he reacts from the constant humbling he's received this season.
Monday marked yet another example of opponents taking pleasure in sticking it to Mayfield. Opposing players have seen the commercials, the magazine features, the brash and unapologetic approach to the game, and they've been eager to take their shots at him as a result.
Nick Bosa hit Baker Mayfield as savagely after the game as he did on the field pic.twitter.com/mrRpiHuRd2

— Phil Barber (@Skinny_Post) October 8, 2019
Bottom line – defenses have been more than a little eager to rub Mayfield's face in the dirt this season.
So far, he's had little to no response. Should this trend continue come Sunday, it'll be genuinely concerning.
History shows us this is the kind of thing Mayfield thrives on. He's been doubted his entire life, something he rarely holds back about when discussing his "walk-on mentality." Dating all the way back to high school, he's fed off of people telling him he can't get the job done.
Well, that's what's happening now. Opponents and critics are saying as much, and doing so loudly. Part of the reason said doubt continues to amplify is the fact Mayfield hasn't been able to prove it wrong yet.
As a result, if he follows up yet another rough and humbling outing with more of the timid, shaky, uncomfortable approach we've seen this year, it's going to create some serious worries. It'd be enough to make you wonder if he'll be stuck in this quicksand all season long.
It'd make you question where his confidence went, and, after six games, if he's going to be able to find it again. It'd also force you to think about how the Browns are going to move forward if their quarterback continues looking gun-shy and uneasy.
You can blame Mayfield's shakiness on the defenses he's faced so far this season, insisting things will be easier for him in the softer back half of Cleveland's schedule. Still, it'd be far more encouraging for him to regain his confidence against difficult competition.
Overall, there are multiple issues Mayfield needs to work on. His accuracy and ability to read defenses have left a lot to be desired, as has the speed at which he goes through his progressions.
Still, the most troubling aspect of his performance this season is how meek he appears on the field. The player we remember, the QB whose self-assurance could barely fit into the building, has only made brief cameos this season.
If this continues to be the case, if Sunday is yet another example of Mayfield leaving his confidence in the locker room, the Browns will have a big problem to deal with. They'll suddenly find themselves desperately attempting to get a rocky season back on track, and doing so while leaning on a suddenly unsure quarterback.

NEO Sports Insiders Newsletter
Sign up to receive our NEOSI newsletter, and keep up to date with all the latest Cleveland sports news.