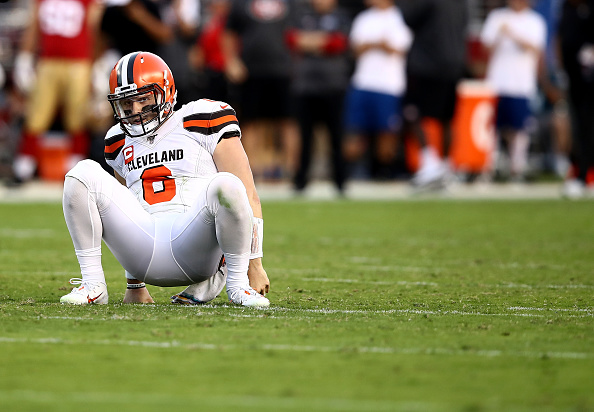 Not too long ago, I claimed any snap reactions to the suspect play of Baker Mayfield were just that. Hasty judgments with little proving them as credible.
Sure, he got off to a rocky start to the season, but back then, there were so many ways to excuse it.
He was working with a new head coach, in a new offensive system, trying to utilize a new weapon in the receiving corps. All completely valid reasons why the Cleveland Browns' quarterback opened the 2019 campaign with shaky play.
Flash forward to tonight. Outside of one game, very little has changed. Mayfield is still struggling, and he's one of the biggest reasons why Cleveland is unable to generate any momentum through the first half of the season.
That's certainly not something I expected to say coming into this week. After all, the Browns had just hung 40 points on the Baltimore Ravens, in a game where Mayfield finally looked like the poised and accurate QB we remember. There was reason to believe such a confidence-boosting victory would do wonders for him, that he'd finally settle in and look like the player who broke a rookie passing record last season.
Turns out, that wasn't the case at all. Instead, Mayfield followed this up with an absolute dud in Cleveland's blowout loss to the San Francisco 49ers. By the end of the night, Odell Beckham Jr. had generated a better QBR.
The box score is easily one of the worst Mayfield has ever put together. Eight completions, 100 yards, two picks, two fumbles, one of them lost. While one of his interceptions can be partially blamed on the bad hands of receiver Antonio Callaway, it hardly makes a stat line like that any better.
Making things worse is the fact many of the problems we saw from Mayfield tonight have been consistent throughout the year.
Accuracy, once his strong-suit, hasn't exactly been on display this season. His completion percentage has decreased year-over-year, as many of his passes are sailing uncharacteristically high.
Mayfield's distrust of his offensive line is also blatantly apparent. Granted, when he gets pummeled like he did against the 49ers, that's going to happen. Still, we've seen multiple instances of him unnecessarily fleeing a clean pocket, throwing wobbly passes off his back foot.
In one of this season's more jarring developments, Mayfield has struggled mightily with his confidence. He's hesitating on throws, patting the ball, struggling to read defenses. Said hesitation has been affecting his ability to find the open man, as it feels as though each of Cleveland's games this year features a handful of screen grabs showing Mayfield completely ignoring targets in space.
When it comes to his chemistry with Beckham, well, there is none. This, too, is impacting Mayfield's performance. Throughout the season, Mayfield has either forced the ball to his top wideout, or missed him completely. Rarely has he found a middle ground.
The result of all of this is what we saw tonight. A Browns team unable to get anything going. A Cleveland offense which appears easily neutralized if the opponent is able to slow down Nick Chubb on the ground.
Essentially, Mayfield isn't helping the Browns live up to their lofty offseason expectations. He's instead a big reason why they're falling short of them.
This should in no way be viewed as my explaining why Mayfield is actually a bust, that he's not nearly as good as he looked last season. I don't view five games of one campaign as proof a player simply isn't going to pan out in the long run.
That said, things need to change. We need to stop hearing Mayfield gripe about how the outside world reacts to Cleveland's issues. He needs to stop finding new enemies to pit himself up against.
Instead of reacting to how people critique his struggles, Mayfield needs to figure out how to fix them. His focus for the next six days should be on taking care of whatever needs to be done to reestablish his trademark confidence, ensuring the tentative QB we've seen so far this year only has a bit part in this season.
If he can't do that, consider tonight an example of how ugly this year of high expectations can get for Cleveland.

NEO Sports Insiders Newsletter
Sign up to receive our NEOSI newsletter, and keep up to date with all the latest Cleveland sports news.