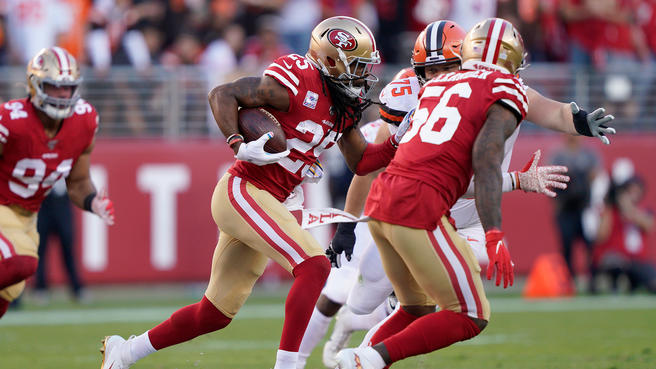 Call it handshake-gate, call it dapgate call it nonsense. Whatever you wanna call it whether or not Baker Mayfield shook Richard Sherman's hand prior to the 49ers Monday Night Football beat down of the Browns has been the most talked about story in the sports media cycle this week.
The situation reached a climax on Tuesday as multiple videos surfaced of Mayfield acknowledging a handshake from the outspoken CB when they met at midfield for the coin toss. A different did surface of Mayfield running away from midfield once they had sorted out who would possess the ball with engaging Sherman and his fellow 49er captains a second time.
Sherman has since clarified that that was the snub he was referring to in his post-game comments to the NFL Network's Mike Silver, but to say Mayfield ignored his handshake was completely misleading. On Wednesday, Sherman tried to remedy the conflict with an apology.
"It's definitely my bad. I never want anyone to deal with some s— that they didn't do," Sherman told ex-NFL punter Pat McAfee on the Pat McAfee Show. "And so the questions that he's gonna get and the annoying nonsense questions about some stuff that happened in a game that's already been done — sure he'll get an apology for that.
"I'll probably reach out to him via text or social media to actually get ahold of him and talk to him on the phone cause that sucks. He definitely deserves an apology. That's my bad on that."
BREAKING: @RSherman_25 says "my bad" to @bakermayfield for #DapGate controversy #PatMcAfeeShowLIVE on @DAZN_USA pic.twitter.com/4enwW4qfGJ

— Pat McAfee (@PatMcAfeeShow) October 9, 2019
Mayfield hasn't had a chance yet to respond to the accusation Sherman made against him or to those in the media that spent the last 24 hours dragging him through the mud. To Sherman's point, the game is over an done with and both teams are onto their next opponent at this point. To have to revist handshake etiquette this late into the next week of the season is useless.
At the very least, Sherman extending the olive branch with an apology should put the situation to bed for good. It's onto Seattle for the Browns.