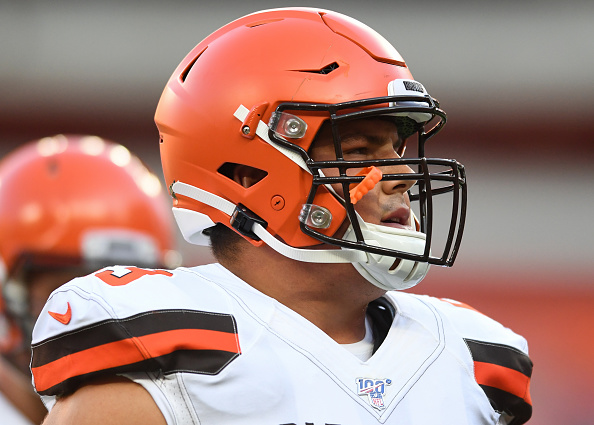 I'm not here to rewrite the draft history of Cleveland Browns GM John Dorsey. Since arriving with the team, he's made several impact picks, and this remains the case regardless of the team's rocky start to the 2019 season.
With that said, no player represents cracks in his armor quite like guard Austin Corbett. Every angle of Corbett's time in Cleveland was a mess, and it was only a matter of time until Dorsey admitted he made a mistake with this pick.
He did so today, trading Corbett to the Los Angeles Rams for a 2021 fifth-round draft pick.
Said selection is notably lower than 33rd overall, which is where Dorsey grabbed the lineman in the 2018 draft.
At the time, it was a suspect move. The Browns had just watched left tackle and future Hall of Famer Joe Thomas retire, so a large hole needed to be filled at the end of the offensive line. In taking Corbett, Dorsey appeared to be doing so with someone who played a different position.
The "let's play a guard at tackle" experiment didn't even make it out of training camp last summer. Corbett was eventually relegated to backup, barely touching the field all season long.
This happens, though. Sometimes, players just aren't ready to contribute right away. It was alarming to see this take place with someone drafted so high, but still, it was too early to determine Corbett was a bust.
Not only did Dorsey agree with this line of thinking, he doubled-down and bet big on Corbett this offseason when he traded guard Kevin Zeitler to the New York Giants.
This was a questionable move for a variety of reasons. Trading Zeitler was a big hit to Cleveland's offensive line. Doing so was curious, considering the team had just found a potential franchise quarterback in Baker Mayfield, and likely wanted to keep him upright in the season ahead.
Meanwhile, Dorsey felt comfortable enough to make this move because of his confidence in a player who only logged 14 snaps in 2018.
Fans held out hope Cleveland's GM knew what he was doing. After all, if Dorsey felt Corbett was good enough to be drafted that high, surely he'd be good enough to grab the starting job that was just gift-wrapped for him.
He wasn't.
By the end of OTAs, the Browns' right guard spot was up for grabs, as Corbett struggled to stand out. Come training camp, he was losing first-team reps to undrafted teammates.
In the end, he officially lost the job to Eric Kush, a journeyman playing on the fourth team of his career. That Dorsey felt the need to trade for two more linemen before Week 1 all but dashed any hopes Corbett would get another shot.
Cut to today, where this was confirmed by way of his being jettisoned to another team less than two full seasons after being drafted with, essentially, a first-round pick.
Let's recap.
Dorsey grabbed a guard 33rd overall, with the initial intention of having him play another position. When that didn't work, he shifted him back to guard, and gave him the inside track on the starting job when he traded the veteran ahead of him on the depth chart. Both situations ended with Corbett being out-played by backups.
Wrap it all up with the fact the player Zeitler was traded for – defensive end Olivier Vernon – has barely made an impact this season, and you create yourself a multi-level disaster all with one draft pick.
Who knows if Corbett will end up panning out with LA. After all, we've seen draft busts perform better in greener pastures before.
Even if he does bounce back with the Rams, there's no getting around the fact Dorsey bungled this entire situation from every available angle.

NEO Sports Insiders Newsletter
Sign up to receive our NEOSI newsletter, and keep up to date with all the latest Cleveland sports news.