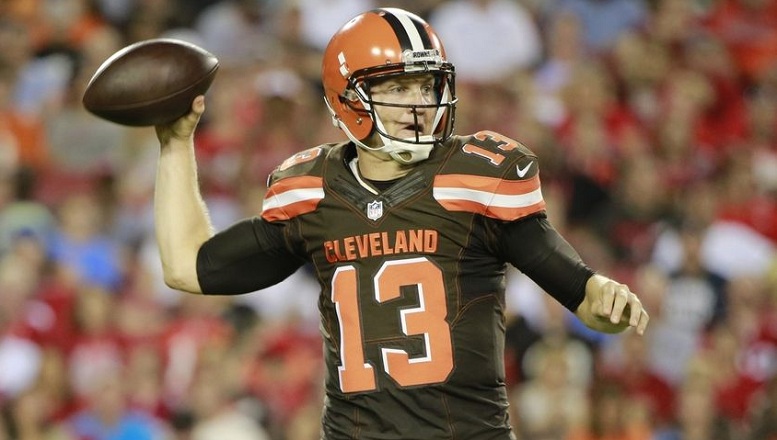 ---
By Steve DiMatteo
1. Josh McCown is better than anyone could have possibly hoped. In 2013, McCown started five games for Chicago in place of an injured Jay Cutler and lit the football world on fire. McCown appeared in two other games that season and his total numbers included 1,829 passing yards and 13 touchdowns against just one interception.
But take out that small, albeit successful stretch, and McCown's career numbers are pretty disastrous: 48 touchdowns against 58 interceptions over 12 years.
He'll always have 2013, though. McCown was so good in that time that there was a legitimate question as to whether Cutler should regain his starting spot. The Browns are banking on that version of McCown, or even something slightly resembling it, to show up in 2015.

The Browns need a quarterback who will take care of the ball like it's his own baby while still possessing the capability to put up some crooked numbers when needed. There's evidence that McCown is that type of quarterback, but he needs to prove 2013 wasn't just an anomaly.
2. Johnny Manziel is better than anyone could have possibly hoped. Here's the thing: banking on McCown to repeat his Chicago days is likely going to be a losing cause. And Cleveland Browns quarterbacks just don't play full seasons (for the record, McCown has never played a full 16-game season).
So, ailing elbow aside, there's a very real chance that Manziel sees significant game action in 2015. Unlike McCown, there is no evidence that Manziel can have success in a regular-season NFL game. But what if he completely bucks that belief and somehow transforms into a serviceable, maybe even exciting, NFL quarterback?
Remember that time Tim Tebow made it to the playoffs AND won a game? The precedent for absolutely insane postseason scenarios has already been set; Manziel will no doubt have the chance to make it a trend.
3. The defense becomes an unstoppable force. There have been many signs that the Browns' defensive unit is poised to have a stellar breakout campaign, provided it stays relatively healthy, something it's having a hard time doing at the moment. But with a deep secondary full of Pro Bowlers and young studs like Pierre Desir and K'Waun Williams, along with a defensive line that is about to be bolstered by the behemoth that is rookie Danny Shelton, the recipe for success is there.
The question is, can the offense be good enough to spell the D? If 2015 plays out like, say, the last 15 years, there are going to be games where the defense is just gassed by the fourth quarter. And in close games, that could easily be the deciding factor. If the Browns are able to grab a lead or two and chew up some clock in the second half, they'll steal a few surprise wins down the stretch.
4. Jimmy Haslam decides to consult another homeless man about 2016 draft prospects, but this one turns out to be a genie who grants him three wishes. After using the first two to get himself out of any future legal trouble, Haslam uses it to give the team a franchise quarterback.
5. Duke Johnson is better than anyone could have possibly hoped. The prospects of this aren't looking great so far, considering his lengthy hamstring injury and the concussion he sustained against Tampa Bay, but no one is about to write him off because Terrance West and Isaiah Crowell didn't exactly made the most of their opportunities this training camp and preseason.
There is no denying Johnson's talent, and it's still early enough that he can bounce back, win the starting job and never relinquish it. The Browns have an elite, almost unheralded offensive line (see #7), but Johnson is the type of back who could finally do something with it.
6. Sinkholes open below Paul Brown Stadium, M&T Bank Stadium and Heinz Field, swallowing the entire Bengals, Ravens and Steelers teams. The NFL decides to just leave the Browns alone in the AFC North and gift them a spot in the playoffs.
7. The offensive line stays intact. The 2014 Browns had many late downfalls, but one of the most significant was losing Pro Bowl center Alex Mack to a season-ending broken left fibula on Oct. 12. From that point on, the running game disappeared and the Browns' passing game was a shell of its surprisingly successful and efficient self.
With Mack healthy again, helping to anchor the left side of the line with Joe Thomas and Joel Bitonio, the Browns' offense at least has a strong fighting chance.
8. The kicker, whoever he might end up being, proves that he can hit 80-yard field goals with ease.
9. The wide receivers step up as a collective unit. There is no true No. 1 wideout on this team. They used to have one, but I can't seem to remember what happened to him…anyway, the Browns have a number of reliable second and third options who will be asked to do much more than that at times.
Is Dwayne Bowe ever going to catch a pass from McCown in a game situation? Will Terrelle Pryor ever be healthy enough to prove he can make it as a wide receiver? Can the Browns overcome having so many undersized receivers?
These questions will be answered soon, and all of them need to come out in their favor. So far, it's obvious that McCown and Brian Hartline have a good rapport. That's a start.
10. The Browns very quickly rifle through McCown, Manziel, Thad Lewis and Pat Devlin as starting quarterbacks – through, say, nine weeks – so they get desperate and hold open tryouts. Like the 1991 Eagles, who used five starting quarterbacks in what was still a successful 10-6 campaign, the Browns are still in the playoff hunt.
In comes a once-regular guy who, just the night before the tryout, gets exposed to a great deal of nuclear radiation, giving him a Tom Brady-like ability to stay in the pocket and pick apart any type of defense. After making every type of throw to Pryor, who has 25 touchdowns already to this point, the Browns sign this guy and roll right into the playoffs.

NEO Sports Insiders Newsletter
Sign up to receive our NEOSI newsletter, and keep up to date with all the latest Cleveland sports news.