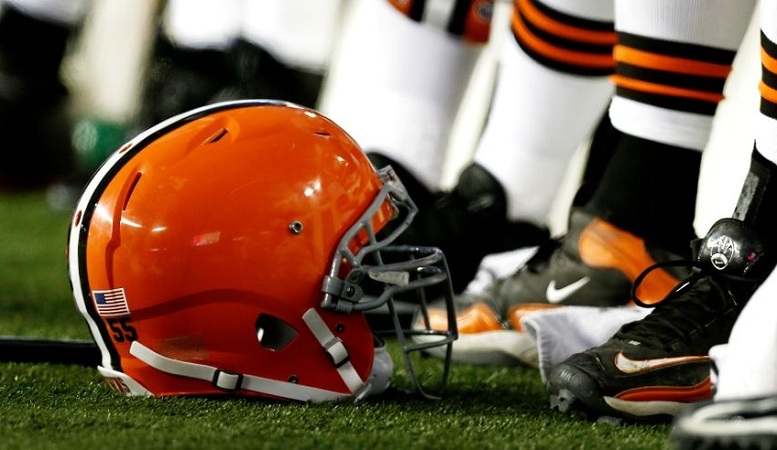 ---
By Ryan Kaczmarski

We all know that the preseason is a grueling four weeks of mostly mediocre football being played by future insurance and car dealership salesmen. But, what I witnessed (on my television) Saturday night was a professional football team that was ready to play in all three aspects of the game — at least for the first 15 minutes — as the Cleveland Browns went down to Florida and rolled the Tampa Bay Buccaneers, 31-7.
Let's start with the way the Browns starting defense played right off the bat.
Rookie defensive tackle Danny Shelton made his presence known right away, as he penetrated through the Bucs' offensive line in almost every play he played. He may have only recorded two tackles in the game, but he tied up two, sometimes three, Bucs as he charged through the line.
Shelton's line play directly resulted in Desmond Bryant's sack of Tampa Bay rookie quarterback Jameis Winston on the very first drive of the game.
After forcing the Bucs to punt on the opening drive — which resulted in Travis Benjamin's 53-yard kick return for a touchdown — Tampa Bay went three and out in its second drive. Bryant got to Winston again, along with Paul Kruger, on second down of that drive, setting up third and forever, forcing another punt.
"I thought we did a better job of getting off the field on third down," Browns defensive back Joe Haden said. "That's something we've worked on really hard. It was a good start."
You can't forget the great coverage presented by the Browns' secondary, because without that, Winston would not have had to hold onto the ball so long.
"Specifically in the first quarter, we were flying all around there and playing fearless football," Browns defensive back Tashaun Gipson said. "It was something that you could look and say, 'Hey, that looked like the Cleveland Browns defense.'
"We just have to make sure our twos come in and keep up the good work and continue to push us," he added. "I thought we looked good out there, especially in the first quarter when we had all the starters out there."
In Tampa Bay's third drive, the defensive line was all over Winston, forcing an errant pass that was picked off by rookie cornerback Charles Gaines, ending the first quarter.
The second quarter saw many defensive players a little deeper on the depth chart for the Browns, and it showed on the field. After another three and out in Tampa Bay's first drive of the second quarter, Winston hit Vincent Jackson for a long gain.
On that play, the Browns' zone defense looked lost, and Jackson was wide open. In the following play, Bucs running back Doug Martin blasted through the middle for a touchdown. Kruger was contained on the line, opening up a huge hole to give Martin the full steam ahead.
Enough about the defense, the Browns starting offense had one of the best drives in recent history, in the first quarter. The Browns mounted a 16-play drive, which included impressive runs by Duke Johnson Jr. (before being removed from the game due to the NFL concussion protocol) Isaiah Crowell, Terrance West and starting quarterback Josh McCown.
McCown led scoring drives in the first and third quarters, and went 17- 23 for 117 yards and two touchdowns passing.
"He executed his job," Browns head coach Mike Pettine said. "I thought the third down throw to (WR Taylor) Gabriel (in the third quarter), that was a heck of a catch right in front of our bench. I thought that was a key play. It kept the drive alive."
McCown had a few impressive runs in the game, but he needs to remember that he's a starting quarterback and he can slide at the end of a run. He took at least three big hits on his scrambles that were just unnecessary.
"(McCown) made much more good, than bad (decisions), but just the questionable ones on some of the scrambles and some of the hits he took," Pettine continued. "They jumped offside on the one and we had a free play, and he ended up taking an unnecessary hit.
"He's a competitive guy. I knew that it meant a little bit more to him being in Tampa. He has to understand that it's a long season and we need him out there."
The starting offensive line did a great job in the game, only allowing one Tampa Bay sack.
"I felt they did some good things," Pettine said. "It was good for them to play that long of a time, that long together just to get cohesion that we need heading into week No. 1."
The special teams play was on-point also, especially with Benjamin's punt return for a touchdown in the first quarter.
The return game netted 80 yards, not including the 42 yards gained on kickoffs. There were no blocked kicks, and punter Andy Lee averaged 38 yards per punt, with a long of 59 yards and two pinned inside the Tampa Bay 20-yard line.
One glaring bad spot in the game on Saturday was the injury to Johnson Jr., especially with his limited carries this preseason.
"We have seen what he can do in practice and that is important," Pettine explained. "That is why we were so positive and optimistic about (him). Football is about availability. He hasn't been available for much of the preseason. While we are hopeful about the potential, at the same time, it is discouraging not to have him out there."
The Browns will get back to practice on this short week, with the final preseason game being held on Thursday night in Chicago, where McCown will sit and Thaddeus Lewis will start at quarterback with Johnny Manziel still sitting out with a sore shoulder.

NEO Sports Insiders Newsletter
Sign up to receive our NEOSI newsletter, and keep up to date with all the latest Cleveland sports news.