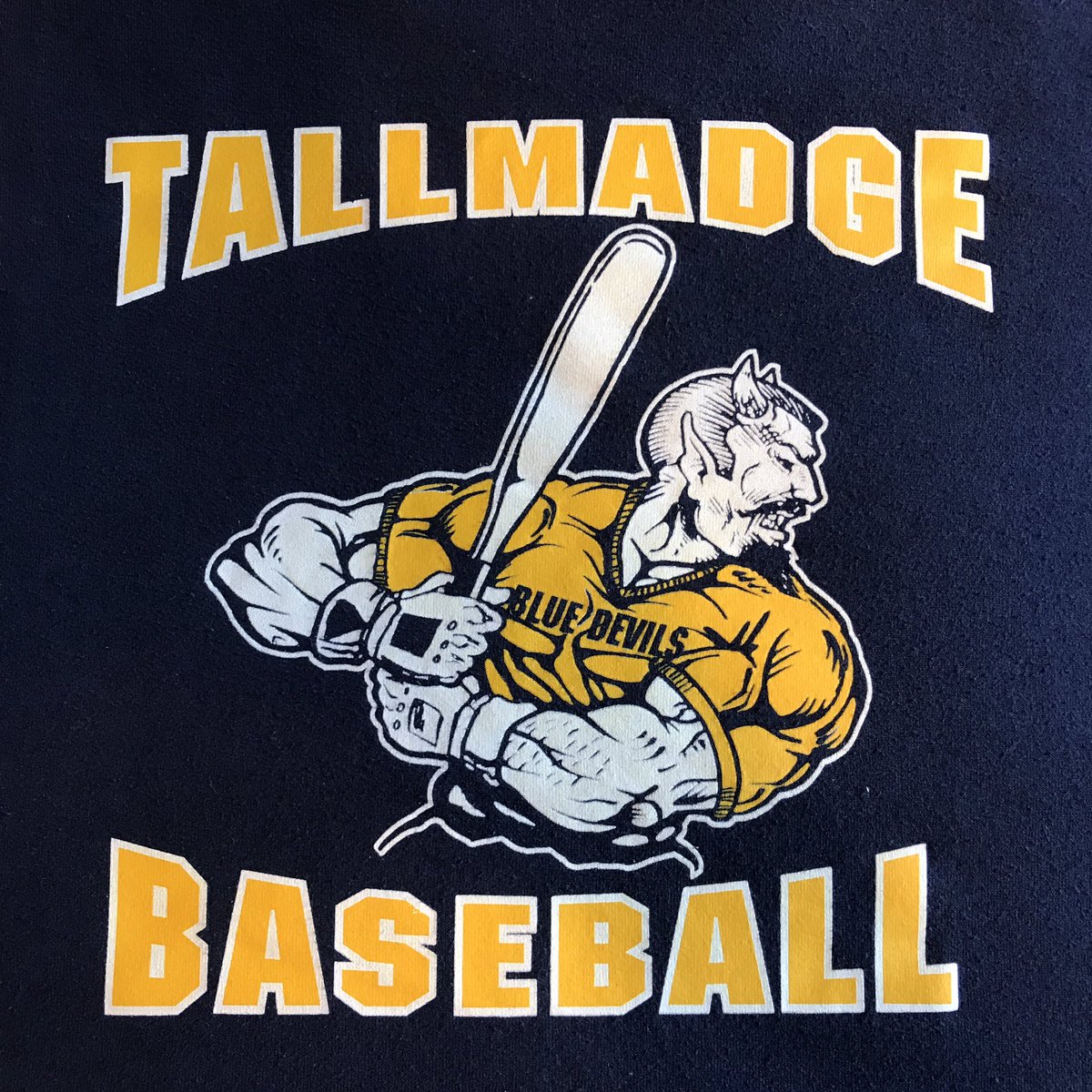 The Tallmadge Blue Devils advanced to the 2017 Division II State Championship with a 4-1 win over Maumee on Thursday, June 1.
Tallmadge used a huge fourth inning to get momentum on its side, as the Blue Devils came to life with a two out rally to plate three runs. The inning would prove to be the deciding turning point of the night.
Clean up man Scott Seeker kept the inning alive with a two out double. Josh Taylor (the only senior on Tallmadge's roster) drove him in with a game-tying RBI triple. Jared Burick hit his second double of the day to give Tallmadge the lead. Jake Rensel sent a double the other way, hugging the line in right field to add onto the lead.
Sam Seeker would deliver a crushing blow in the top of the seventh, an inside-the-park home run to seal the deal.
Zach Boyd worked a complete game, allowing one run on five hits, striking out five.
The Blue Devils had been quiet for the first three innings, and Maumee jumped on the board early, as Tyler Archambeau got the scoring started with an RBI single in the bottom of the first to give the Panthers a 1-0 lead.
Boyd got out of the inning, stranding two runners.
Jared Burick plated a double in the top of the second, but Maumee right hander Zach Stadenka didn't allow him to get any further, as the junior struck out two in the inning, using an impressive breaking ball as his knockout punch.
In the bottom of the second, Boyd struck out the first two hitters, but freshman Zach Melvin crushed a high, towering drive to right field. which nearly cleared the 22-foot wall.
Fortunately for Tallmadge, it bounced off the top of the wall, just below the yellow line, and right fielder Seth Gergely made a great throw to nearly catch Melvin at third base.
Melvin was safe, but Boyd struck out the next hitter, his third of the inning, to keep it a 1-0 game.
Maumee had an opportunity go by the wayside in the bottom of the third, as Blake Adams drew a leadoff walk, but Tallmadge catcher Rich Eyre threw him out at second on a stolen base attempt to stop the rally before it started.
Boyd retired the next two quickly.
After Tallmadge's big fourth inning, the Panthers appeared to have another possible opportunity after a leadoff single, but once again, Eyre came through, catching the runner on a back pick at first base to wipe out the lead off baserunner for the second-straight inning.
"Before we started I was asked 'what's your glue?'" Linn said.
"Obviously Glasser at shortstop has done a phenomenal job, but when you have a sophomore like Rich Eyre who can play like that, and gives you confidence even to throw the ball in the dirt, come up and make big throws in the biggest games, he's just done that since he came up as a freshman last year."
John Henry drove a two-out double to left center, to give Maumee another chance, and then advanced to third on a wild pitch, but Boyd induced a groundout to short to get out of the inning unscathed.
Studenka bounced back for Maumee in the top of the fifth, getting two quick outs, then hit Seth Gergely with a pitch, but induced a popout to get out of the inning with the score still 3-1 in favor of Tallmadge.
Boyd continued to work efficiently, setting down the first two batters quickly, but Maumee's inning stayed alive after an error.
The error didn't come back to bite the Blue Devils, as Matt Burkett smoked a bullet to left field, but Sam Seeker snagged it with a diving catch, robbing the senior of an extra base hit and saving a run.
It was another great defensive play, which proved to be a pivotal moment in the game.
"We have the best defense in the state, no doubt," Boyd said of what it's like to pitch with such a great group of fielders behind him.
"Like everywhere. Our outfielders are fast. We had a relay tonight that was huge. Sam Seeker's catch in left field was crazy. We're the best defense in the state."
Sam's older brother Scott led off the sixth with a walk and Derek Lightel came into pinch run, looking to add to the two-run lead.
Studenka made a great defensive play on the mound, fielding his position, as the pitcher turned a 1-6-3 double play on a comebacker to wipe away a scoring opportunity.
Burick continued his impressive night, plating a two-out single to left, his third hit of the game.
"I was just seeing the ball really well today," Burick said of his 3-for-3 performance.
"I was jumping on first pitch fastballs and he hung a curveball my second at-bat."
He stole second, but would not score, as Studenka got out of the inning with another groundout.
Boyd came back out to work the sixth, facing the meat of Maumee's lineup.
Maumee had another chance, as Caleb Brown sent a hard line drive to right and Seth Gergely nearly made a sliding catch, but dropped the ball. Gergely recovered quickly, fired a relay throw to Phillip Glasser, who gunned Brown out at third base with a perfect throw, robbing the Panthers of a one-out triple.
"A lot of times, your right fielder has a strong arm and you just hope they get a couple opportunities to make a couple throws a year or whatever, but Seth's made so many different plays this year in so many ways," Linn said.
"Running balls down, taking flares away. He had the play of the game in the District Semis against Springfield. Took one of his shoe tips. He's just always consistent with that arm. He's worked his butt off all year and earned himself a nice scholarship. I couldn't be more proud of him. He's been great for us all year."
Boyd issued his third walk of the night with two outs, but got the next batter to fly out to left, sending the game to the seventh with the score still 3-1.
Sam Seeker led off the seventh with a bang, crushing a line drive, which tipped off the glove of the center fielder and rolled towards the wall.
Seeker was off to the races and used his impressive speed to finish off the inside-the-park home run, making it a 4-1 game.
2019 @SamSeeker21 with an inside the park home run, which gives #17 @TBD_Baseball a 4-1 lead with nobody out in 7th. pic.twitter.com/8Li7LWWo3P

— PBR Ohio (@PBR_Ohio) June 2, 2017
"We've been known to play aggressive, but when we didn't wheel two guys to third with two outs earlier in the game, I heard all my buddies and my family (from the stands), because they know we don't play like that" Linn said.
"So, as soon as I saw it went off the glove, I thought there's no way I'm not bringing him. They might have threw him out and it would have been a heck of play, but I don't think Sam was going to stop even if I tried. He probably thought it was a touchdown because he's a quarterback."
Glasser followed it up with a bunt single and Boyd also singled, but Studenka got out of the jam to keep it a three-run deficit.
Boyd finished off the complete game, setting down the side in order and finishing the game with a strikeout.
#17 @TBD_Baseball with a 4-1 win over @MaumeeBaseball to advance to D-II State Title game vs #13 @cjeaglesBB. Zach Boyd 7IP, 5H, 1R, 3BB, 5K pic.twitter.com/aXnvpZ6l6f

— PBR Ohio (@PBR_Ohio) June 2, 2017
"Every game that I start, I act as if I'm going to throw a complete game," Boyd said.
"I don't like taking no for an answer and I like to finish what I start."
Tallmadge advances to face Dayton Chaminade Julienne in the State Championship on Saturday, June 3 at 1 pm.