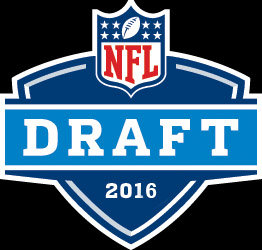 Studs:
Laremy Tunsil OT Ole Miss
He's my top player in this draft and for good reason. The top OT to come out in years, Tunsil has very little flaws in his game. He is extremely agile for his size, 6'5" 310 pounds, and can take on pass rushers from the blind side. His footwork and technique are also one of the best of any offensive lineman coming out of college. Drafting him almost ensures a potential Hall of Fame LT for the next 10+ years.
Jalen Ramsey DB Florida State
Ramsey is another player set to make his mark in the NFL. The highest touted defensive back since Patrick Peterson or Eric Berry, Rmasey brings a lot of versatility to the table, being projected to play multiple positions in a NFL secondary. He has a big frame that many would love for a corner at 6'1" 209 pounds, but his athletic ability can also lead him to play safety if needed. His track background also showed up on the combine. One of the most explosive athletes in the draft, he posted a 135 inch broad jump and 41.5 inch vertical jump to go along with a 4.41 40 time. Wherever he goes, his playmaking ability should transform him into one of the best players to come out of this draft.
Myles Jack UCLA
Jack could remind me of being the Khalil Mack of this draft. When Mack was picked all the hype was around Clowney and this draft with Bosa, but Jack could end up being the much better player. There are a lot of great things about Jack's game, his versatility being one of them. He has spent time at RB, S, and LB in college. A freak athlete that is extremely quick off the line, he can cause pure havoc for opposing offensive lineman with his quickness and power. He makes plays all over the field and his athleticism will allow him to cover most TEs and RBs in passing situations. He missed almost all of this season with a torn meniscus but if his knee checks out ok for a team, he could end up being the top front seven player in the draft.
Josh Doctson WR TCU
Doctson in my opinion will end up being the best WR to come out of this draft. He has great size at 6'2" 202 pounds. His speed with a 4.5 40 matches up for someone that size, but his ability to go up and get the ball with his 41 inch vertical, top among WRs, is something that can separate him from the others. He has great ball skills and body control when going up for the ball. He also has great hands and can catch the ball away from his body. His productivity in college also speaks for him, going down as one of the best WRs in TCU history. If he can add on a little to his frame, Doctson may join the list of great receivers to join the NFL in recent years.
Sheldon Rankins DT Louisville
Rankins is a guy that will likely be underdrafted and make a team extremely happy. Rankins offers an exceptional pass rush from an interior defensive lineman with 14 sacks the last two seasons. Some people have given him the comparison to Aaron Donald. He shined in one on one drills during the Senior Bowl that have really helped him solidify his stock. He is a little undersized on the inside for a NFL defense, but his ability to be a force should lead him to a great career.
Ezekiel Elliott RB Ohio State
Elliott offers a complete RB for any team willing to get over the devalued position early in the draft. He can run, catch, and block, something hard to find with most RBs. He's got good vision and size 6'0" 220 pounds for the position. Some draft experts have him as their top player in the draft because he checks off all the boxes they would look for in a player. That ability to do it all can lead to him being one of the rare feature backs in the NFL and allowing him to stand out among the rest of the RBs who must split a lot of time.
Duds:
A'Shawn Robinson DT Alabama
Robinson is one of those guys that are more potential than production. What scouts love most about him is his size. At 6'4" 307 pounds, he has good size to take on blockers in a gap and be a force in the middle. Where he lacks is in some technique and not showing up to his potential on film. He tends to play too upright, leading to a lack of explosion and losing his point of attack. His lack of moves will limit his ability to become a NFL pass rusher as well. Robinson right now is kind of a one trick pony that will help a team plug up the run but not offer a lot more unless he can improve on a lot of weaknesses and put it all together.
Andrew Billings NT Baylor
Billings is well known because of his powerlifting background. In high school, he squatted 805 pounds, deadlifted 705 pounds, and benched 500 pounds. His strength and 6'1" 311 pound frame makes him a fit to be a NFL NT. Obviously his pure strength made him a force in college. Where my concerns come from him is that he will rely a lot on strength to make plays which will be much more difficult against the stronger NFL players when compared to college without secondary moves. He tends to get a little top heavy and overpursue, which in part could be due to him still learning the position switching over from the offensive line in college. Billings is still really young with a lot of potential but if he can't find other ways to make an impact besides his power moves, his career won't be worth noting.
Corey Coleman WR Baylor
Coleman is another Baylor WR ready to join the NFL after Kendall Wright, Josh Gordon, Terrance Williams, and Tevin Reese have all been drafted in recent years. Much like the other Bears WRs, I don't see Coleman enjoying as much NFL success as expected. The Biletnikoff winner this past year, Coleman put up numbers in the very stat friendly Baylor offense. His 4.37 speed makes him a vertical threat that requires safety help and has a 40.5 inch vertical to go along with it. Where Coleman lacks is size. At 5'11" 194 pounds he may not be big enough to play on the outside in the NFL. When playing in the middle of the field, Coleman has had problems with drops (11.9%) and small hands at nine inches. Baylor's offense also hurts him because of the poor route running most of their receivers come out with. With his lack of position, hands, and route running ability, Coleman is limited to being just a NFL deep threat that won't pan out like some of the other receivers in the draft.
Robert Nkemdiche DT Ole Miss
The former number one player in his high school class, Nkemdiche is one of those players that is a true wild card going into the NFL. He has all the traits and abilities of a top half of the first round pick, but his baggage might be more of a concern that will cause him to be a dud. For all of his ability, his production is the first concern. During his three years at Ole Miss, his tackle totals were low, was never a part of a fumble, and recorded just 6.5 sacks. Those are poor numbers for a possible first round pick. Combine that with some questioning his effort and off the field concerns, and there is the possibility he could really dud out. He was arrested before Ole Miss's bowl game this year after falling from his hotel room and being charged with marijuana possession. With some of the ways players with off the field concerns have been lately, Nkemdiche can fall in the same lines as a player who doesn't take the extra heart to make himself a top NFL player and can face suspensions at the next level.
Emmanuel Ogbah DE Oklahoma State
Ogbah is a player that has great size and athletic ability. At 6'4" 273 pounds, he has filled into size as an edge rusher and put up some of the better results at the combine with a 4.63 40 and 35.5 inch vertical jump. He also produced a sack in 16 of his last 21 games. The big knock with him comes with experience and motor. He seems to take plays off which is a big no-no in the NFL and still has to improve his awareness and mix in some different pass rush moves. There is potential there but if he can't give the full effort and put it all together he stands to bust.
Leonard Floyd OLB Georgia
At 6'6" 244 pounds, Floyd is built more like a pass catching TE than an edge rusher. His speed at a 4.6 40 will help him in open space and can make some plays chasing down from the blindside or with pure speed on the edge. He reminds me a lot of Barkevious Mingo, who also relies a lot on his athleticism to make plays but has struggled in the NFL. There are questions of if he can add on weight to his frame and if not his strength will limit what he can do and have a hard time shedding off of blocks. That will really limit his role in the NFL and has to be used in the right system in order to succeed.

NEO Sports Insiders Newsletter
Sign up to receive our NEOSI newsletter, and keep up to date with all the latest Cleveland sports news.