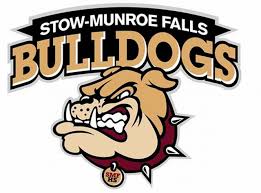 STOW, OHIO – Stow jumped out to a 16-0 lead in the first quarter and did not look back, leading wire-to-wire and defeating visiting Kenmore-Garfield 74-57 in an OHSAA tournament sectional semifinal game Wednesday night.
Senior forward Jack Wilson led the game off with a three-pointer to give Stow an early lead. Evan Bainbridge contributed a pair of three-pointers and a couple of jams to increase the lead to 16-0 in the first quarter. They would lead by as much as 18 in the first half before the Rams made their comeback.
Senior guard Brandon Evans helped key the Rams' comeback by hitting several shots, and the rest of his teammates forced Stow into several turnovers, cutting the lead to as low as eight in the first half.
However, the Bulldogs would go into the half up 40-28, due to 18 first-half points from Bainbridge, and would have led by a bigger margin if not for a handful of shots that rattled out late in the first half.
Kenmore-Garfield would cut their deficit to 40-32 before Stow pushed their tempo and added to their lead at 47-35 with 3:57 left in the third.
The Rams would not go away, going on a 7-0 run to cut their deficit to 47-42. After a Cade Marconi layup, the teams traded baskets before Bainbridge scored his only bucket of the third quarter, putting Stow ahead 53-44 going into the fourth quarter.
Up 58-51 with less than four minutes remaining, the Stow Bulldogs went on a 16-6 run to end the game, with key baskets and free throws.
Bainbridge had 27 points to lead all scorers, including a couple of rim-rattling dunks.
"I just tried to pick all my teammates up after our lead slipped a little bit. We knew that they were a lower seed so we weren't gonna underestimate them or anything. We were gonna go in straight-minded. Once we went down, we knew we had to get our lead back and stay confident." said Bainbridge.
Senior forward and Charleston University football commit Brian Cartwright had 16 points, and senior guard Wilson had 14 points to aid the winning effort.
"When we got up, we thought we could play to their speed instead of doing what we do best. When we started playing their game, we had to regroup and do what we did best. It's gonna be a challenge no matter who we play, but we have to grind it out and play our ball and we'll be alright." said Cartwright.
"We needed to give more effort and keep the tempo up once we went ahead. We got complacent, which we should never do. It can't happen against (Akron) Ellet because we're not gonna beat them if it does." said Wilson.
Despite the win, Stow head coach Dave Close stressed that there was also room for improvement.
"We hit a spell where we couldn't hit any shots. At the same time, they started getting into the flow and making some plays. The momentum kinda swung their way, so we had to fight for it." said Close.
The Kenmore-Garfield Rams came into Wednesday's matchup with only two victories, both coming against Akron North.
Nonetheless, they gave a great effort for all 32 minutes against Stow, despite going down 16-0 to start off the game. Senior guard Evans scored 23 points in a losing effort.
"It just showed how we could fight when we were down. It showed how tough of a team we are. Playing from behind didn't come naturally, but it's something we had to adjust to. We worked our way out of that hole and I'm proud of us for that."  said Evans.
"It was an excellent team coached by a great coach in (Dave) Close. Their players are unbelievably disciplined and skilled. We knew coming in what their game plan would be to pressure their guards and make every touch for (Evan) Bainbridge tough. I credit their team and I credit our guys for not giving up." said Kenmore-Garfield head coach Murray Hooten III.
Stow advances to play against Akron Ellet on Saturday evening.

NEO Sports Insiders Newsletter
Sign up to receive our NEOSI newsletter, and keep up to date with all the latest Cleveland sports news.