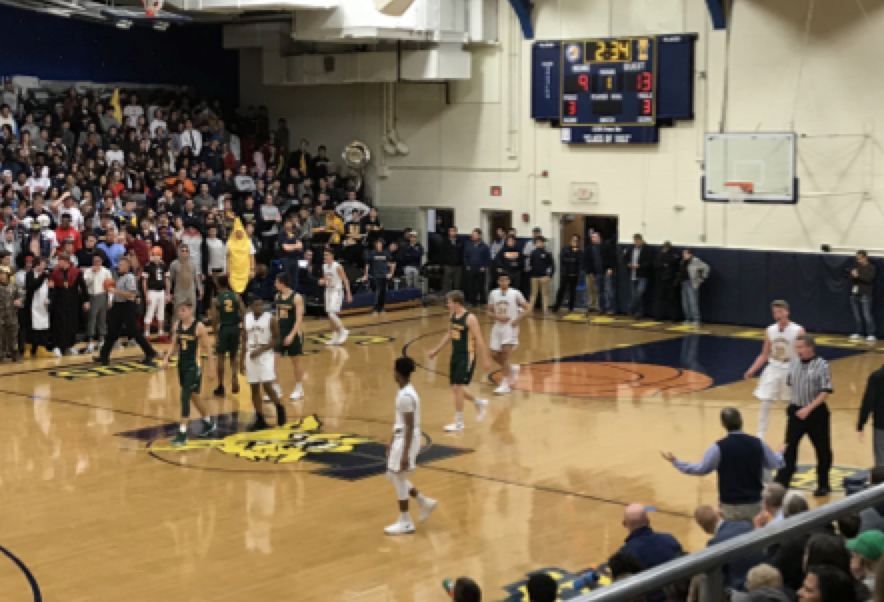 This recap is brought to you by our fine sponsors at Nurenberg & Paris
You can visit them at
LAKEWOOD, OHIO– A slow start from St. Ignatius was too much to overcome as St. Eds defeated the Wildcats, 74-62, Saturday night. Some of the most recent games in this rivalry have come down to the final minute. Tonight's victory over St. Ignatius was not quite like previous games with the way St. Eds handled the Wildcats most of the night.
"It's very rare that we've had an easier win like tonight," coach Flannery said. "We've had some classics here. We expect those kinds of finishes."
Montorie Foster would pace the Eagles offense as he had a team-high 20 points. Grant Huffman racked up 18 points followed by Patrick Flannery's 11 points.
After the first quarter, St. Eds held a three-point lead after a back-and-forth first eight minutes. After that, it was smooth sailing for the Eagles as they started the second quarter on a rapid 7-2 run. The lead would be enlarged to 14 points at the half.
The lead would never get within single digits from that point on as St. Eds controlled most of the game on the defensive end. A couple of big stops leading to transition points the other way is what really opened up the game for St. Eds.
"Whenever you're in a big game and tough game, there is one thing you can rely on- effort and defense," said Flannery. "I thought tonight that was kind of our main focus, just making sure that we kept them uncomfortable all night."
Although Montorie Foster led the offense in scoring for St. Eds Saturday night, a fully healthy Grant Huffman was huge in a game like this. He missed a large chunk of the season thus far due to a broken bone in his foot. Saturday night was a promising sign for 6-foot-4 sophomore.
"Tonight, it was good to see him just not care about (his foot) and just go play," Flannery said. "Grant played like Grant. He just gives us another dimension and it was good to have him back."
As for St. Ignatius, it was senior guard Neeko Melendez who led the Wildcat offense as he had a game-high 24 points. Fellow seniors Jon Barnes and Josh Ozanne each had nine points during the loss.
The Eagles have had some big wins this season, but beating your rival on their home court makes this win more special for St. Eds. Patrick Flannery along with his fellow seniors were all smiles after the game.
"Just knowing that's our rivalry game, that we were going to come in today and win on this court. It was just huge for us," Patrick said on why this was a special win.
St. Eds will have a week until they play their next game, on the road against VASJ. Meanwhile, St. Ignatius will host Garfield Heights Friday night as they look to bounce back after a tough loss.

NEO Sports Insiders Newsletter
Sign up to receive our NEOSI newsletter, and keep up to date with all the latest Cleveland sports news.