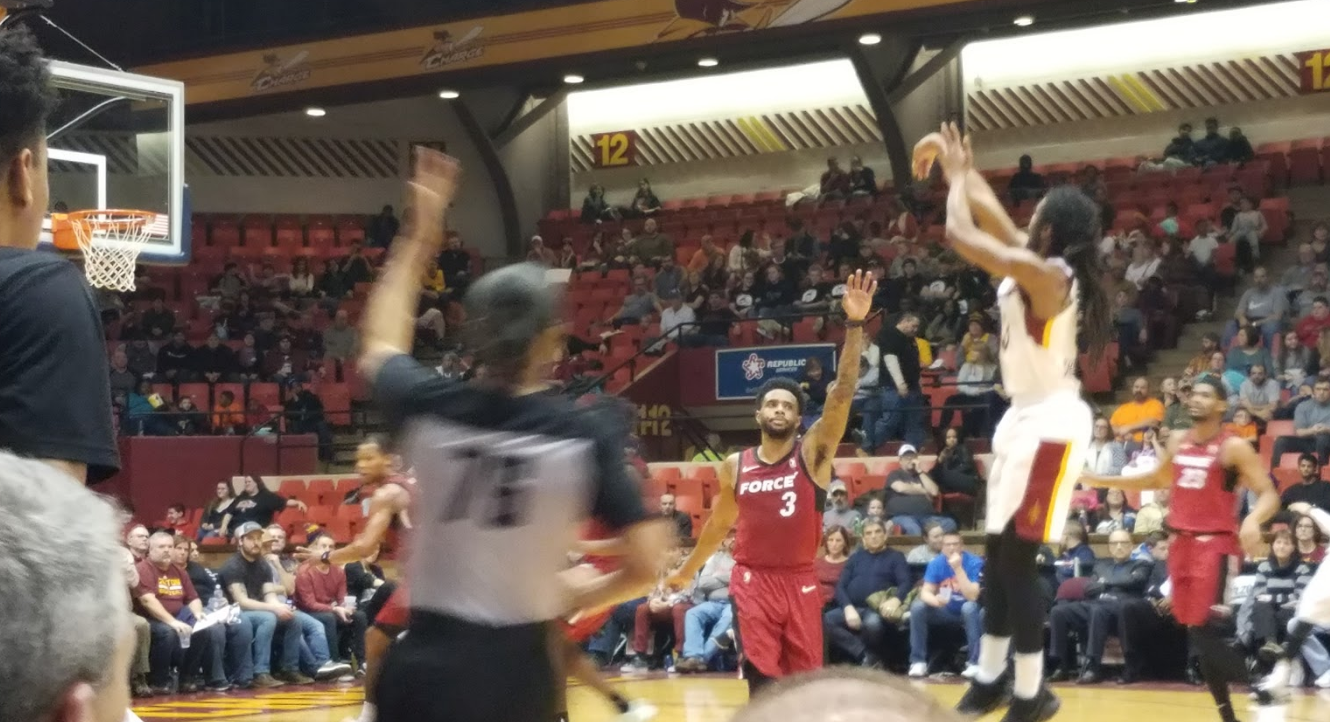 by Corey Perez
CANTON, OHIO– In front of a good crowd at home the Canton Charge never seemed to have quite enough energy Saturday night in a battle with the Sioux Fall Skyforce.
The Charge came in search of their third victory in a row, as they defeated both Raptors 905 and the Erie Bayhawks this week. While they seemed like a team that was playing a back-to-back, they still fought the entire night. Getting the score as close as one point in the fourth quarter, but too many wasted possessions ultimately cost the Charge in a 103 -100 loss to the Skyforce. Canton had a chance in the final seconds to tie the game, but the John Holland 3pointer went halfway down before deciding to not fall through the net.
Canton took a page out the Cleveland Cavaliers playbook in the first quarter giving up 37 points, tying a season-high in points allowed in the first quarter. Despite the poor defensive effort in the first, the Charge cranked up the defense the rest of the way never allowing the Skyforce to score more than 25 points in a quarter the rest of the way. Canton managed to give up only 19 points in the second quarter which tied the season low in second quarter points.
It's not very often that one quote can summarize a whole game, but Coach Nate Reinking was able to do just that following Saturday's loss.
"First quarter was the game, playing catch-up the whole time and any time we got close they answered with a three," he said.
As you can see, this game was weird. Besides Sioux Falls burst in the first, both teams seemed a little off tonight, as the teams combined for 36 turnovers. Charge coach Nate Reinking knows that in order for his team to be successful they have to handle the ball better.
"When we turn it over, it's the points. It just leads to easy buckets for them," he said.
While turnovers are costly for any team, they are particularly troublesome when the majority of them come from guys you expect to count on, such as John Holland, Ante Zizic and Caleb Swanigan, who combined for 12 of Canton's 19 giveaways.
Charge guard Marcus Thornton led the way for Canton with 35 points, 30 of which were scored in the second half. Thornton had seven 3-pointers including one to get the Charge within three with under a minute left in the game. Unlike Friday night, Canton wasn't able to close the game in the final moments.
Canton travels to New York on Tuesday to take on the Atlantic Division leading Westchester Knicks, before returning back home to Canton for a weekend double-header, beginning with the Lakeland Magic on Friday night, followed by the Greensboro Swarm on Saturday night. Canton hopes to improve its record at home as only 3 over their 11 wins have come at home.