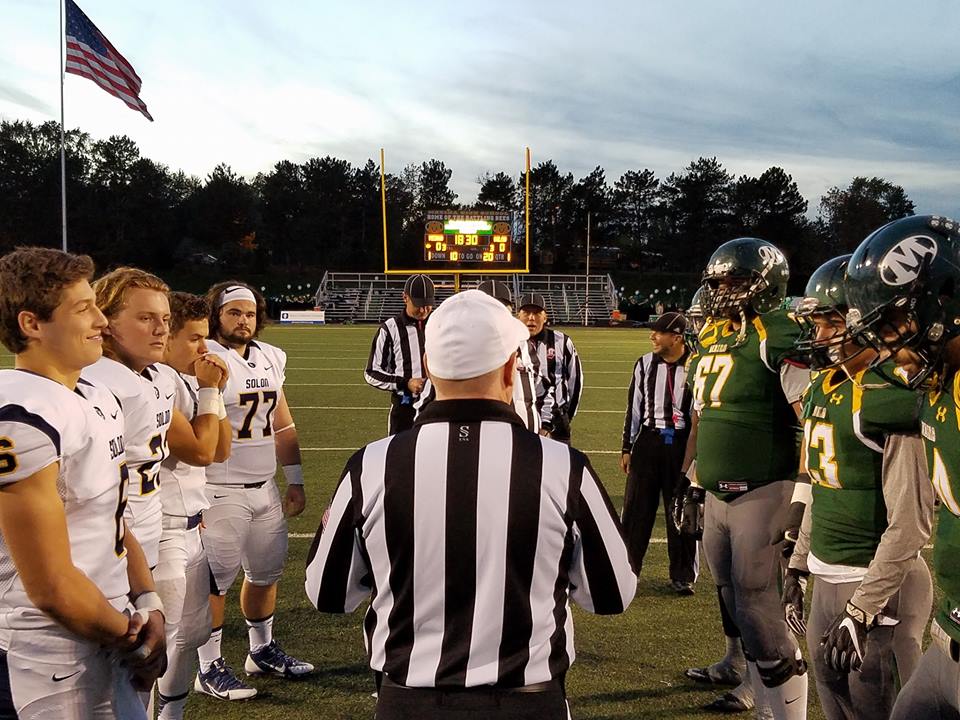 SOT Podcast Game of the Week
Week 10
Solon Comets vs Medina Bees
The SOT Game of the week saw the Solon Comets travel to Medina to take on the Battling Bees; the winner would be crowned the Greater Cleveland Conference champion. Both teams have secured playoff spots and were looking to end the regular season with a win and carry that momentum into the postseason. These two teams have put up really impressive offensive performances throughout the season and this matchup was shaping up to be another shootout
The action started early when a bad snap rolled out of the back of the Medina end zone, Solon had an 2-0 lead with 10:21 remaining in the opening quarter. After forcing a Solon punt, Medina was driving into Solon territory, but a fumble recovery by Solon gave the Comets a short field. Solon Drove 52 yards and scored on a 1 yard TD run by Junior RB Thomas Wilks, Comets lead 9-0 with at the end of the first quarter.
Medina's offense finally got rolling in the 2nd as Senior RB Jimmy Daw ripped off a 13 yard TD run, cutting the Comet lead to 9-7 with 11:53 remaining in the half. Solon's Thomas Wilks scored his second touchdown of the night on a 44 yd. run, solon lead 16-7 with 10:55 remaining. After both team traded interceptions, one by Solos CB JT Caver , and the other by Medina DE Will MerCurio. Jimmy Daw notched his second TD of the night with a 9 yd. TD pass from Bees QB Alex Whittaker, Comets lead 16-14 with 7:27 left in the half. Thomas Wilks scored his third touchdown of the half, rambling 46 yards to put the Comets up 22-14 with 5;25 left. After a big kickoff return, Medina started their drive on the Solon 46 yd. line, after driving down to the Solon 14 yd. line, That is when they turned to their star RB Jimmy Daw who ripped off a 14 yd. TD run, his third of the night. Medina was able to convert a 2 point conversion and the score at halftime was tied 22-22.
Solon started the 3rd quarter on offense , but the Bees defense forced a three and out, and gave their offensive unit the ball on their own 42 yd. line. The Bees offense, more importantly RB Jimmy Daw, drove right down the field and scored when Daw scored on a 8 yd. TD pass from Whittaker, Medina led 29-22 with 8:51 left in the 3rd. Medina's Defense again held Solon to a punt on the next drive, the Bees were driving into Solon territory when Comet DB Ryan McCurry picked off a Whittaker pass. Medina's Defense again forced a solon punt, this time backing the Bees up to their own 3 yard line. Despite spotting the Bees 30 yards on two unsportsmanlike conduct calls the comets forced a medina punt. Solon RB Thomas Wilks broke free for a 41 yd. TD run and the comets tied the game 29-29 to end the 3rd quarter with The Bees driving into Comet territory.
The fourth quarter opened with a 6 yd. TD run from Daw, his 5th of the night, Medina led 36-29 with 11:21 left in the game. Solon started their first drive on their own 36 yard line, they drove the length of the field utilizing a 20 yard pass reception on 4th and 11 keep the drive going, Wilks scored on a 1 yard TD plunge, and after a successful two point conversion the comets held a 37-36 lead with 6:57 left. Solon's defense was able to stop the Jimmy Daw and the medina offense and force a punt on the next. The Comets took over on their own 26 yard line drove 74 yards, including a beautiful 55 yard pass from Solon QB Joe Bubonics to WR Darryl Sinclair, to set up a 2 yd. TD run from Wilks, his sixth of the evening, Solon lead 44-36 with 3:23 left in the game. Medina's dreams of a comeback were dashed as a 13 yd. interception for a TD by Solon LB Matt Brown put the Comets up 51-36 with 3:04 left in the game. Medina' did score again on a Jimmy Daw 1 yd. td run, his sixth of the night, but a failed onside kick allowed Solon to seal the victory 51-43.
Solon Coach Jim Mcquaide spoke glowingly of his junior running back Thomas Wilks:
"We have experienced guys up front but we needed someone to lead those guys and Thomas has really taken that role this year".
Running Back Thomas Wilks was quick to point out that his performance was a direct result of his offensive line's outstanding effort:
"I give everything to my O-Line they opened up holes and I ran threw it.  I give all the credit to, Nate Westrich, Zach Beder, Chris Glaser, Maurice Ashford, and Yusek Russell".
The Victory gives Solon (9-1, 7-0) the Greater Cleveland Conference title and locks in the Comets for a home playoff contest in Division I Region 1. Medina falls to 8-2 and 6-2 in conference they will also be in the Division I, Region 2 playoff (final playoff seeding will be released on 10/30/16)

NEO Sports Insiders Newsletter
Sign up to receive our NEOSI newsletter, and keep up to date with all the latest Cleveland sports news.