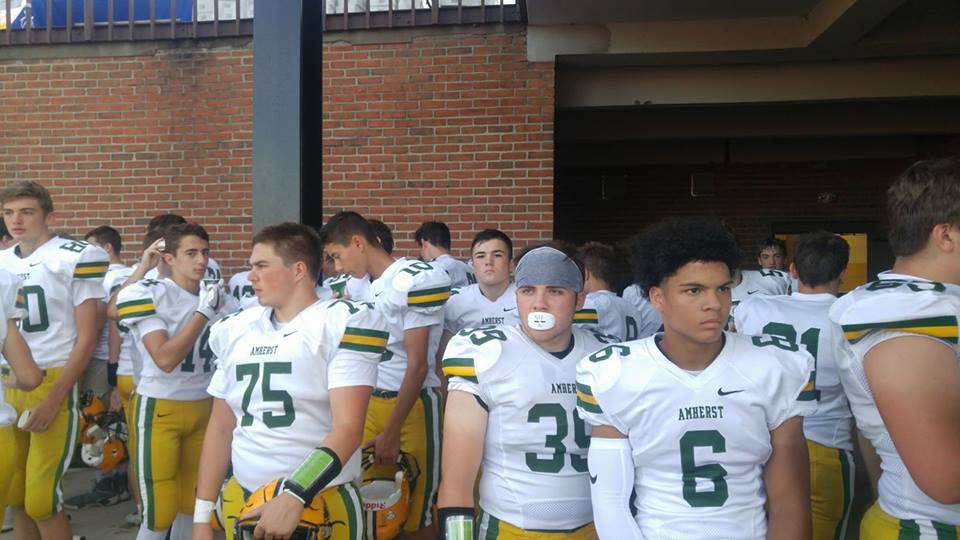 This weeks recap is brought to you by BA Sweetie.  You can visit them at http://www.sweetiescandy.com/
BEREA, OHIO – Despite a wild fourth quarter rally from the Berea Midpark Titans that saw seven total touchdowns scored between the two teams, the Titans came up just shy in 51-41 defeat to the visiting Amherst Comets.
The game would finish with 92 total points and 13 touchdowns.  The Comets survived two big fourth quarter Bryce "The Beast" Agnew touchdown runs, and two Trevor "The Duke" Bycznski touchdown tosses, to hang on to victory in a frenzied finish.
The Comets won on the arms and legs of their "one man wrecking crew," the quarterback slash running back Khennedy Scagliozzo. This incredible athlete ran for 296 yards on 35 carries from the Wing T offense.  He scored three times running the ball, then threw for a 36-yard touchdown pass to Devin Holmes.  The tailback slash quarterback is only a junior, thus the SWC better get used to Scagliozzo running wild for at least another 15 games.  Berea Midpark may have had the Duke, but Amherst had the "Tasmanian Devil."   
It doesn't hurt matters that his favorite target tonight was Devin Holmes, a 6-foot 5-inch massive senior receiver.  Joining Scagliozzo in the backfield of that nasty Wing T tonight was Evan Shawver, who also had a huge game.  Shawver finished with 97 yards on 10 carries, including touchdown runs of 58 and nine yards.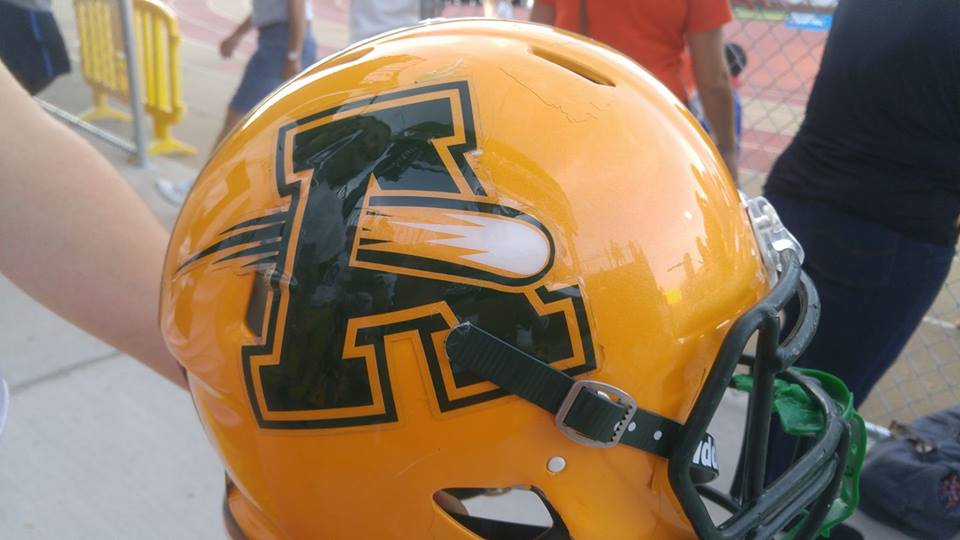 To Berea's credit, they never gave up, despite being down theee scores several times late in the game.  Trevor Bycznski settled down from a shaky start, to finish with 364 yards on 24-of-45 passing, with four touchdowns and his first interception of the year.  To his credit, the one pick was a 50-yard jump ball down the field that the Comets defender literally ripped the ball right out of the receivers hands in a great play!
The Titans never gave up and that is a sign of great coaching, motivation and leadership from Jon Hunek and his assistants. Perhaps the Titan that showed the most heart when the chips were down was Bryce Agnew.
Despite being down late in the fourth quarter, Agnew once again showed heart, hustle and integrity by plowing ahead for two fourth quarter touchdown rumbles, one of which he scored while the Comet defense was bending him over backwards.  Agnew finished with 77 yards and two touchdowns on 16 carries.
Amherst's Wing T offense saw Scagliozzo taking direct snaps which led to four carries on the first drive of the game, piling up 59 yards.  The drive stalled on the six and they had to settle for a 29-yard field goal by Allen Matakovich  to put Amherst up 3-0.  The Comets defense then stepped up and forced a rare three-and-out by the Titans.
After another Titans drive came up empty, unable to even get across the fifty-yard line, the Comets offense took control once again.  The Comets didn't take long to give the ball back to Scagliozzo and watch him go.  This time for a 74-yard touchdown run to make it 10-0. The run was part of a 148-yard first quarter on the ground by Scagliozzo. The quarter would end by the same score.
Things went from bad to worse for the Titans early in the second quarter when the vaunted Comet rushing attack struck again.  This time it was a 58-yard Evan Shawver touchdown scamper as the Comets extended their lead to 17-0.
Despite the deficit the Titan attack showed the heart they are known for and managed to score before the half.  It was a gutsy call near the goal line, but Dwayne Holland would make head coach Jon Hunek look like a genius as he took in a two-yard slant, for a four-yard touchdown as the last set of seconds were about to tick away.
With no timeouts, if Holland didn't get in, that would have been it.  Two drives inside the 10 in a 5-minute span that would have come up empty.  The Comets would have led at the half 17-0 instead of 17-7.
The Titans would use the late first half score to steal the momentum as the second half began on a Bycznski to Garrett Waite 66-yard touchdown strike to make it 17-14.  The Comets were not to be denied however, and took the mojo right back.  The Comets would score the next 20 points to blow the game wide open at 37 -14 early into the fourth quarter.
It was then, that all holy heck broke loose as both teams starting scoring at will.  A Berea Midpark Bryce Agnew touchdown, would make the game 37-21 and give the Titans hope.  It wasn't long after that that a Scagliozzo scamper made it 44-21 with four minutes left.
Most teams would have given up, but most teams are not the Berea Midpark Titans.  Berea Midpark proceeded to score three straight touchdowns, thanks in part to a couple of consecutive onside kicks that made it 44-41 with 15 seconds to go.  It wasn't enough as Amherst offensive linemen Jake Lenzon recovered the final on side kick and took it to the house to put the game away at 51-41.
My 3 game balls go to Khennedy Scagliozzo for his monster performance.  Berea Head Coach Jon Hunek for never letting his team give up and keeping them motivated all night.  And finally, Bryce The Beast Agnew for two of the most gutsy touchdown rumbles I have seen in a long time.
Next week, Berea stays at home and takes on one of the best teams in the state as the Midview Middies and Seamus Higley come to town.  Meanwhile, the Comets will welcome in another SWC powerhouse, this time in the form of Olmsted Falls.
Box Score
Amherst 10 7 14 20 = 51
Berea MP 0 7 7 27 = 41
Scoring Summary
1Q 29-yard FG Matakovich @10:02
1Q 74-yard TD run Scagliozzo. XP good @5:35
2Q 58-yard run Evan Shawver. XP good. @11:20
2Q 4-yard TD pass Bycznski to Holland. XP good. @0:20
3Q 66-yard TD pass Bycznski to Waite. XP good @11:34
3Q 9-yard TD run Shawver. XP good @7:41
3Q 36-yard TD pass Scagliozzo to Holmes. XP good. @3:14
4Q 27-yard TD run Scagliozzo.  XP blocked. @10:04
4Q 1-yard TD run Agnew. XP good @6:51
4Q 24-yard TD run Scagliozzo. XP Good. @4:04
4Q 4-yard TD run Agnew. 2pt XP attempt no good. @2:41
4Q 14-yard TD pass Bycznski to Waite.  XP good. @1:07
4Q 9-yard TD pass Bycznski to Vega. XP Good @0:15
4Q 51-yard Kickoff Return by Lezon. XP good. @0:09

NEO Sports Insiders Newsletter
Sign up to receive our NEOSI newsletter, and keep up to date with all the latest Cleveland sports news.