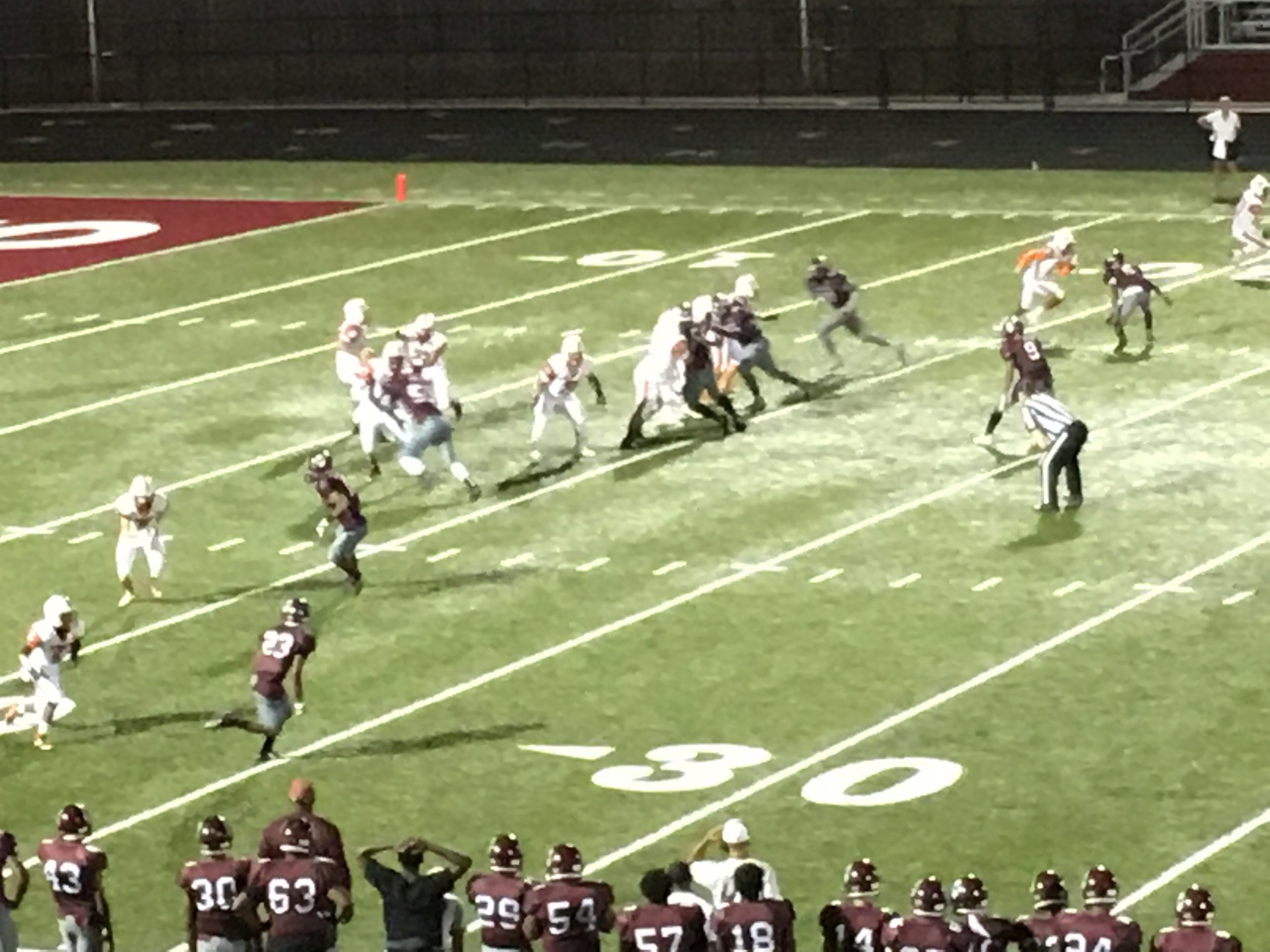 by Michael Bohm
MAPLE HEIGHTS, OHIO– In a game that started entirely one-sided in favor of Mansfield, Maple Heights turned up the intensity in a hurry thanks to a series of breathtaking plays causing Friday night's showdown to come down to the wire. In the end, however, Mansfield emerged victorious, edging out a 35-29 win.
In the beginning, Maple Heights was off to shaky start on both sides of the field, as they committed costly penalties, turnovers and even a safety while also allowing a 51-yard touchdown run by Minnesota Golden Gopher commit Jornell Manns on the Tygers' very first play from scrimmage. Mann's would pick up where he left off on the next drive with a 48-yard run, dancing by defenders and shrugging off tackles across the field.
Then, the Mustangs flipped the figurative switch. Wideout Donte Abrams made a sensational move on his defender to find himself all alone in the back of the end zone for an easy six, making the score 16-8 after a two-point conversion completion.
The Tygers would answer on an eight yard touchdown haul-in by Tre'Suan Windham with 1:53 remaining in the first half. This would not be the final scoring drive of the first half, nor the second, even third to last, as both teams executed their respective two-minute offenses to perfection.
Not even 20 seconds later, Maple Heights quarterback Devin Dial scrambled out of the pocket after it collapsed, nearly crossed the line of scrimmage, but not before spotting a wide open Donte Abrams after the cornerback aborted his coverage to take down Dial. The junior Dial acted quick on his toes as he passed to Abrams who made an absurd one-handed grab and turned on the jets for a 65-yard score, making the game 22-14.
The Mustangs would get the ball back with just over one minute remaining, and Dial found Antoine Holloway II on an intermediate curl route with one man to beat. Holloway turned up field and maintained his balance to take off for the 38-yard score with 51 seconds remaining to pull within one, 22-21.
Demonstrating a sense of urgency, Mansfield drove down the field and made it to the ten-yard-line, where two consecutive penalties set them up at the two with no time left. Jornell Manns powered through the middle, carrying defenders on his back, as he fell forward for the score to go up 28-21 at halftime.
The second half featured only one score from each team, as Mansfield scored on a four-yard play-action pass from signal caller Sidney Caudill to his younger brother Clay Caudill midway through the third quarter.
With 5:34 remaining in regulation, Devin Dial drove his Mustangs down the field and punched it in himself for a one-yard score to make it a 35-29 game.
They would proceed to hold Mansfield before the Tygers executed a goalie stand of their own, turning the ball over on downs after Maple Heights could not cross the plain. Undeterred, the Mustangs would have one more shot, pulling to within the ten-yard-line before a low snap was mishandled and brought them back to the 22.
After two unsuccessful Hail Mary attempts, the Tygers ran out the clock to pull away in a remarkable fight to the finish.
Mansfield improves to 4-1 while Maple Heights falls to 2-3.

NEO Sports Insiders Newsletter
Sign up to receive our NEOSI newsletter, and keep up to date with all the latest Cleveland sports news.