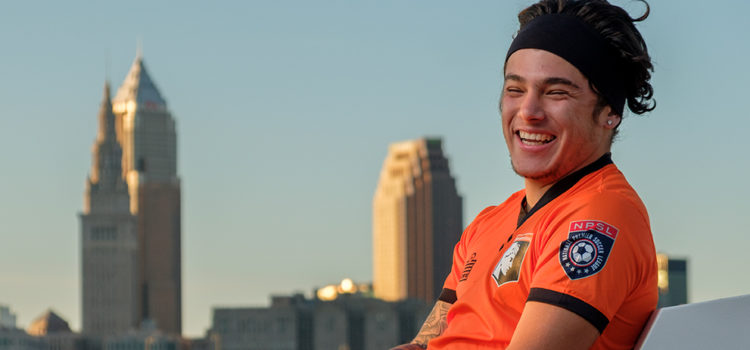 Chants of "Antonio" rang from the Sixth City faithful as fan-favorite Antonio Manfut took the field during an April friendly against FC Columbus. This was the first time Manfut appeared in a Cleveland NPSL uniform since scoring the game-winning goal of the 2016 NPSL National Championship to give Cleveland its first NPSL championship.
The Maple Heights native's prominent role in the club's championship campaign is remembered well among Cleveland soccer fans, making his signing with Cleveland SC for its first NPSL season all the more exciting.
Manfut's addition to Cleveland SC brings a spark of offense to a squad that includes many of the players that helped bring that championship to Cleveland. Reuniting with those teammates helped Manfut's decision to return to Cleveland in 2018, one year after providing his services to the Rochester Lancers and coming just one point shy of making the NPSL playoffs.
"I decided to come back to my teammates who a lot are like family to me and wanted to go for another championship," said Manfut. "It's a great feeling representing Cleveland because most of us grew up playing in the youth system here and now playing for the highest-level Cleveland has to offer right now is a great feeling."
In just a few weeks with the club, Cleveland SC Head Coach Ryan Osborne has already seen Manfut's potential as key player during the club's 2018 campaign.
"Antonio definitely has the ability to be a big player for us this season, particularly in the final third," said Osborne. "He has shown before in the NPSL that he is capable of scoring and creating chances for others and has a tendency to create something out of nothing especially when he gets behind the opposition or in 1v1 positions."
At just 23, Manfut has accumulated enough minutes across many leagues and competitions to rival the most experienced veterans in the NPSL. In addition to his NPSL career, Manfut plays in the Major Arena Soccer League (MASL) for the St. Louis Ambush and has already collected 74 goals and 37 assists in 114 MASL matches.
He also has represented the United States Futsal National Team and owns a soccer development program, AM Skill Training, where he returns his knowledge to the local community to help grow the game at the youth level.
According to Manfut, his greatest soccer accomplishments and milestones have come during his indoor and futsal career. "My biggest challenge of my career is coming to the professional indoor league when I was 18, but my favorite soccer memory would have to be scoring my first goal with the U.S. Futsal National team against Venezuela in a tournament in Costa Rica during my first call up. There is no feeling like wearing the crest if your country" said Manfut.
Manfut was also a standout in his youth career before signing his first professional contract with the Syracuse Silver Knights. Growing up in Maple Heights, he played and won the state cup with the Cleveland Whitecaps under Cleveland indoor soccer legend and Whitecaps owner Mike Sweeney.
Manfut also earned recognition in high school at St. Vincent St. Mary High School in Akron where he started varsity all three years he attended and was named All-State both his junior and senior year.
Manfut will not only be reuniting with his former AFC Cleveland teammates for Cleveland SC's inaugural season home opener Saturday, May 19, but will also be sharing the field with his former Rochester Lancers teammates – this time as opponents. Despite the change in scenery, Manfut is looking forward to the clashes between the two clubs this season.
"It will be fun playing against them. I always enjoy playing against friends," said Manfut. "It's a bit of bragging rights till next time you see each other but it's never hard feelings."
Fans who come out to John Carroll University Saturday could see glimpses of Manfut's skill on display, which is inspired by some of the world's best.
Both Osborne and Manfut agree that Cleveland SC's players' previous time spent as teammates will help them during the early stages of the season.
Antonio and the rest of Cleveland SC will take part in the club's first match against the Lancers Saturday, May 19 at Don Shula Stadium. Kickoff is set for 5:30p.m., and season and single-match tickets are currently available at ClevelandSC.com.
Picture and article content both provided by Cleveland SC

NEO Sports Insiders Newsletter
Sign up to receive our NEOSI newsletter, and keep up to date with all the latest Cleveland sports news.