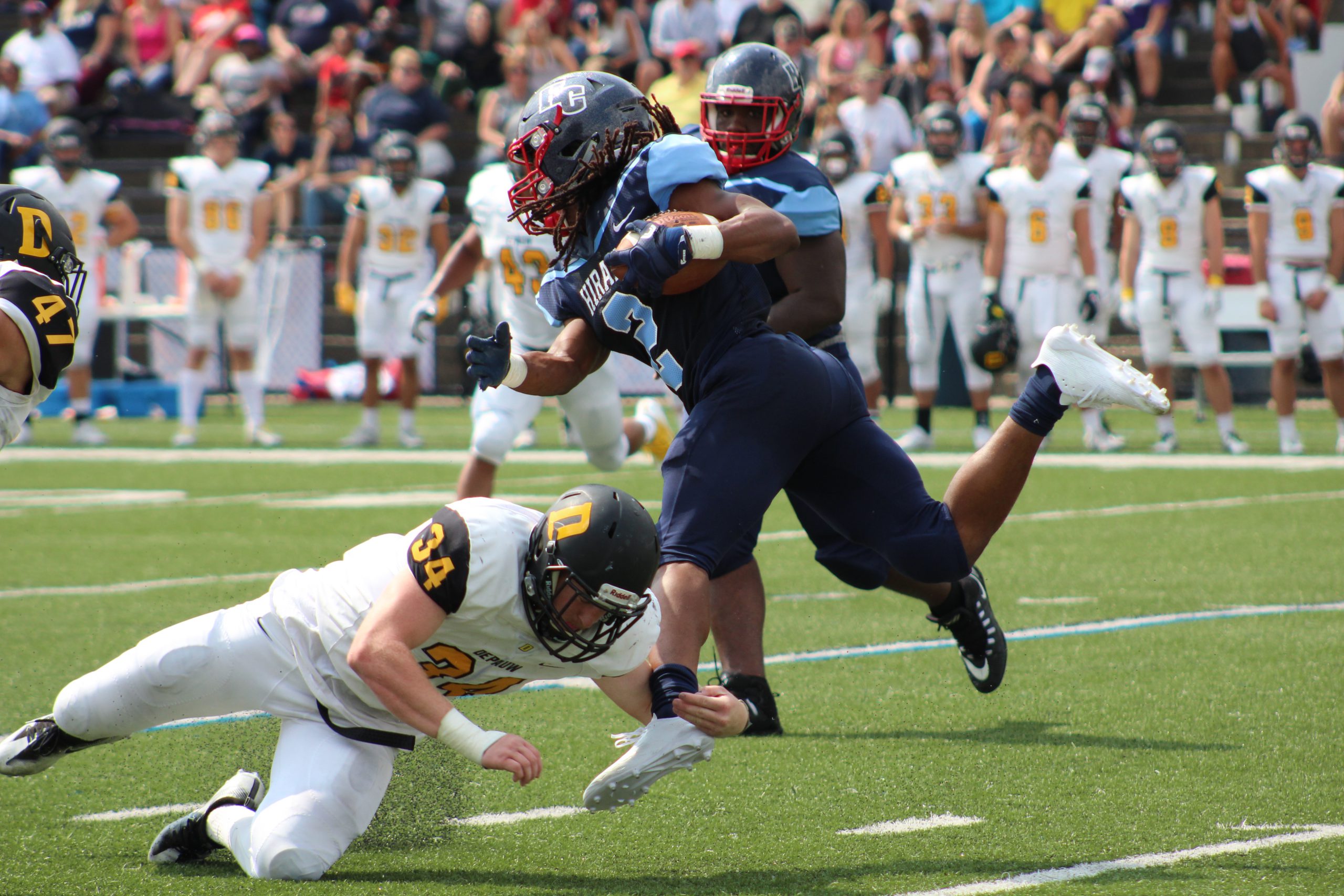 By: James Cross
Hiram College, Hiram (OH) – The Hiram Terriers stumbled this weekend as they fall to the Depauw Tigers, 55-28.
The Tigers would strike first at 12:02 in the first quarter from a 20 yard touchdown run from Quarterback Matt Labus to lead 7-0 in Depauw's favor. Depauw would score for the second time in the first quarter from a 9-yard touchdown pass to Jake Hagan from Labus, pushing the score to 14-0 with 3:48 left in the first quarter. Labus would finish today on 20-30 on passes for 377 yards with five touchdowns and one interception.
Hiram would retaliate with a 48-yard touchdown pass from Junior Quarterback Randy Tucker, cutting the deficit to 14-7 at the end of the first.
Depauw would then score 20 unanswered points to end the half, highlighting two passing touchdowns from Labus and one from Hagan to give the Tigers a 34-7 lead over Hiram at halftime.
Depauw would open the second half with a 30-yard touchdown pass from Labus to Running Back Andy Hunt to push the lead to 41-7 with 9:18 remaining in the third quarter.
Depauw would score off a 80 yard pass from Labus to Andy Hunt to push the score to 48-7 in the Tigers favor.
Hiram would then score the next two touchdowns, one from Running Back Isaiah Jones and another from Wide Reciever DJ Franklin, followed by a touchdown from Depauw.
Hiram would find the endzone last off a seven-yard pass from Randy Tucker to Franklin, cutting the deficit to 55-28 for the final score. Tucker finished today with 25-39 on pass attempts for 366 yards and three touchdowns.
After having bye-weeks, The Hiram Terriers fall to 1-1, and the Depauw Tigers move up to 2-0. The Depauw Tigers head back to Indiana to face the Wooster Scots at home on Saturday, September 23 with a 1:00 p.m. start time. The Hiram College Terriers are heading to Indiana to face the Wabash Little Giants on Saturday, September 23 at 2:00 p.m..

NEO Sports Insiders Newsletter
Sign up to receive our NEOSI newsletter, and keep up to date with all the latest Cleveland sports news.