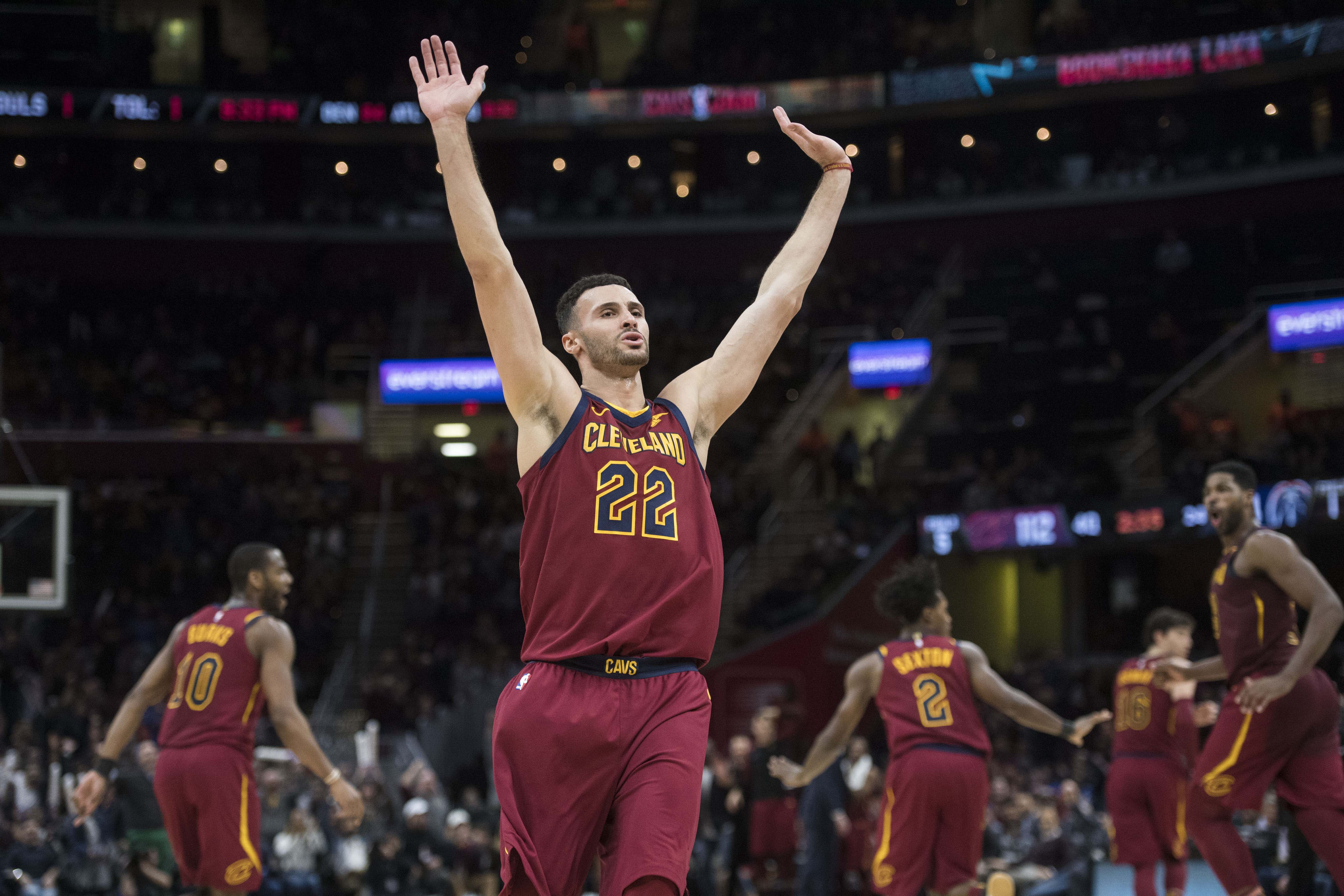 On Saturday night, the Cleveland Cavaliers blasted the Washington Wizards to defeat the perennial playoff contenders by a margin of 15 points, with a final score of 116-101.
With starting swingman Rodney Hood out due to a right foot injury and starting guard George Hill having been traded to the Milwaukee Bucks in exchange for guard Matthew Dellavedova and center John Henson, the Cavs were shorthanded against the Wizards and forced to play both of their Two-Way players in forwards Jaron Blossomgame (who got his first NBA start) and Jalen Jones. Further, the recently acquired Alec Burks was moved to the starting lineup in place of Hood.
However, it didn't matter that Cleveland had to go so deep into their bench as two of their mainstays — rookie point guard Collin Sexton and veteran center Tristan Thompson — had a field day against Washington.
Sexton finished the game with 29 points (13-23 shooting from the field, 3-7 shooting from three-point range), six assists (a career-high), three rebounds and two steals in 40 minutes but the speedy Young Bull had 17 points and five assists by halftime, with the Cavs up 62-46. Meanwhile, Wizards All-Star John Wall was held to just one point on 0-5 shooting from the field, the second consecutive game he struggled to score against Cleveland's rookie cornerstone.
Thompson finished Saturday's contest with a season-high 23 points, 19 rebounds (seven offensive), five assists and two blocks. Playing at an All-Star level, Thompson recorded his 15th double-double of the season against Washington, one he had by halftime. Thompson also moved into fourth place in franchise history in career rebounds on Friday, passing "Hot Rod" Williams and possibly cementing his status as a Cavs legend in the process.
Still, there were a number of important takeaway's Cleveland's impressive victory. Starting with one that the whole world learned on Saturday.
'The sky's the limit' for the Young Bull
Sexton looked as comfortable as ever when he faced the Wizards and while part of it could have been him remembering his performance against Washington earlier in the season, as he scored a then career-high 24 points against the Wizards in a 24-point loss to Washington. However, Sexton also looked as if he was inspired by the matchup against Sacramento Kings second-year floor general De'Aaron Fox, who bested Sexton's 23-point, two assist effort on Friday with 30 points and 12 assists in a 19-point win.
Sexton shares a number of similarities with Fox, as both are considered to have track star speed and are hard to contain on the move. Furthermore, both Sexton and Fox entered the league needing to work on their jump shots. The primary difference between Fox and Sexton, offensively, is that Fox has always been a more determined facilitator while Sexton is more of a scoring-minded point guard.
Nonetheless, after watching "The General" rifle passes around The Q on Friday night, the Young Bull looked a lot like Fox. He was so invested in working or find his teammates open and when he did see the crease, he delivered.
Following Friday's win, Thompson would tell Fox Sports Ohio's Angel Gray that "the sky's the limit" for Sexton, who has scored in double-figures in each of his first 16 starts (besting Kyrie Irving's streak of 15 games). As a starter, Sexton has averaged 18.9 points, 3.6 rebounds and 2.9 assists per game while shooting 47.4 percent from the field and 47.4 percent from three-point range.
So much for him not knowing how to play.
Tristan Thompson deserves All-Star recognition
Thompson will have stiff competition if he wants to be an All-Star in 2019, as big men like Philadelphia 76ers center Joel Embiid, New Orleans Pelicans center Anthony Davis, Denver Nuggets center Nikola Jokic, Detroit Pistons center Andre Drummond, Miami Heat's center Hassan Whiteside, Memphis Grizzlies center Marc Gasol and Utah Jazz center Rudy Gobert are also deserving of All-Star recognition.
Further, with the NBA opting to make the All-Star Game a 'playground style' event that sees two captains picking their teammates, regardless of conference, Thompson can't even rely on his current ranking among Eastern Conference centers to gain an edge in the competition.
Nonetheless, there are only four centers on the list — excluding Thompson — that are seen as the most valuable players on their roster (Embiid, Davis, Jokic and Gasol) and that's where the Canadian may be able to convince voters that he's an All-Star this season. Though there are better scorers on the team than Thompson, the eight-year center has been one of the team's two most consistent players all season, with the other being sixth man Jordan Clarkson.
He's been a rock, anchor and leader for the Cavs in what's been their most trying season since 2010-2011 and while that's been on display all season, Saturday night was just the latest game that Thompson appeared to be a man amongst boys.
Thompson is averaging 12.0 points, 11.8 rebounds (5.1 offensive), 2.2 assists and 0.8 steals per game this season, all career-highs. Even if he doesn't make it to the All-Star game, his performance through the first third of the season won't be forgotten by Cavs fans.
The Cavs aren't purposely tanking
It should be stated that just because the Cleveland Cavaliers want to be a younger team, trading away veterans who are getting long in the tooth like sharpshooter Kyle Korver and the savvy George Hill, doesn't automatically mean that the Cavs are "tanking." In fact, when former head coach Tyronn Lue was relieved from his position, one of the primary reasons was because Cavs general manager Koby Altman wanted to see Cleveland be more competitive.
That said, though Korver, Hill and even J.R. Smith had on-court value that can't be ignored, the team's energy and style of play seems to be much more suited to winning than before their departures.
Korver has been replaced by Alec Burks, an aggressive guard who isn't the three-point threat that Korver is but can create shots for himself and others throughout the entire game, one of the Cavs' primary needs when Korver was still on the roster.
Hill has been replaced by Matthew Dellavedova and though Hill is far more efficient that Delly, the Cavs have brought back a fan favorite that well help put fans in their seats while boosting the locker room morale.
Smith has been replaced by either Rodney Hood or David Nwaba, depending on how you look at it. While Smith was one of the team's best three-and-D players during their championship years, he was inefficient from the field all season (shooting 34.2 percent from the field and 30.8 percent from three-point range) and despite his efforts to be a leader, often displayed a negative or me-first attitude. Attitudes that are completely different than that of Hood or Nwaba.
Further, in discussing their impact on-court, Hood has been a more consistent shooter than Smith this season and takes fewer ill-advised jumpers than the enigmatic guard. Nwaba isn't a three-point threat by any means but he hounds players on the defensive end and does the dirty work that a team needs to win ugly games.
The Cavs now play faster, with more unity and have better energy in the locker room. Maybe those are the keys to tanking but it seems, to me, like Cleveland's record is simply the effect of injuries, a lack of chemistry and a lack of talent rather than a purposeful plan to lose as many games as possible. The talent and injury issues may exist all season but with the Cavs wheeling and dealing to bring in playmakers and fan favorites, it's hard to say Altman isn't interested in improving the team's on-court product.
*All stats gathered from Basketball Reference

NEO Sports Insiders Newsletter
Sign up to receive our NEOSI newsletter, and keep up to date with all the latest Cleveland sports news.