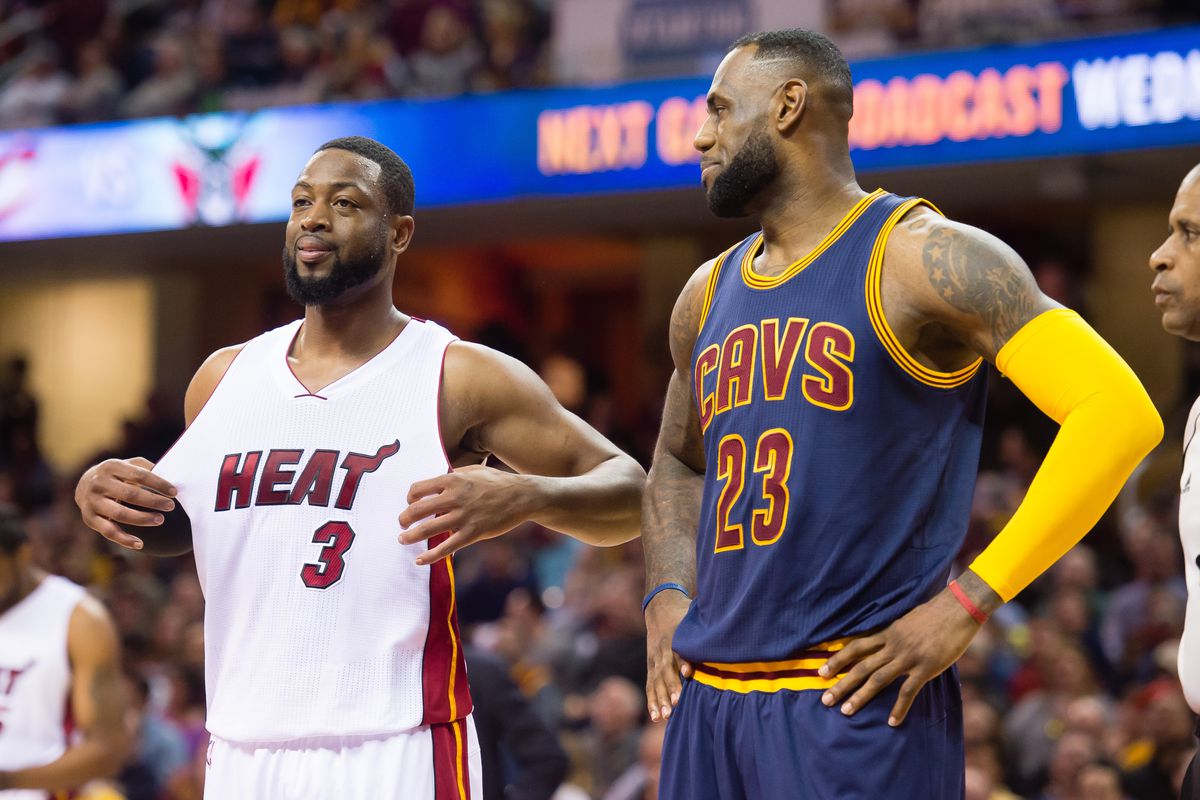 Had LeBron James stayed with the Miami Heat in 2014, had the Heat taken care of him in 2016, had the Chicago Bulls kept Jimmy Butler instead of trading him – Dwyane Wade may not have been standing in front of reporters as he was introduced as the newest member of the Cleveland Cavaliers.
All that happened though.
Wade knew that James may have been leaving before that infamous plane ride in 2014. "That was the summer everything in Miami kind of changed", Wade said, citing how Chris Bosh would receive a maximum contract but he wouldn't.
"I wasn't a part of that being taken care of… that was Miami's decision's not to give me the money they gave me".
"Would you be standing here if that summer went differently", Wade was asked.
"Probably not".
The last incident – the trade that led to Butler being traded to the Minnesota Timberwolves in exchange for Kris Dunn and Zach Lavine – led to a change of heart in the Windy City. He didn't sign with the Bulls to play during a rebuild (though the allure of playing for his hometown team and $24 million may have still led to Wade signing in Chicago). Ultimately, Wade agreed to a buyout with the Bulls on Sunday, signing the same deal he didn't want to sign last summer.
Wade missed the big moments and big games – something he didn't have for two years. Something he could have with James' Cavaliers. While Wade's last two teams (the 2015-2016 Miami Heat and 2016-2017 Chicago Bulls) have been anything but title contenders, James has led the Cavs to three consecutive NBA Finals.
"I've been lucky enough in this league to be in a lot of big games, a lot of big moments".
"When you come into a season and you're just playing to play, I don't like that feeling… I like to know it's going to be a long season and those are the things that make me feel alive. Just being on that big stage. Being in those moments."
Now that the Cleveland Cavaliers have Wade, they expect "his championship DNA, his undying commitment to winning, his work ethic, his work ethic and his leadership" to aid them on and off the court. Wade is a three-time NBA champion, a former NBA Finals MVP and, as Cavs general manager Koby Altman mentioned, a former scoring champion (2009).
"A guy that needs no introduction", as Altman said.
A 15-year veteran, Wade has the experience necessary to be trusted as a playmaker and in the clutch. Last season, players like DeAndre Liggins and Iman Shumpert came off the bench to play point guard at the beginning of the season. Picturing Wade in place of Deron Williams also inspires confidence. Williams had a horrendous Finals performance, missing his first eleven shots as he looked like a shell of his former self. Now the Cavs have the luxury of Wade leading the second unit, as he was in Thursday's practice.
It was a series of unfortunate events for Wade but fortunate events for the Cavs that led to Wade signing with the team.
"I'm just excited to be a part of what they've built here".