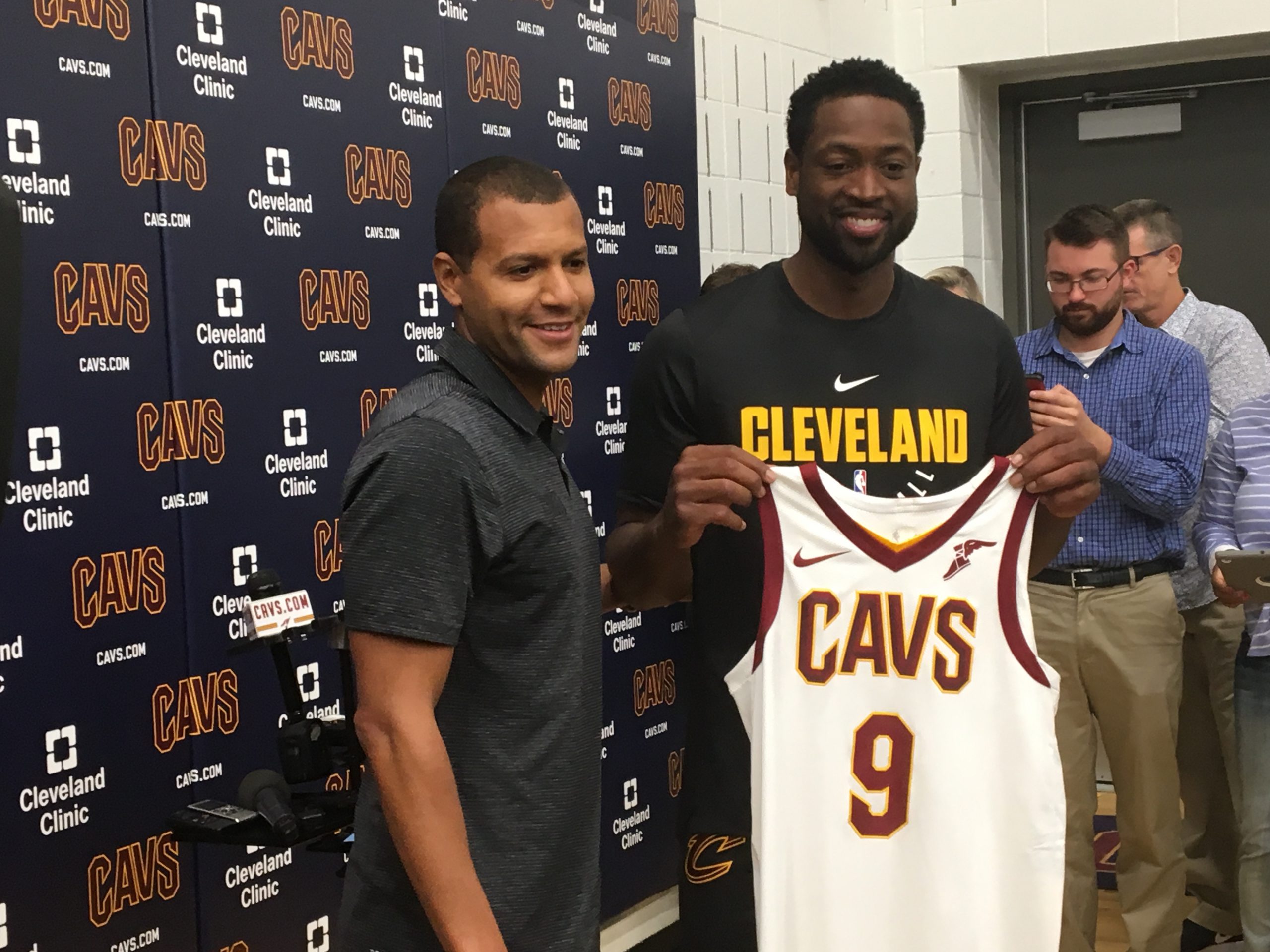 INDEPENDENCE, OHIO– Dwyane Wade thought his days of throwing alley-oops to LeBron James were behind both of them.
But now, after reaching a buyout with the Chicago Bulls earlier in the week, he and James once again get to exhibit their one-of-a-kind on-court chemistry that they showed off in Miami for four years.
This time though, they'll get to do it in the wine and gold.
"The biggest thing you want to rekindle is success," Wade said at his introductory news conference on Friday. "It's like peanut butter and jelly, man, we just go together."
More Wade on LeBron pic.twitter.com/aDgLK16dqG

— Ashley Bastock (@AshleyBastock42) September 29, 2017
It's clear that these two are as happy as two kids in school who realize their best friend is in the same class with them, a metaphor that James himself used with the media on Wednesday.
Considering they were in the same draft class, played together for four years with the Miami Heat, went to four straight NBA Finals together, and earned two rings in the process, it's no wonder that Wade and James have remained close friends even after James left Miami to return home to Cleveland.
And now that the two are reunited, it is basically a surreal experience for the both of them.
"Every time we walk by each other in the locker room and everywhere, we just look at each other and shake our head because it just don't seem real," Wade said.
"It's like, 'How did this happen? How did we get here?' We just start laughing every time we walk by each other. It wasn't planned, it wasn't expected, but when it happened it happened, and everything happened fast. It's definitely cool, it's definitely good to have a friend here, somebody that you respect here, that's playing the game here."
There's no question how influential James was in getting Wade to put pen to paper in Cleveland. Wade said that James was subtle at times in his recruiting efforts, but Wade could tell that James thought he would help the team.
"The first time he reached out to me was a couple days after Jimmy [Butler] got traded, and he just texted me and just said 'Hey man just checking on you,' and I knew what that meant," Wade recalled laughing.
"We obviously talk very often. Then the next time he reached out to me again a little bit later he said, 'Hey man, I would love if something happens in Chicago and you're not a part of the organization anymore, I would love for you to be here.' So just things like that. It doesn't matter, all of us here we want to be wanted. … He knew I could help this team in some way. I appreciated that. It wasn't the sole reason, but definitely everyone knows our relationship, and that he's a huge reason why I decided to come here. "
Wade on how LeBron "recruited" him pic.twitter.com/GeKoib7Uyl

— Ashley Bastock (@AshleyBastock42) September 29, 2017
For now, despite his reunion with one of his best friends, whether Wade will start or not remains uncertain. Wade will be in competition for playing time with J.R. Smith and Kyle Korver in the shooting guard role. Over the last couple of days at practice, head coach Tyronn Lue said he had Wade running the point guard position with the second unit.
But Wade seems unfazed, at least for now, when it comes to whether or not he will earn the starting nod on Oct. 17.
"Me and Ty just talked about, we talked about role," Wade said. "We didn't talk about starting or nothing like that. We just talked about what my role can be and pretty much what I've always done. Understanding that right now we have to get through training camp, we have to see how guys play together, we got to get through preseason. I'm not focusing on starting at the 2. I'm not focusing on anything."
Wade on his potential role pic.twitter.com/g6ItdJXgbY

— Ashley Bastock (@AshleyBastock42) September 29, 2017

NEO Sports Insiders Newsletter
Sign up to receive our NEOSI newsletter, and keep up to date with all the latest Cleveland sports news.