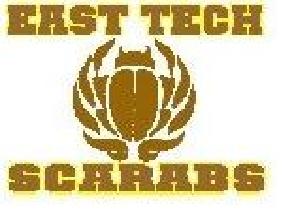 by DJ Kristyles
The returning city champions East Tech Scarabs visited Lincoln West Wolverines for a Friday evening Cleveland Senate League battle.
Pressing early and often, East Tech got out to a early 24-15 first quarter lead, led by junior forward Maurice Gray with 11 points. The second quarter started with both teams trading buckets including a lay up by Lincoln West guard Tra Williams. East Tech answered, and came back down to score a three by guard Johnny Bigsby.
Lincoln West pulled within eight with a lay-up by guard Randy Rivers.  East Tech pushed the lead to 11, however, after a three from guard DJ Harrell, and on the next possession got a basket and foul completing a three-point play with the Scarabs leading 40-26.  East Tech ended the half with two uncontested lay-ups by Gray, and led going into the half, 44-28.
East Tech continued to press throughout the game, and Lincoln West never backed down. But with a big first half from the Scarabs, Lincoln West never came within 10 points. East Tech cruised to victory beating Lincoln West, 83-67, behind Gray's 27 points and 13 rebounds.  East Tech will continue Senate play against Whitney Young, while Lincoln West will seek their first Senate win against John F. Kennedy.