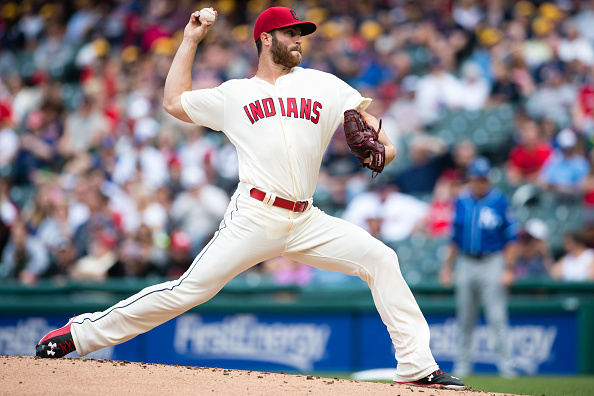 For Cody Anderson, 2016 hasn't started off how the second year pitcher and the Indians had hoped it would.
With a jump in velocity and a pretty good spring, Anderson put himself in position to be the Tribe's fourth starter entering the season. During spring training, Anderson threw 24.2 innings with a 4.38 ERA in six games.
Anderson began the 2016 season with a quality start against the Chicago White Sox before allowing five earned runs in each of his next three starts, only lasting longer than five innings once. Anderson finished April with a record of 0-1 and a 7.65 ERA and a designation for assignment.
Anderson would spend the next week-plus in Columbus with the Clippers and started one game in his time there. In that outing he tossed 5.2 innings allowing four earned on seven hit and three walks while striking out six. The start probably didn't really hold much weight with the club as they are just looking for him to get on track and make some adjustments. More innings anywhere for a young starting pitcher can only help (one would hope).
With only four starting pitchers on the 25-man roster prior to Saturday's game against the Royals the Indians had a decision to make when the rotation broke. Anderson got the call to show he's made some of those adjustments the team was looking for during his time with the Clippers.
Anderson began Saturday's game by giving up base hits to two of the first three batters he saw before giving up a mammoth 3-run home run on an 0-2 cutter to Kendrys Morales. That was the seventh home run Anderson has allowed in five starts so far this season.
"Just trying to go in off the plate with a cutter and he got to it before it cut, I guess," Anderson said of the home run after the game.
After the first, Anderson seemed to find a little bit of a groove as he retired 10 consecutive batters at one point. A big part of that success was due to his ability to get Royals hitters to hit the ball on the ground and let his infielders work.
The Tribe starter explained that could be a positive coming off the loss, "Like I said I was getting some of those ground balls, you know, those double plays, I need those. So it was good to have a positive in that way."
Anderson finished Saturday pitching five innings, allowing four runs on six hits while walking one and striking out two.
Anderson got through those five innings in just 69 pitches but the right-hander was suffering from cramps throughout the game, drawing Tribe skipper Terry Francona and the medical staff out in the fourth.
Pages: 1 2