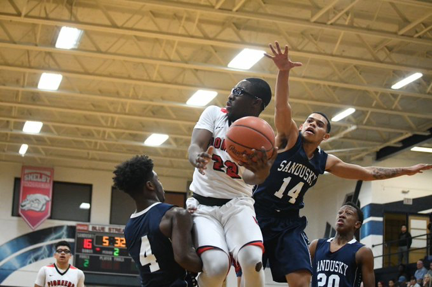 by Jacob Andrick
SANDUSKY, Ohio – The Elyria Pioneer's and the Sandusky Blue Streaks went head to head in the consolation game in Wednesday's Holiday Classics Tournament in a game that was never really close, defeating Sandusky 80-50.
The Blue Streaks played hard but had no answer for Elyria's Antonio Blanton and Tone Brown. Both shot open 3's all night and connected more times than not. The duo combined for 43 points as Blanton had 23 points and 5 rebounds and Brown had 20 points of his own and with that, they put the game out of reach well before halftime.
The one bright spot for Sandusky was Jayreese Williams who erupted for 25 points. That might have also been the downfall for the Blue Streaks as his teammates got into the habit of watching him play.
This resulted in a very stagnant and flat offense that relied on him entirely too much to carry the load for Sandusky. As a result, the Pioneers turned in easy transition buckets and a whole lot of open 3's for their shooters.
Elyria really played inspired basketball in this one after losing a close game to Lorain last night 61-58 in their first round matchup. Sandusky looked defeated a day after losing a close one to the Oberlin Phoenix.
Antonio Blanton finished the tournament averaging 23.5 PPG.