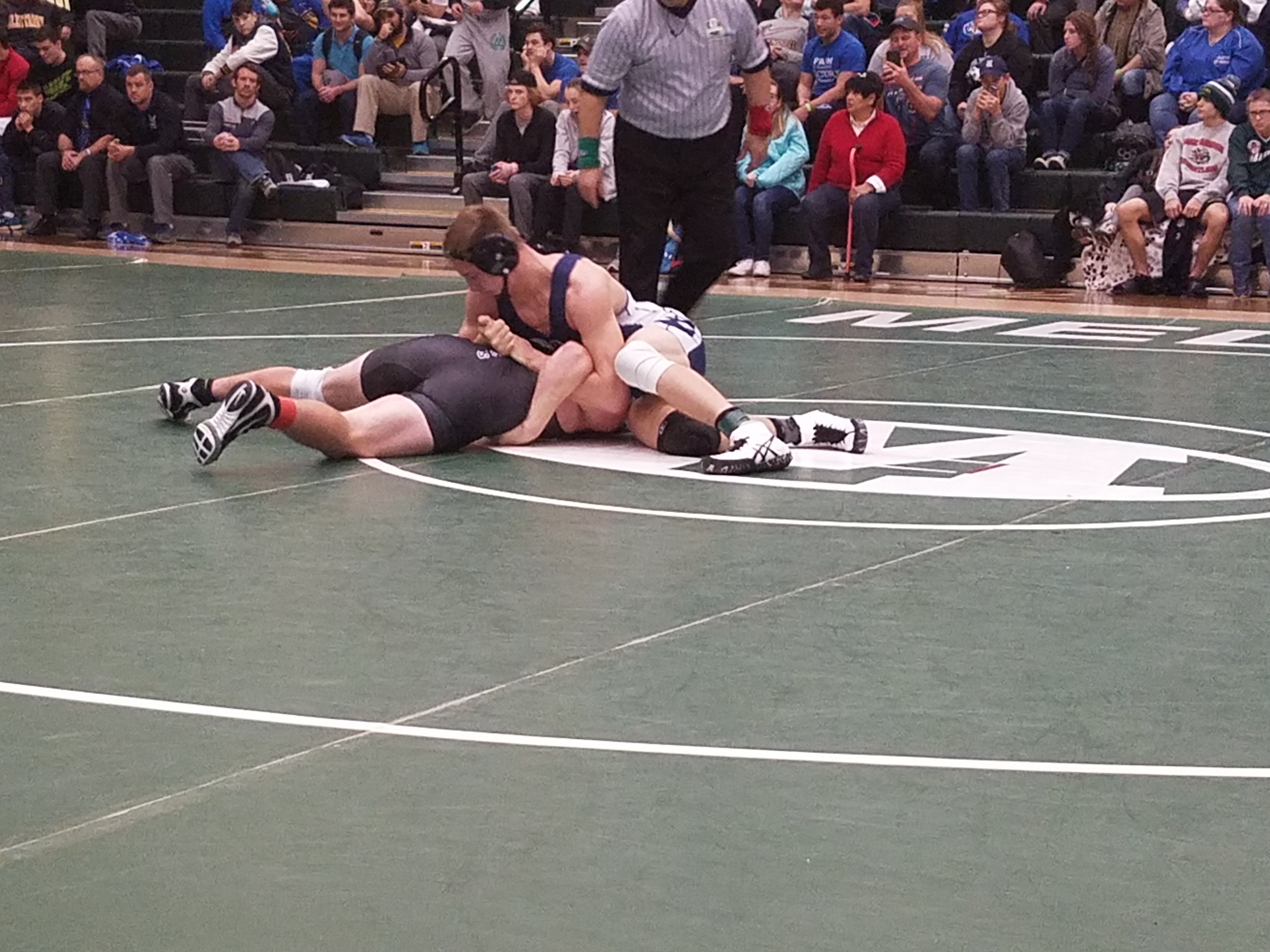 By Tim Kulik
MEDINA, Ohio – Wednesday the 42nd Annual MIT, "The Greatest Show in Wrestling" wrapped up as the best of the best in Ohio battled hard to the finish.
This year onlookers witnessed some exciting conclusions, and NEOSI has it all here for you.
For more details, you can see the brackets here.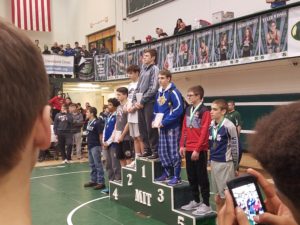 106's
Championship Match
Gavin Sampsel 4-0, . over Oscar Sanchez ) 8-3,  (Fall 2:54).
1st Place – Gavin Sampsel of Perry (Massillon)
2nd Place – Oscar Sanchez of Genoa
3rd Place – Cole McComas of Beaver (Lisbon)
4th Place – Lucas Seibert of Westerville North
5th Place – Logan Agin of Lancaster
6th Place – Andy Graham of Louisville
7th Place – Michael Shaw of Olmsted Falls
8th Place – Evan Grose of Hilliard Darby
---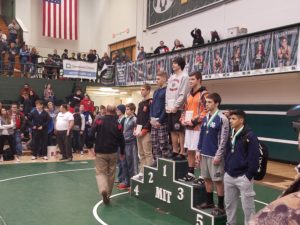 113's
Championship Match
Dylan D`Emilio  11-2, So. over Kyle Gruber  4-1, . (Dec 7-0).
1st Place – Dylan D`Emilio of Genoa
2nd Place – Kyle Gruber of Perry (Massillon)
3rd Place – Jacob Sherman of Olentangy (Lewis Center)
4th Place – Cameron Dickman of Oak Harbor
5th Place – Jimmy Carmany of Wadsworth
6th Place – Charley Bohls of Napoleon
7th Place – Rhett Newton of Detroit Catholic Central
8th Place – Roy Costello of Richmond (MI)
---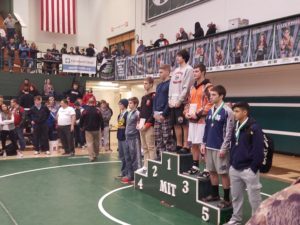 120's
Championship Match
Graham Shore 14-0, Jr. over Benyamin Kamali 14-2, Jr. (Dec 10-4).
1st Place – Graham Shore of Miami East (Casstown)
2nd Place – Benyamin Kamali of Detroit Catholic Central
3rd Place – Julian Sanchez of Genoa
4th Place – Eric Bartos of Buckeye (Medina)
5th Place – Logan Heil of Brunswick
6th Place – Matt McMillen of Wadsworth
7th Place – Gus Sutton of Austintown-Fitch
8th Place – Skyler Lasure of Beaver (Lisbon)
---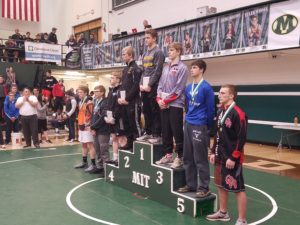 126's
Championship Match
Bruce Hrynciw 12-2, Sr. over Blake Wright  15-2, Fr. (Dec 4-2).
1st Place – Bruce Hrynciw of Oak Harbor
2nd Place – Blake Wright of Westerville North
3rd Place – Maxx Peters of Claymont
4th Place – Mike Clark of Buckeye (Medina)
5th Place – Skyler Brown of Napoleon
6th Place – Jihad Salti of Olmsted Falls
7th Place – Dusty Morgillo of Genoa
8th Place – Joey Hutsler of Lancaster
---
Championship Match
Kevon Davenport  18-0, So. over Luke Baughman  15-5, So. (MD 10-1).
1st Place – Kevon Davenport of Detroit Catholic Central
2nd Place – Luke Baughman of Wadsworth
3rd Place – Josh Grant of Westerville North
4th Place – Angel Granados of Napoleon
5th Place – Luke Wymer of St. Vincent-St. Mary
6th Place – Mitchell Miracle of River Valley (Caledonia)
7th Place – Tyler Hicks of New Lexington
8th Place – Drew Crabtree of Perkins (Sandusky)
---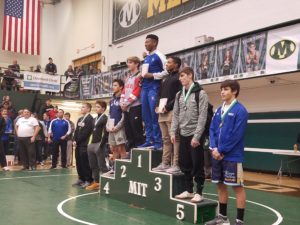 138's
Championship Match
Luke Hernadez  18-1, Sr. over Conan Becker 14-1, Jr. (Dec 4-3).
1st Place – Luke Hernadez of Tri-Valley
2nd Place – Conan Becker of Northmor(Galion)
3rd Place – Gavin Stika of Norwayne (Creston)
4th Place – Tai Bloch of Hilliard Darby
5th Place – Alex Isbrandt of Miami East (Casstown)
6th Place – Justin Taylor of Oak Hills (Cincinnati)
7th Place – Jax Leonard of Louisville
8th Place – Dakota Bunting of Claymont
---
Championship Match
Antwan Pugh 13-0, Sr. over Noah Mattin 14-2, Sr. (Dec 6-5).
1st Place – Antwan Pugh of Copley
2nd Place – Noah Mattin of Archbold
3rd Place – Cameron Amine of Detroit Catholic Central
4th Place – Dylan Mansor of Oak Harbor
5th Place – Gary Define of Perry (Massillon)
6th Place – Cameron Jenkins of Westerville North
7th Place – Josh Jaeckin of Olmsted Falls
8th Place – Adam Bates of Genoa
---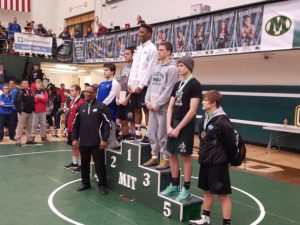 152's
Championship Match
David Carr  5-0, . over Jake Huston  8-3, Sr. (Dec 10-4)
1st Place – David Carr of Perry (Massillon)
2nd Place – Jake Huston of Oak Harbor
3rd Place – Brady Chrisman of Medina
4th Place – Aiden Wagh of Detroit Catholic Central
5th Place – Michel McIntire of St. Vincent-St. Mary
6th Place – Austin Rayburn of Hilliard Darby
7th Place – Caleb Cass of Cloverleaf
8th Place – Beau Smith of Beaver (Lisbon)
---
Championship Match
Cody Surratt  17-3, Sr. over Joe Koontz  4-1, . (Dec 3-2).
1st Place – Cody Surratt of Wadsworth
2nd Place – Joe Koontz of Perry (Massillon)
3rd Place – Alex DeFraine of Medina
4th Place – Michael Ferree of Austintown-Fitch
5th Place – David Kaltz of Richmond (MI)
6th Place – Mitch Potterf of Westerville North
7th Place – Noah Broski of Olmsted Falls
8th Place – Cory Stallings of Cloverleaf
---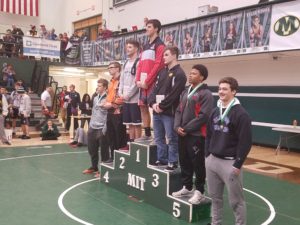 170's
Championship Match
Joey Baughman  12-2, Jr. over Nick Kiussis 12-3, Sr. (Dec 5-4).
1st Place – Joey Baughman of Wadsworth
2nd Place – Nick Kiussis of Brunswick
3rd Place – Emil Soehnlen of Perry (Massillon)
4th Place – Ashton Eyler of Claymont
5th Place – Keysean Amison of Perkins (Sandusky)
6th Place – Noah Baker of Elmwood
7th Place – David Heath of St. Vincent-St. Mary
8th Place – Zenik Vovk of Jackson (Massillon)
---
Championship Match
James Handwerk  12-0, Sr. over Zach Steiner  9-1, Sr. (Dec 11-5).
1st Place – James Handwerk of Lutheran West
2nd Place – Zach Steiner of Norwayne (Creston)
3rd Place – Jared Ball of Hilliard Darby
4th Place – Alex Sadowsky of Medina
5th Place – Nick Goldfuss of Oak Hills (Cincinnati)
6th Place – Zach Blackiston of Perry (Massillon)
7th Place – Alex Jones of Wadsworth
8th Place – Jace Grossman of Elmwood
---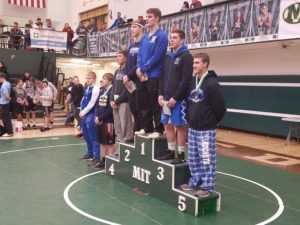 195's
Championship Match
Aaron Naples  13-2, Sr. over Colton McKiernan  13-2, Jr. (Dec 5-0).
1st Place – Aaron Naples of Brunswick
2nd Place – Colton McKiernan of Richmond (MI)
3rd Place – Dylan Hinton of Elmwood
4th Place – Jimmy Leonard of Louisville
5th Place – Matthew Cover of Bay Village
6th Place – Stephen Deluse of Lancaster
7th Place – Dante Landolfi of Upper Arlington
8th Place – Dane Flynn of Detroit Catholic Central
---
Championship Match
Dylan Thorp  12-2, Sr. over Clay McComas ( 14-5, Jr. (MD 14-1).
1st Place – Dylan Thorp of Oak Harbor
2nd Place – Clay McComas of Wadsworth
3rd Place – Tyler Marino of Richmond (MI)
4th Place – Jackson Ross of Detroit Catholic Central
5th Place – Griffin Sperry of Elmwood
6th Place – Jacob Cover of Hilliard Darby
7th Place – Andrew Lorcher of Perkins (Sandusky)
8th Place – Austin Winegarner of River Valley (Caledonia)
---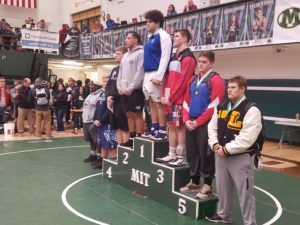 285's
Championship Match
Nick Jenkins 18-1, Sr. over Mo Debyan 11-3, Sr. (Dec 1-0)
1st Place – Nick Jenkins of Detroit Catholic Central
2nd Place – Mo Debyan of Hilliard Darby
3rd Place – Jordan Earnest of Wadsworth
4th Place – Matt Carrick of Perry (Massillon)
5th Place – Zach Baker of Highland (Marengo)
6th Place – Derek Bowman of Lancaster
7th Place – August Aiken of Richmond (MI)
8th Place – Lee Coleman of Medina