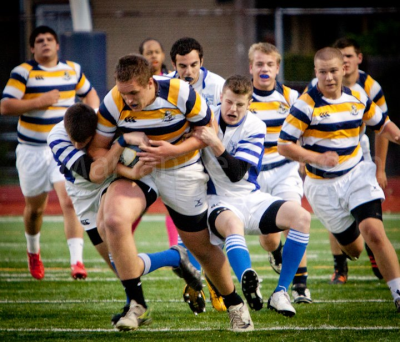 The below release is per the St. Ignatius communications team.
(CLEVELAND) — For the third time in four years, the Saint Ignatius Rugby program will travel abroad to play international teams and learn about foreign cultures.
The Rugby Cats have accepted an invitation to play in the Worlds School Festival in Cape Town, South Africa from April 2-8, 2018. The "festival" will host top high school teams from South Africa, New Zealand, the Pacific Islands, England, and Argentina, along with the French and Italian national teams. Saint Ignatius will be the lone team from the United States in attendance.
Head Rugby Coach Dan Arbeznik '00 plans on using the trip as both an athletic and academic experience. The Wildcats will tour many cultural and historical sites in South Africa, and will use a 9hour layover in Istanbul, Turkey to visit landmarks such as the Hagia Sofia.
"This is an amazing opportunity for us," Arbeznik said. "The trip presents a unique opportunity for our students to acquire a larger perspective on culture, history, and civilization. We want to teach our students to become more independent and more confident in life. Travelling abroad and immersing oneself a foreign culture is the perfect way to accomplish that."
Global education is a significant part of a Saint Ignatius High School education. Saint Ignatius offers seven mission trips, including ones to the Dominican Republic and Nicaragua. Other programs, such as the Irish Studies program, allow Saint Ignatius students to study abroad.
The school's global education initiatives include international trips through the Athletic Department. The Saint Ignatius rugby team previously traveled to Ireland in 2015 and to France in 2017.
"Travel abroad through sports offers our student-athletes a wonderful opportunity to learn different cultures and expand students' boundaries," said Athletic Director Rory Fitzpatrick '88. "Playing premier teams is great, but the goal of this type of trip is to expose our students to new experiences, ideas, and cultures, expanding their worldview along the way."
The trip to South Africa presents a one-of-kind opportunity for the Rugby Cats, who will experience life on three different continents – Africa, Asia, and Europe – during this trip. Another big perk of the trip is that the tournament hosts will provide lodging, food, and transportation in Cape Town.
As part of the tournament, the Rugby Cats will play two matches and train on other days with some of the most famous and well-renowned international rugby players from around the globe.
"We could not be more excited for this opportunity," Arbeznik said. "We were originally not planning on traveling abroad this season, but this chance was too good to pass up. This will be a once-in-a-lifetime learning experience for our students."
The above release is per the St. Ignatius communications team.