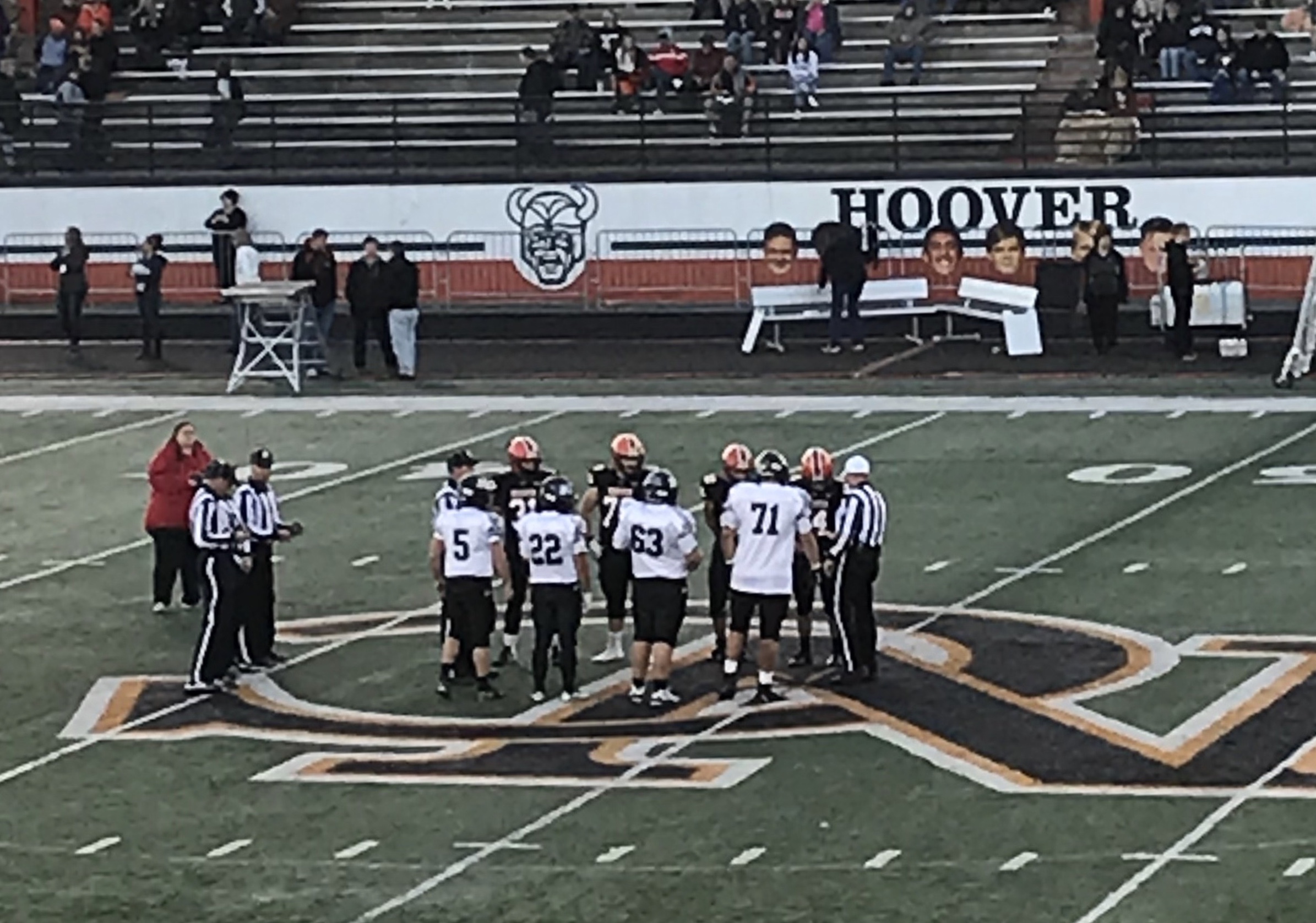 By Don DiFrancesco
Perry ​​ 7​ 7​14​ 7​=​35
Hoover​​ 6​15​ 0​ 7​=​28
NORTH CANTON, OHIO – The Perry Panthers used a bruising running game to grind out a hard-fought 35-28 win over Federal League rival Hoover in North Canton on Friday night. The Vikings had early success with their passing attack, but the Perry defense stiffened in the second half.
Hoover (3-3) took a 21-14 into the locker room when senior receiver Grant Fuciu scored on a 7-yard pass play 36 seconds before the intermission.
Hoover quarterback Ashby Connor was outstanding, completing 24 of 32 passes on the night for 333 yards.
His prime target was Brock Henne–the lanky wideout used his 6-5" height to outreach the Perry defenders on several occasions.
Henne collected touchdown passes of 44 and 30 yards in the first half and closed the Vikings' scoring with a 15-yard TD reception in the final period.
Perry, on the other hand, featured a relentless rushing attack. Halfback Joshua Lemon (222 yards), quarterback Hayden Vinas (110 yards), and fullback Dion Cundiff (80 yards) combined for 412 yards of offensive production.
Vinas attempted just one pass from scrimmage in the entire game, but it was an important 30-yard connection to key a scoring drive on the Panthers' first possession of the second half.
Cundiff scored three touchdowns to lead Perry in scoring as the Panthers improved their record to 5-1.
Lemon broke off several long runs, highlighted by a scintillating 57-yard scoring dash in the second quarter.
Vinas had the other Perry touchdown, eluding the Hoover defense on a 44-yard keeper play to give the Panthers a lead that they never relinquished.
1st Quarter
Hoover: Brock Henne, 44 pass from Ashby Connor (kick failed)
Perry: Dion Cundiff, 7 run (Lincoln Warstler kick)
2nd Quarter
Hoover: Henne, 30 pass from Connor (Yanni Volas kick)
Perry: Joshua Lemon, 57 run (Warstler kick)
Hoover: Grant Fuciu, 26 pass from Connor (Connor run)
3rd Quarter
Perry: Cundiff, 9 run (kick failed)
Perry: Vinas, 44 run (Lemon pass from Vinas)
4th Quarter
Perry: Cundiff, 6 run (Warstler kick)
Hoover: Henne, 15 pass from Connor (Volas kick)

NEO Sports Insiders Newsletter
Sign up to receive our NEOSI newsletter, and keep up to date with all the latest Cleveland sports news.