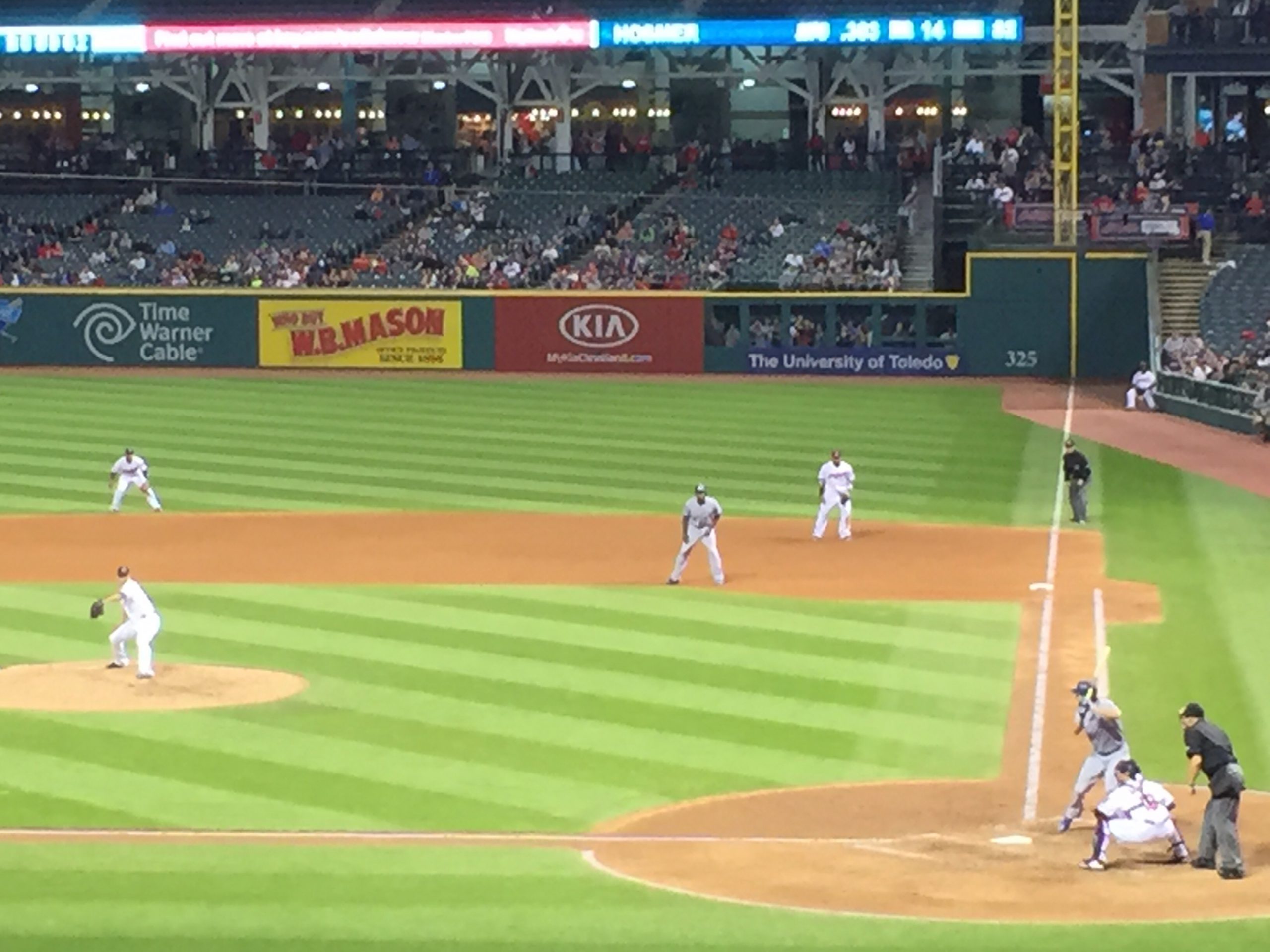 CLEVELAND – It's game three of four against the first-place Royals tonight at Progressive Field for the Indians, and the sense of urgency is on with the team still four games back of the final wild card spot. Coming off a tough 2-0 loss last night in which Josh Tomlin went the distance and took the loss, the team will look to bounce back against Danny Duffy tonight.
Matchup: Indians (71-71) vs Kansas City Royals (84-59) 7:10 at Progressive Field – Game #144 Home Game #68
Pitchers: Indians – Danny Salazar (12-8, 3.57) vs Royals – Danny Duffy (7-7, 4.14)
Media: TV – SportsTime Ohio Radio – WTAM, WMMS, IRN
7:20pm – A quick start for the Tribe as Danny Salazar gets the Royals on a 9-pitch first, and then wonder rookie Francisco Lindor hits a solo HR off Duffybto make it 1-0.
7:36pm – Mike Aviles makes a sweet play to get out of the second for Salazar. Danny at 25 pitches in two innings.
7:43pm – Another note on Francisco Lindor, who continues to make a major push for AL Rookie of the Year. He's creeping up the list of fastest players to career hit No. 100 to begin a career with the Indians. Lindor first since 1947.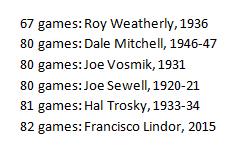 7:47pm – Indians with two on and two out in the 2nd with Jason Kipnis back up for the second time tonight with a chance to extend the lead.
7:49pm – Kipnis comes through with a single to center to make it a 2-0 Indians lead. It's his 48th RBI of the season, and now with runners on first and third up it's Lindor to the plate.
7:51pm – Lindor 2-for-2 with 3 RBI as a two-run single hits off the glove of Ben Zobrist at second and trickles into right field to make it a 4-0 Tribe lead. RBI numbers 39 and 40 for Lindor after 38 came in the first inning.
8:12pm – Night over for Duffy, as the Royals will go to the pen with Jeremy Guthrie on, Duffy went just 2.1 innings, allowing 4 runs (thus far) with six hits, two walks and 3 K's. The Indians are also making a move, as Lonnie Chisenhall is going to pinch-hit for Jerry Sands.
8:29pm – Lindor is on fire, another hit to put him at 3-for-3 and another RBI. He's got four on the night as the Indians are now up 5-0 in the 4th with one out. The 4 RBI matches a career-high, done July 29th vs KC.
8:45pm – Salazar rolling through the Royals through five, as he's not allowed a run and has five strikeouts to show for his efforts as the Tribe leads it 5-0.
9:11pm – Another milestone for the Indians and Salazar, as he is the first pitcher since 1914 to strike out at least 3 in 48 straight starts.
9:12pm – Mike Moustakas breaks the shutout up for the Tribe, as he slams his 19th homer of the season to put KC on the board as they trail it now 5-1. Came on a 3-2 pitch.
9:30pm – The night is over for the Danny Salazar, as he leaves for Bryan Shaw with the Indians leading it 5-1 entering the 8th. On the night Salzar went 7 innings, allowing 1 run on four hits, two walks and six strikeouts.
9:47pm – Indians looking to try and tack on another run in the 8th as Abraham Almonte reaches on a fielder's choice, then steals second and goes to third on a throw into center. Mike Aviles up trying to push it to 6-1.
9:51pm – Cody Allen on for the Indians to start the 9th with the four-run lead.
9:58pm – Danny Salazar is now tied with Carlos Carrasco with 13 wins as Allen closes it out to give the Tribe the 5-1 win. Game time is 2:47 and the Indians will look to win their 3rd in 4 days over the Royals tomorrow night at 7:10pm.

NEO Sports Insiders Newsletter
Sign up to receive our NEOSI newsletter, and keep up to date with all the latest Cleveland sports news.