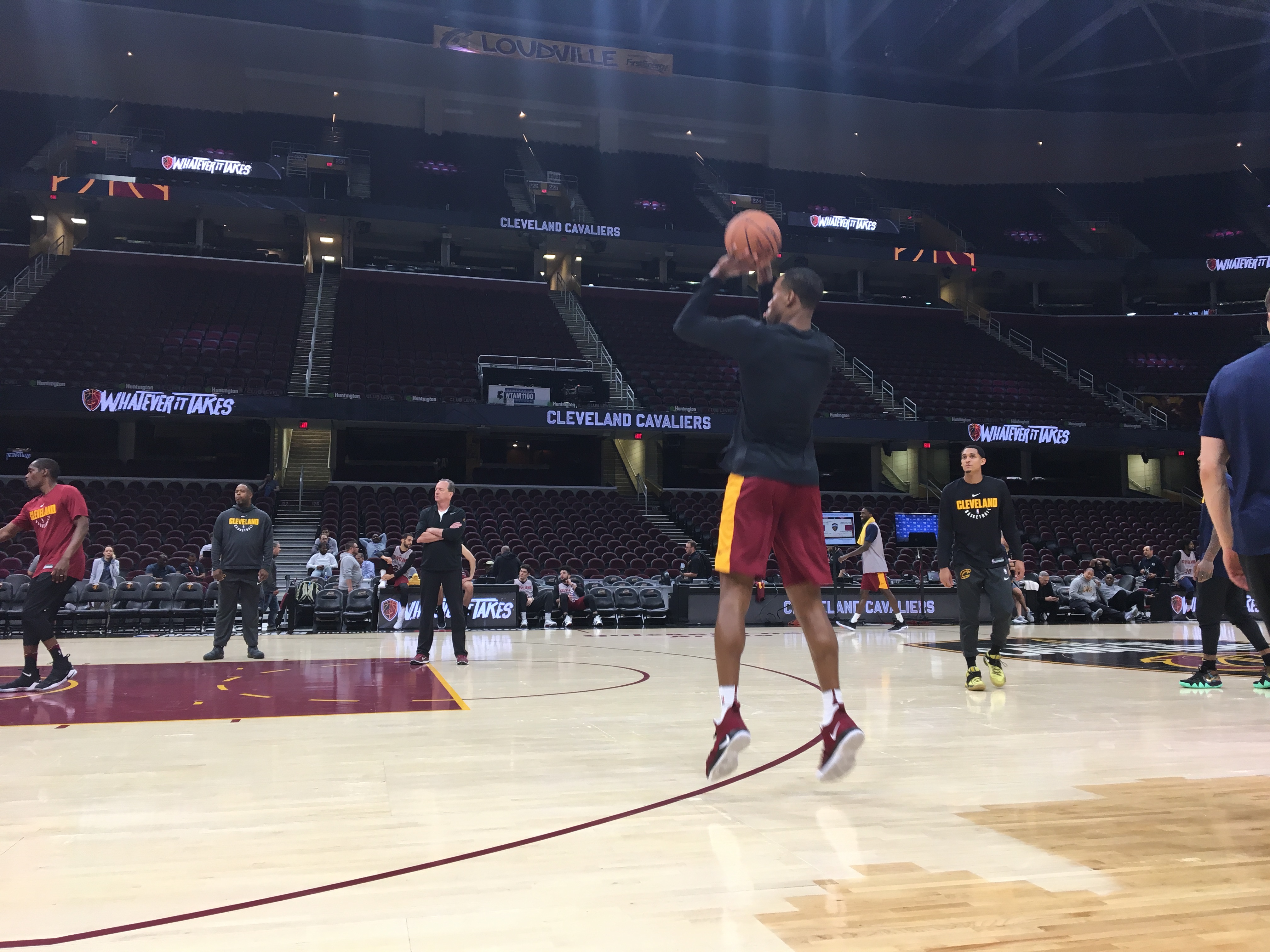 CLEVELAND– The Cleveland Cavaliers are looking at lineup changes ahead of Wednesday night's Game 3 against the Golden State Warriors.
One of those changes is going to be finding a way to get Rodney Hood more minutes.
"We're going to give Rodney a chance," head coach Tyronn Lue said following the Cavaliers' practice on Tuesday. "He'll get a shot and see how he does. He's been working, staying ready. So we'll see."
Hood hasn't started a playoff game for the Cavaliers since Game 1 of their opening round series against the Indiana Pacers. The Cavs were blown out in that game, 98-80. From there, Hood was moved to a bench role, and by the final game of the Toronto Raptors series, he was out of the rotation. It certainly didn't help matter when he refused to go in at the end of Game 4 in that series in garbage time. Since then, he has received DNP-CDs in six contests.
Throughout the playoffs the 6-foot-8 Hood is averaging 4.4 points, 1.1 rebounds and 1.1 assists in the playoffs. He saw more success during the regular season after was acquired at the February trade deadline, and averaged 11.2 points, 2.6 rebounds and 1.5 assists despite dealing with a lingering back issue.
But even though he has faced some adversity as of late, Hood insists he will be ready if his number is called.
"I don't know when it's going to come or what stage of the game, but just being ready," Hood told ESPN. "I've been preparing, I've been working hard, so if I get the opportunity, just go out there and play. Just have fun."
Hood only played one game against the Warriors this year as a member of the Utah Jazz. In that game back on Dec. 27, Hood put up 26 points, had five rebounds and three steals in the Jazz's 25-point loss. As Hood told ESPN, head coach Tyronn Lue has been speaking with him about the versatility he can potentially bring on the defensive end in the Finals.
"They put you in a lot of mismatch situations, and I'm a guy who can guard 1 through 4, really one through 5 with their group," Hood said. "And just try to cause havoc. Just try and be physical, I think that's the biggest thing T-Lue's been stressing to me once I got there."
That versatility in his game is also something Kevin Love pointed out following Tuesday's practice.
"He's very talented," Love said. "He's a guy that can step in and fill up a scoreboard. Left-handed. A little bit unorthodox in the way that he plays. Just having that height on him and that wingspan, and the ability to not only make shots, but on the defensive end to switch out. Also play a guy like (Kevin Durant) at his size and just make it tough on both ends of the floor for their team. That gives all of us a lot of confidence that he can come in and make an impact."
Game 3 tips off Wednesday night at 9 p.m.
Love on Rodney Hood: "He's very talented. He's a guy that can
step in and fill up a scoreboard." pic.twitter.com/b90SlR7bWh

— Ashley Bastock (@AshleyBastock42) June 5, 2018

NEO Sports Insiders Newsletter
Sign up to receive our NEOSI newsletter, and keep up to date with all the latest Cleveland sports news.