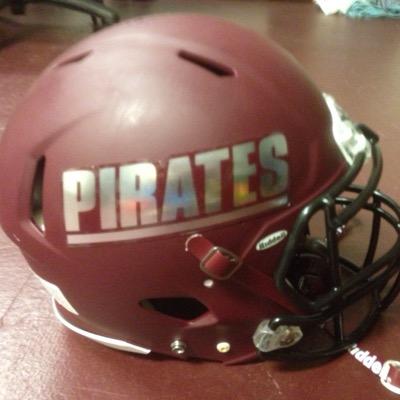 Coverage for the season opener between neighboring rivals Rocky River and Fairview is sponsored by Floors2u.
The Rocky River Pirates made a statement with their 53-13 dominant performance in the season opener against the Fairview Warriors: this team can run.
Rather than go over how the score got to be a 53-13 blowout,  here are two names that football fans in Northeast Ohio should get to know: Dameon Crawford and Matt Popovich.
The Pirates' plan of attack from start to finish was to give the ball to its two workhorse running backs and it worked to perfection, as Fairview had no answer.
The two juniors combined for 399 rushing yards on 30 carries.
Crawford will receive the most praise, deservedly so, for his 244 yards and four rushing touchdowns, but Popovich was impressive in his ten carries, bulldozing his way for 155 yards.
Both running backs played deep into the game, despite the fact that it was a blowout, but when Rocky River goes up against more elite opponents throughout the season, this one-two combination will be interesting to watch, as the Pirates look to make some noise in 2016 and got the season started with a bang.
What's even more promising for the Pirates is that both members of this two-headed monster graduate in 2018, a great sign of things to come in Rocky River.
As great as those two were, junior quarterback Cam Blue showed off his mobility, as well, gaining 53 yards on six carries. He also completed 9-of-15 passes for 139 yards, throwing two touchdown passes and two interceptions.
Even senior running back Michael Holian got in on the action in the fourth quarter, rushing for 23 yards on four carries and capping off the game with an 11-yard touchdown run.
It may have been somewhat overlooked based on the explosive Rocky River offensive performance, but give credit to the Pirates' defense, which held Fairview to only 13 points and 253 total yards on offense on the night.
It's only one game, but the Pirates could not have asked for much more out of Week 1 and after that performance, no team should take them lightly.
Rocky River hits the road again next week, when the Pirates square off with Buckeye on Friday, Sep. 2 at 7 p.m.
The Fairview Warriors play their first road game of the season against Vermillion and will look to bounce back from a forgettable home opener.
This edition of NEO Sports Insiders high school football coverage is presented by Floors2u.

NEO Sports Insiders Newsletter
Sign up to receive our NEOSI newsletter, and keep up to date with all the latest Cleveland sports news.