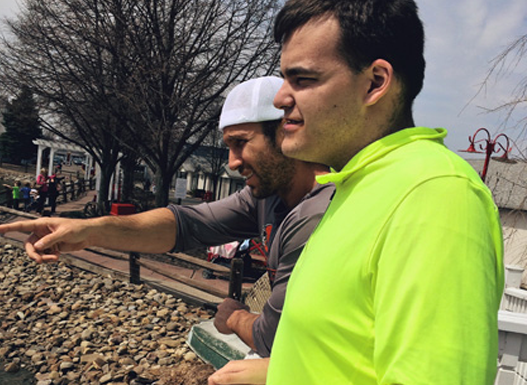 The staff of NEOSI would like to welcome in our latest sponsor for Cleveland State Basketball, RLN Home Health Care.  You can visit them here http://www.rlnhomehealthcare.com/
Growing up, RLN Home Health Care Owner Ricky Nerone began working at a young age with his family's construction business. This helped to shape his work ethic as it stands today. Discovering helping people on a more personal level was his true passion.  He worked his way though college and grad school, eventually licensing his own Health Care company.
He completed all classes (minus student teaching) necessary for his Masters at Notre Dame College. Rather than take time off work to finish student teaching, he is focusing on growing his own Health Care company. Now, as an independent provider, Ricky services up to 4 counties in Ohio, and currently working with 18-20 individual clients.
Nerone is committed to enhancing the quality of life of individuals with special needs and provide support and networking opportunities for the client and their families. His goal is to help RLN's clients reach their highest potential, lead independent and fulfilled lives as members of our community.
In the words of Nerone.
I help to provide life skills, as well as enrichment services for clients based on individual needs. I also help my clients become more independent allowing for effective real-world learning experiences. Skills we focus on involve the following:

Managing income and expenses
Managing time; using schedules and calendars
Organizing and completing paperwork, mail and e-mail
Managing and maintaining living space
Planning and prepping healthy meals
Communicating with others
Encourage active and healthy lifestyles
Specialized to the individual, he offers a variety of activities that suit the client's personal interests as well as those that cultivate their social, physical, cognitive and creative abilities. These include, but are not limited to, physical fitness, culinary exercises, movies, dinner outings, sporting events, craft shows, bowling, County Board of DD activities, walks in the park and countless other activities, specialized toward individual wants and needs.
Nerone has a great philosophy and it has helped his clients reach new levels of growth they once never thought possible.  Nerone explains below a little bit more about his philosophy "All individuals have the right to experience life to its fullest potential and to be treated with the consideration, respect, and full recognition of his/her dignity and individuality. My mission is to provide the tools and the resources to assist each individual in his/her journey towards a fuller and richer quality of life."
As a great way of offering social inclusion; based on interests. Activities included, but not limited to client interests:
Educational
Science Center
Library trips
History Museum
Rock 'n Roll Hall of Fame
Little Italy
Special Events
Tim Tebow's "A Night to Remember Prom"
Events at the I-X Center (Amusement Park, Car Show
YMCA
Hiking
Lake and Geauga Metroparks
Outdoor
Mentor Headlands Beach
Geneva on the Lake
Fairport Harbor
Fishing
Bonfires and cookouts
Sport and Games
Go-Kart Racing
Dave & Busters
Browns, Indians, Cavs, Monsters and Captains games
Putt-putt
Bowling
Golf dome
Thompson Motor Speedway
Summit Racing for NHRA racing
Community
Aurora Farms trips
Holden Arboretum
Lake Farmpark
Squire's Castle
Karaoke
Cedar Point
Put-In-Bay
Mall outings
Church
Pet Store trips
Assisting clients with social media accounts
If you want to learn more, I would highly recommend reaching out to Ricky and learning more about the near miracles he is helping families realize daily!

Get In Touch
Address: 8845 Ranch DriveChesterland, OH 44026
+440 537 4830
richardlnerone@yahoo.com

NEO Sports Insiders Newsletter
Sign up to receive our NEOSI newsletter, and keep up to date with all the latest Cleveland sports news.