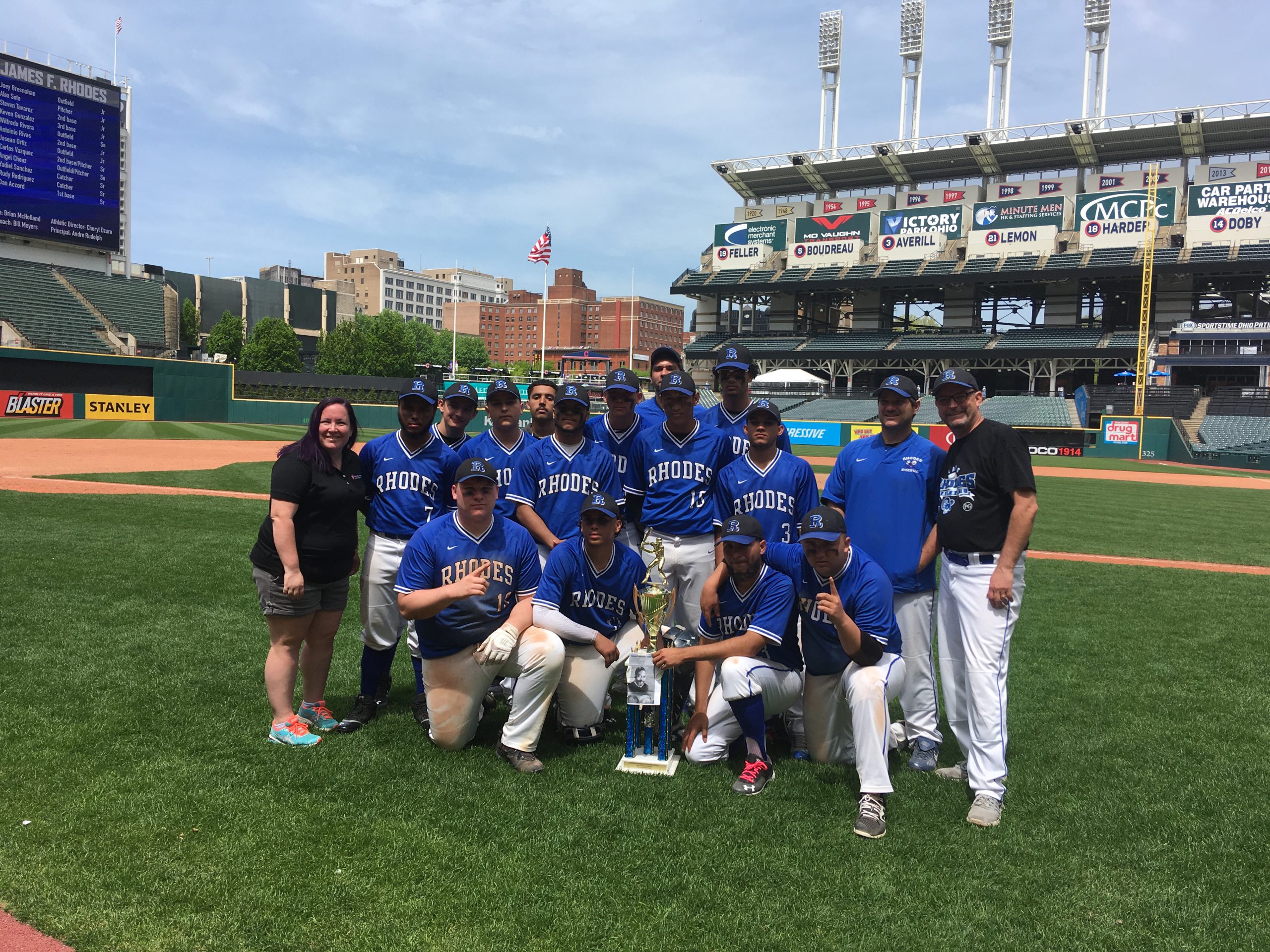 Cleveland, Ohio – The Rhodes Rams won their fourth consecutive Senate City Championship, defeating John Marshall, 9-5, at Progressive Field on Friday afternoon.
Rhodes jumped out to a 5-0 lead in the first inning, taking advantage of three errors by the John Marshall defense. The Rams would add two more to take a 7-0 lead after two innings.
John Marshall struggled offensively in the second, getting two runners thrown out trying to steal bases, and another runner picked off in the third. But they would come alive in the fourth inning.
With the bases loaded, senior pitcher Devyn Ellis hit a triple to right-center field to clear the bases, and scored on an error on the throw to cut the Rhodes lead to 7-4, and send the John Marshall crowd into a frenzy. Rhodes starting pitcher Carlos Vazquez would retire five of the next six batters he faced to limit the damage.
One hit by Devyn Ellis puts @MarshallLawyers back in the ball game. Now 7-4 Rhodes in the top of the fourth. pic.twitter.com/sW8x1R7fNI

— Tony Bogan (@TBoges2010) May 18, 2018
The Rams would tack on a run in the fourth inning on a Daniel Accord single to right field, and another in the fifth on a dropped ball in the outfield, and increase their lead to 9-4.
John Marshall would add another run in the sixth inning, but could get no closer.
Carlos Vazquez pitched a complete game to pick up the victory for Rhodes. He struck out nine batters, including the final one, to give the Rams their fourth Senate championship in a row.
Rhodes wins their fourth Senate City Chanpionship in a row with this final out.

Rhodes 9@MarshallLawyers 5
Final@NEOSportsInside pic.twitter.com/Jo4jMgP0dJ

— Tony Bogan (@TBoges2010) May 18, 2018
"Honestly, I'm speechless. I couldn't have done it without the team I have now. These guys have helped me through everything. They helped me on and off the field. I couldn't have done it without them." said Vazquez.
Senior outfielder Rudy Rodriguez went 3-3 at the plate with two singles, a double, a walk, and a run scored, and senior catcher Yadiel Sanchez threw out two runners in the second inning.
"Honestly, it's unbelievable. Never thought I would be here four times in a row. All this is for Coach (Phillip) Gary." said Sanchez.
Rhodes head coach Brian McHolland credited the team's success to late head coach Phillip Gary.
"That was probably the most fun I've had at a game in a long time." said Rhodes head coach Brian McHolland. "It's big for the city. I would like to see Senate baseball get bigger and bigger every year. Coach Gary and I started this four years ago. He was part of us for all four years. It was wonderful." he added.
Despite the loss, John Marshall head coach Ken Robinson was proud of the effort his team put forward.
"We had a rough start to the game, but my guys fought back. In my opinion, Devyn Ellis is the most valuable player in the conference. His elbow was hurting, but he went out and battled. Rhodes made some good contact and we made some errors. They played fundamental baseball and were the better team today." he said.
Ellis went 2-3 on the game with his single and triple, and threw four innings for the Lawyers.
"It was my first time being here. The first three times we came up short. I've played with some of these guys since my freshman year, and it was a moment to remember." said John Marshall second baseman Brandon Gonzalez.
The Rhodes Rams finish the season at 13-4. The John Marshall Lawyers finish the season at 8-8.

NEO Sports Insiders Newsletter
Sign up to receive our NEOSI newsletter, and keep up to date with all the latest Cleveland sports news.