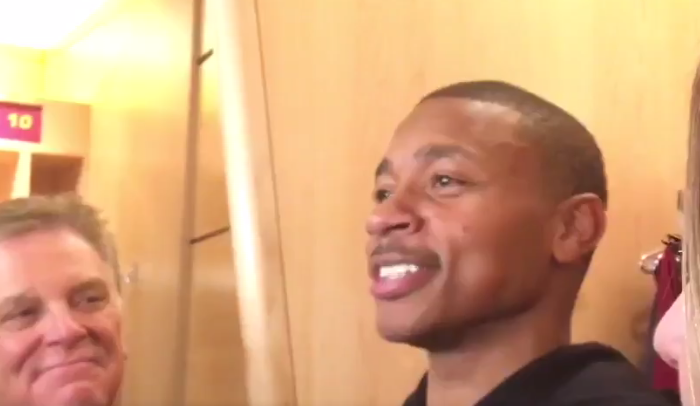 CLEVELAND– When Isaiah Thomas suited up in a Cavaliers jersey Tuesday, he had expectations of what his first game back would be like.
All of those went out the window, as Thomas surprised even himself in the Cavs' 127-110 win over the Portland Trail Blazers.
Thomas ended the game with 17 points on 6-of-12 shooting, including a 4-of-8 mark from deep. He also recorded three assists in a limited 19 minutes. The last NBA game Thomas played in prior to Tuesday was May 19: Game 2 of the 2016-17 Eastern Conference Finals as a member of the Boston Celtics. As Thomas has talked repeatedly about needing to find his rhythm, he surprised even himself with his scoring outburst.
"I didn't think I would play as well as I did," he said. "Especially that first shot I took, I thought it was going to be an air ball. But it was just so exciting and so special to just be out there. No matter how I played, just taking that first step of being out there and being able to compete was everything to me. I'll figure out the rest, I always learn how to adjust."
With 4:33 to go in the first quarter, Thomas checked into the game (headband and all) for the first time in a wine and gold uniform to a chilling standing ovation, a moment he said he would remember most from the night.
With 4:33 to go in 1Q, IT checks in. Chill-inducing standing ovation pic.twitter.com/sbIwdDQeVF

— Ashley Bastock (@AshleyBastock42) January 3, 2018
"I haven't played in a game and you would think I was here for a few years and playing and battling in Finals with this team, but it was special for my family to be here, my wife and kids to see that, that's genuine love right there and I appreciate them patiently waiting and giving me the love they did tonight," he said.
Twenty-eight seconds later, he recorded his first assist to former Celtics teammate, Jae Crowder, who was also shipped to Cleveland as part of the Kyrie Irving trade.
Perhaps the biggest concern coming into Tuesday was how Thomas would react to a hard fall or foul. Prior to the game, Lue said Thomas was 100 percent, but would still need to take some hard contact for the mental side of things.
It's safe to say that Thomas accepted the challenge with open arms.
"I think it was like the second play I got knocked down," Thomas said. "So I was like, well that's not going to change. I just gotta figure out ways to fall. But it felt good because I popped right back up, and I know that's going to happen."
Thomas continued to play unfazed.
His first field goal came on a 14-foot jumper near the left elbow off of a slip screen from Tristan Thompson. The following possession, Thomas continued to roll with a hard left-handed scoop and-one layup, sinking the free throw as well. It's the kind of play that fans and the team alike hope they see a lot more of from Thomas in the next six months.
In the second quarter, Thomas recorded his first 3-pointer at the top of the key. But the second half was when Thomas said he began to feel some of his rhythm coming back. He hit another 3 and one free throw in the closing two minutes of the quarter to help give the Cavs a 91-87 edge.
"I hit a couple shots and felt like myself for the most part," he said. "But still a little rusty, it's still going to take some time to get my full rhythm back. But my teammates put me in position to have the floor space and make plays. They wanted me to attack so I tried to do the best I could in the minutes I got."
In the fourth quarter, Thomas and Dwyane Wade led the team on a 12-0 run to put the Cavs up, 103-91. In a moment like that, it became crystal clear just how much of Thomas can change this team's offense based on his play making ability alone.
"Isaiah draws a lot of attention," Wade said. "When he has the ball he allows me to be a scorer and not worry about being a play maker so I can be a little bit more aggressive."
After playing four minutes in the final stanza, Thomas came out to another rousing standing ovation after playing 19 total minutes. But he fought head coach Tyronn Lue tooth and nail to try and get a 20th.
"I think I said you got one minute left," Lue said. "He said 'no I can play 20.' I said, 'no, no you can't.' He was like 'come on, come on.' Then there wasn't a stoppage in the play so he got a little extra. But he wanted to play more minutes."
Ty says that IT tried to push him for more minutes pic.twitter.com/SiMzHwSIEy

— Ashley Bastock (@AshleyBastock42) January 3, 2018
When asked after the game, Thomas said he was confident he could have played 40 minutes on Tuesday if asked. Perhaps that most demonstrates just how mentally tough he remains despite all the adversity he's faced in the last year.
"He's feisty, IT is feisty," Wade said. "To have an injury like he had, to get traded after everything he's been through, you have to be strong. To come back to work as hard, to never give up. You know that, his whole story is about not giving up."
Wade: "he's feisty… after everything he's been through, you have to be strong." pic.twitter.com/n38NifsMxL

— Ashley Bastock (@AshleyBastock42) January 3, 2018
"When a guy's got a chip on his shoulder for life, he's never going to not work hard, he's never going to not give it his all, he's never going to disappoint you," LeBron James added. "A guy like that, he's going to always put in the work. When you put in the work like that, the game is always going to give back to you."
Thomas' performance on Tuesday night showed just how much effort he put forth to make his comeback. After not playing for over seven months, Thomas showed that no matter his size, the fight within the 5-foot-9 guard is boundless.
"Like I said, it's been a long journey for me," Thomas said. "I couldn't really see the light at the end of the tunnel for so long. For that day to come, first couple days of 2018, it's going to be a special year."

NEO Sports Insiders Newsletter
Sign up to receive our NEOSI newsletter, and keep up to date with all the latest Cleveland sports news.