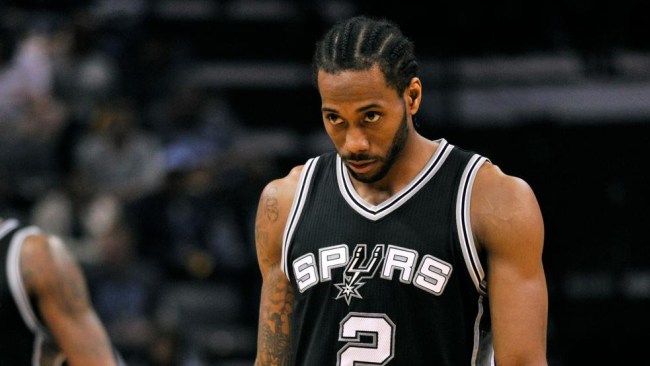 The Los Angeles Lakers have all eyes on them when it comes to teams to watch during the 2018 off-season. While the rest of the NBA awaits LeBron James' free-agency decision, Los Angeles believes they have the edge on signing James.
So much so that president of basketball operations, Magic Johnson, has put his job on the line over the next two summers. Johnson said that if he fails to land the top free agents in the next two summers he'll step down from his job. That's bold.
Magic and company will have to put in some work in other areas besides their sales pitch and pocketbooks. According to an ESPN report from Adrian Wojnarowski, the Lakers are feeling a "mounting pressure" to trade for San Antonio Spurs forward Kawhi Leonard.
Leonard came out on June 15th with a request to be traded. He has spent the first six seasons of his NBA career with the Spurs organization and has accomplished a ton, including winning a Defensive Player Of The Year Award, NBA Championship, and NBA Finals MVP. However, an ankle injury that dates back to Game 1 of the 2017 Western Conference Finals has hampered Leonard's return to the court as well as his relationships with the franchise.
After playing in just nine games last season, Leonard heard complaints from fans, reporters, and even people within the Spurs organization question the validity of his injury. It's what has made Leonard describe the situation as "uncomfortable" and the main reason he's seeking a change in scenery.
Of course, the Lakers want to land LeBron James. But James is reportedly "hesitant" to be the first star to sign with the Lakers, concerned that Leonard or Paul George, a California native, might not join him after all. Therefore, there is a glaring need to obtain either Leonard via trade or Paul George via free agency. If neither comes to fruition for Los Angeles, the pipe dream of landing LeBron is gone.
As of right now, the Lakers have yet to offer a trade proposal to San Antonio after being defiantly shut down by the Spurs for any communication. The four teams that have sent an offer to the Spurs are the Cavs, Los Angeles Clippers, Philadelphia 76ers, and Boston Celtics.

NEO Sports Insiders Newsletter
Sign up to receive our NEOSI newsletter, and keep up to date with all the latest Cleveland sports news.