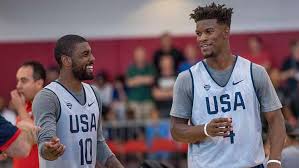 According to a report from Joe Cowley of the Chicago Sun Times,  Kyrie Irving and LeBron James have both reached out to Bulls wing Jimmy Butler "directly and through backdoor channels" to lobby for him to join the Cleveland Cavaliers.
The report also indicates that Butler would "push his front office to get the deal done."
Cowley writes that a third team would have to be involved in any deal bringing Butler to Cleveland and multiple outlets have reported the Cavs are floating Kevin Love in trade talks to acquire Butler or Pacers forward Paul George.
The Cavs don't have a general manager at the moment, but if Cowley's report is true, their two superstars are taking matters into their own hands.