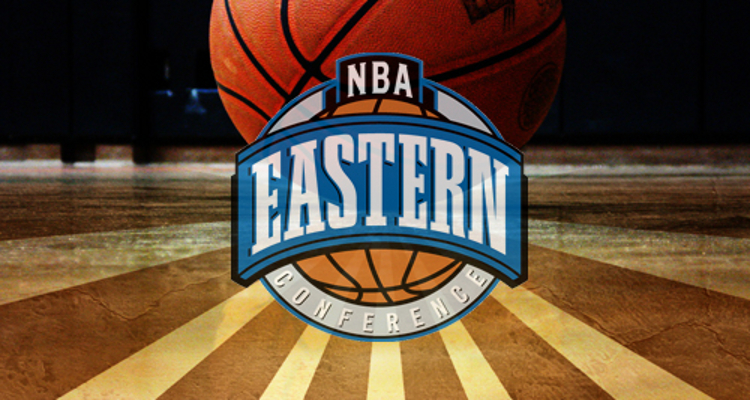 The Cavaliers are in need of an upgrade.
LeBron James averaged a triple double in the NBA Finals, and still they were dispatched by Golden State in five games.
Just a week after appearing in their third straight finals with the core of James, Kyrie Irving and Kevin Love, trade rumors are swirling around the Cavs. The belief around the league is that the aforementioned core, talented as it is, isn't enough to stack up against Golden State.
There is some good news, however.
LeBron James has made seven straight Finals appearances, and the Cavs lost one fewer playoff game in this year's finals (four) than they have against the Eastern Conference (five) over the past 3 postseasons.
Whether the Cavs will be able to improve enough (internally or otherwise) to beat Golden State is up for debate. But it's safe to assume they will at least get another chance to try.
But are we sure that news is entirely good?
Part of the reason for the Cavs' dominance is their insatiable offense and their overwhelming talent. On the other hand, though, they don't play against worthy competition.
And that lack of competition seems to be hurting them in the Finals
Last year, they came back from a 3-1 series deficit to win the title. This year, they showed a healthy resistance after getting blown out in games one and two.
In the first two games of the past two Finals, The Cavs have been outscored by 89 points. In the remaining eight, they hold a +18 advantage over Golden State
But have we ever stopped and wondered why it takes them so long to get going in the first place?
Part of it could be playing more home games. Part of it could be strategic adjustments.
But to beat the Golden State going forward, the Cavs need to be reaching an absolute peak during the Finals. They can't do that if their competition allows them to sleep walk their way through the East.
Last season, the Cavs waltzed through the playoffs with two losses on their resume because they had such little respect for the Raptors that they mailed in two CONFERENCE FINALS GAMES!
They crushed the Raptors in the four games where they exerted any ounce of defensive effort after sweeping through the first two rounds. Then they were greeted by a 73-win monster coming off a seven-game fight for their lives the previous round.
They were run off the court in the first two games with neither Klay Thompson nor Steph Curry managing 20 points in either game. They needed a historic comeback (among other things) to capture the title.
After finishing 22nd in defense during this regular season, the Cavs still finished 12-1 in the Eastern Conference Playoffs. They allowed 17 wide open (no defender within 6+ feet) shots per game through the first three rounds per NBA.com and still returned to the Finals without drama.
Then they ran into the same team from the year before only healthier and with Kevin Durant. The result: a quick series hole they never dug out of.
That step up in competition cannot be overstated.
One week the Cavs are playfully stiff-arming a gimpy Isaiah Thomas and Al Horford, the next they are completely overwhelmed by one of the most talented teams in NBA history.
There is no preparation that exists for that kind of jump.
Now to be fair, it's impossible for any team to simulate the kind of problems the Warriors present. Competition with two MVPs and four All-NBA players only come along so often.
But in order for a team to improve, they need to be pushed. And right now, the Eastern Conference shows little-to-no sign of providing that push.
What they have provided the Cavs with is complacency.
The Cavaliers are an old team. Outside of Kyrie Irving, Tristan Thompson, Iman Shumpert and Kevin Love, every player that played meaningful minutes in this year's playoffs is 31 or older.
They are aware of their age and the long season they have ahead of them each year. And they are aware of how much better they are than the rest of the East.
The term "flip the switch" is often associated with them. The Cavs lose games they shouldn't in the regular season because they don't care. Those games don't hold weight.
Why care about home court advantage when the Cavs have won a road game in all but one Eastern Conference playoff series since LeBron returned? Why risk the injury?
Why would the Cavs think to elevate their game further when they won their Eastern Conference playoff games this postseason by an average of 15 points per game with sub-optimal defensive effort?
It's a logical line of thinking: "If we're this good while were coasting, think of how much better we can be when we flip that switch!"
The problem is, "flipping the switch" takes more time than we (and even they) might think. Guarding the Celtics requires… well, it doesn't require that much. Without Isaiah Thomas (he missed three games), the Celtics don't have any shot creators. They have players like Marcus Smart who can be intentionally left wide open.
To go from that to the Warirors, a puzzle with pieces harder to solve than a blue sky jigsaw puzzle, an adjustment period is to be expected.
It's natural to get caught up in the Cavs' dominance. At times, we think they are playing well because compared to their opponents, they are.
But for the past two seasons, Golden State has proven that good enough to win the East isn't even good enough to stay competitive in Oakland those first two games.
The Cavs were much more competitive in the 2017 Finals once they adjusted to the higher level of play. But it was too late by that point. They need to be ready to play at their peak at the start of the series, not after two games.
Their ability to reach that apex before the Finals is largely out of their control. It's human nature to ease off the gas when they know they're superior.
So yes, the Cavs are in dire need of an upgrade if they are going to beat the Warriors.
But maybe the upgrade we're speaking of is for the rest of the Eastern Conference, not the Cavs.

NEO Sports Insiders Newsletter
Sign up to receive our NEOSI newsletter, and keep up to date with all the latest Cleveland sports news.