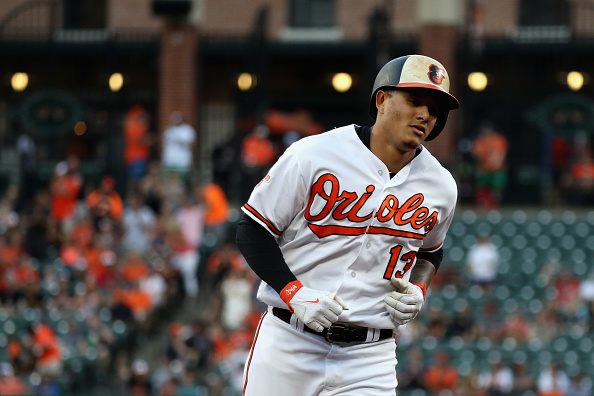 Here we go again.
The Indians offseason of tinkering with their roster may not be done just yet, as Jon Morosi of MLB.com reports today that the Tribe and Baltimore Orioles were chatting just last month about slugger Manny Machado and getting him to Cleveland.
The Indians and Orioles were in contact last month regarding a possible Machado trade, although sources said Friday that the sides aren't actively discussing him now.

The Orioles signaled early in the offseason that they are willing to entertain trade offers for Machado. The D-backs have shown the "most persistent" interest in trading for the three-time All-Star, according to MLB Network insider Ken Rosenthal.

On the surface, the Indians and Orioles match up well on a Machado trade. Baltimore has only two proven Major League starting pitchers on its roster — Dylan Bundy and Kevin Gausman — and Cleveland has a surplus of starters.
Machado at just 25 would give the Indians another huge bat in their lineup, as last season he hit 33 homers with 95 runs batted in and hit .259 for the Orioles.
The big question is what would the Orioles want, and if it is starting pitching, what Major League ready pitchers would the Indians be willing to deal?
Terry Francona said on Friday that the team has up to seven starters right now going into the spring which includes Ryan Merritt, who is out of options and might be a trade option if something comes along.
Danny Salazar and Mike Clevinger are two more options that Morosi says the team may be willing to move if the right deal came calling.
So maybe Francona knew something when asked about adding more players before the start of the season when he stated "the Winter's not over," meaning that this team might not be done trying to add to it's lineup.
It was thought that adding Yonder Alonzo would be the last big move the Indians would make, but if they made a deal to add Machado, you could bet that many fans who haven't felt the team has done enough this offseason would be right back on the bandwagon.