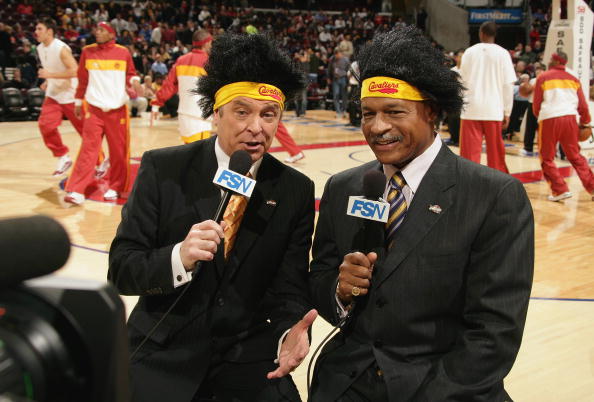 I never had the pleasure of meeting Fred McLeod. We've passed each other while walking through Rocket Mortgage FieldHouse, but I never got a chance to introduce myself.
That said, I know enough about him that the endless praise and kind words being spoken about him today don't come off the least bit surprising. I know enough to feel pure shock and sadness when hearing the news of his passing this morning.
While I never spoke with Fred, I know him as many other Cleveland Cavaliers fans do — as the voice who narrated countless game broadcasts. The first of which I vividly remember watching from my college dorm room.
The reaction I had when hearing my first Fred McLeod broadcast is the same I felt when hearing his last.
"Wow, this guy really cares about this team."
That never waned. His enthusiasm for the Cavs never faded. It didn't matter if he was giving play-by-play for a Cleveland team led by LeBron James or Jamario Moon. You may not have seen the Cavs give 100% on a given night, but McLeod never gave you less than that.
Think of the level of difficulty involved here. Your career as a Cavs play-by-play announcer begins with calling games featuring the greatest player on the planet, then shifts to finding a way to hype up a 19-win team a few years later.
If it was hard for Fred, you never knew it. The passion was present every night, yet it also never felt forced.
Not when the Cavs lost 26-straight games.
Not when Cleveland looked aimless while its former star thrived in Miami.
Not when ill-fated rebuild attempts imploded on a nightly basis.
This is what I'll always remember about McLeod. It didn't matter how badly the Cavs were struggling in a given season, he never let his passion for the team take a night off.
Of course, my greatest memory is undoubtedly shared by many who've followed this team. I've re-watched McLeod's call of the final seconds of the 2016 NBA Finals enough to practically have it memorized. To this day, I've never been able to make it through without getting chills.
There's no way to listen to this call and not marvel in the love McLeod feels for the Cavs, to not know how badly he wanted that win. He could've attempted to hold his own, to avoid letting his emotions take over.
But it was impossible to do so. If you truly loved the Cavs, if you endured the string of heartbreak and struggles this team experienced for the better part of its existence, it was impossible to keep your composure and hold back true joy in that moment.
That goes double for McLeod. He wanted it just as bad as we did, and when it happened, he wanted to soak it in just like us.
It goes without saying Cavs broadcasts won't be the same in his absence. The pleasure of watching a "wine and gold winner," the thrill of a seeing a clutch Cleveland 3-pointer hit "the bottom!" These things may happen this season, but without McLeod there to throw out his trademark exclamations, the experience just won't be as enjoyable.
That said, as tough as it may be, Cavs fans will have to carry on. Despite the fact watching this team will forever be missing something moving forward, supporters' appreciation for the team can't disappear.
After all, McLeod's never did.
With that, I'll just say goodnight, Fred. We'll let ourselves out, even though we wish we could stay.

NEO Sports Insiders Newsletter
Sign up to receive our NEOSI newsletter, and keep up to date with all the latest Cleveland sports news.