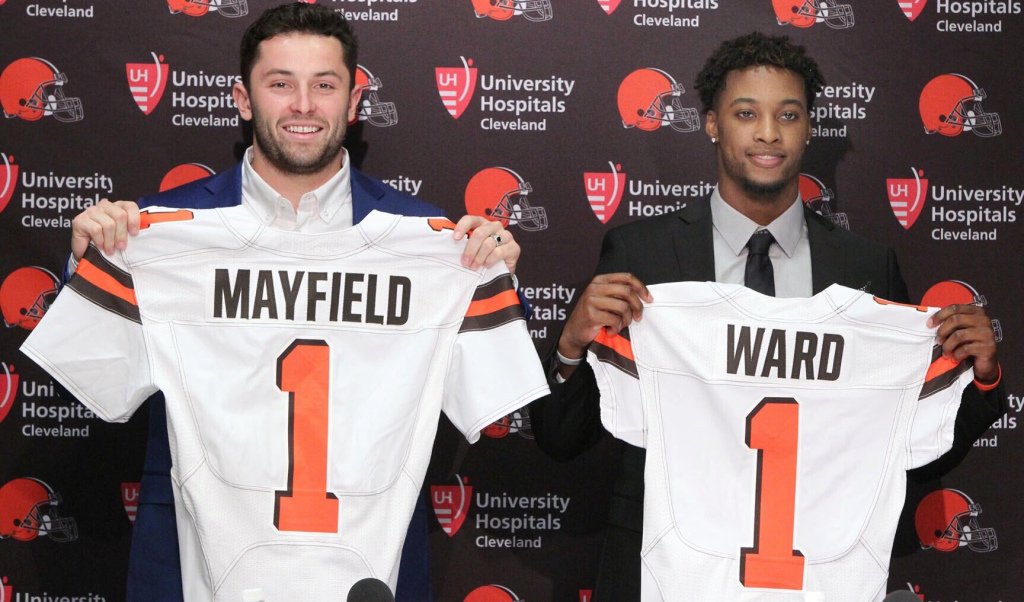 1.) Actual pick: Baker Mayfield QB Oklahoma
My pick: Sam Darnold QB USC
Darnold seemed to be the consensus top QB in the draft for most people and I was one of them. Darnold is only 20 years old so his ceiling still remains pretty high while being likely the safest QB. He has all the characteristics you look for in a franchise QB. His biggest negative was his turnovers. Sitting him for a year behind Taylor and working on his mechanics to reduce fumbles and limit interceptions in film study could have done wonders for him in becoming the best QB from this class.
4.)Actual pick: Denzel Ward CB Ohio State
My pick: Bradley Chubb DE NC State
This pick should have been the best defensive player in the draft which was Bradley Chubb. Forming a combo of Myles Garrett and Bradley Chubb would have been scary with both being under contract for at least the next four years together. That one-two punch in getting to the QB could have taken a lot of pressure off a secondary that really struggled last year. It's no surprise that a lot of the top defenses were towards the top in sacks.
33.)Actual pick: Austin Corbett OG Nevada
My pick: Courtland Sutton WR SMU
I did not see a LT talent wise have more value than other positions here. Connor Williams was a possibility but like Corbett there are some questions of is he a tackle or guard in the NFL. Cleveland needs playmakers and Sutton was my top WR in the draft. For him to be on there day two, they get a consistent big body that can work with the home run threats on the outside. Think Alshon Jeffery with Sutton. He was my top WR in that draft that included Justin Blackmon, Michael Floyd, and Kendall Wright as first round picks.
35.) Actual pick: Nick Chubb RB Georgia
My pick: Josh Jackson CB Iowa
The Browns already have two decent backs on the roster so I wasn't sure they had to go one here. Guice had bigger character questions than originally thought and Ronald Jones would not have complimented the current backs well. I was big on Michel and Penny but both went in the first round. Instead I would have looked at the top corner on the board as an impact player that could start day one. Jackson reminded me a lot of fellow teammate Desmond King that came out last year. Both are not the most gifted athletes and Jackson has more size than King, but both were turnover machines that did not test well and fell because of that. King had a great rookie year in LA and I think Jackson has the natural talent that can make up for some of his limitations as well.
67.) Actual pick: Chad Thomas DE Miami FL
My pick: Geron Chrisitan OT Louisville
The top RBs are all gone so now the focus shifts to the lines. They need a future LT to compete with Shon Coleman or a big body inside to replace Danny Shelton. In the end the defensive group is deeper and finding a LT is more important. Christian has the physical tools and athleticism to be a LT. He just needs better coaching and even if he has to sit for a year he could compete now and eventually take over down the line.
105.) Actual pick: Antonio Callaway WR Florida
My pick: RJ Mcintosh DT Miami FL
I'm surprised the Browns did not address this position especially with all the talent that was there and slid in the draft. I really like Mcintosh in a system like Gregg Williams. He is an athletic undersized DT that led all defensive lineman in pass deflections last season. As he grows into his frame he should only continue to get better.
150.) Actual pick: Genard Avery LB Memphis
My pick: John Kelly RB Tennessee
Cleveland does not necessarily need another starter at the position but maybe a compliment guy. Kelly is undersized with some character concerns but round five is a perfect landing spot for his talent. At 216 pounds he has a stronger build for his smaller height and could be a three down back that will work in-between the tackles. He offers a lot of potential for the value in this spot.
175.)  Actual pick: Damion Ratley WR Texas A&M
My pick: Genard Avery LB Memphis
It is tough to say if Avery would last another 25 spots or not but changing any of one of the previous picks could change the whole landscape in general of the draft. Based on there being a possibility of him still being on the board I will mock him here. I thought late fifth early sixth for Avery. He provides much needed depth at LB but has a lot of physical upside that would contribute day one on special teams.
188.) Actual pick: Simeon Thomas CB Louisiana-Lafayette
My pick: Equanimeous St. Brown WR Notre Dame
A lot of the holes on the team have already been addressed so this is a best player available pick. St. Brown should not have fallen this far in the draft. He is a big home run threat. With Gordon's contract up after the year and Coleman struggling to stay healthy someone has to step into that role. At 6'5" and with 4.48 speed, guarding someone with that ability is going to be a challenge for defenses. He is not as fast as former teammate Will Fuller but think similar role. Fuller had 28 receptions for an average of 15 yards per catch and 7 touchdowns in 2017. St. Brown would be a deep burner who won't rack up a ton of catches but the ones he will catch can change a game. The depth at WR on the current roster is pretty lackluster anyway.

NEO Sports Insiders Newsletter
Sign up to receive our NEOSI newsletter, and keep up to date with all the latest Cleveland sports news.