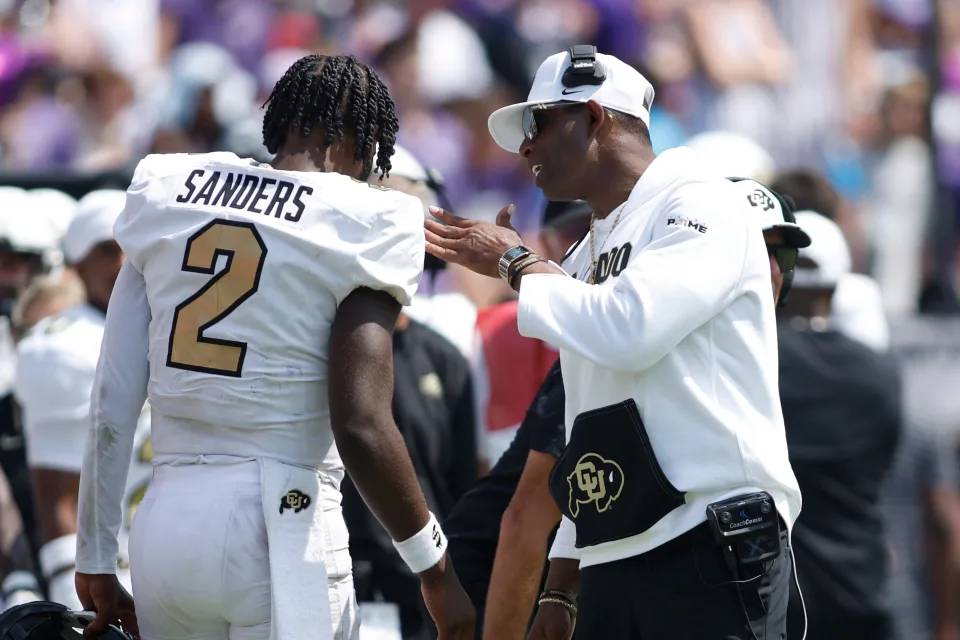 So, let's recap week 2 of college football. See how many of these did you mark on your Bingo card!
The Good from Week 2
Colorado 
How can you not admire and respect what Deion Sanders has done for college football? There were many in the media ripping him for his actions when first hired by the Buffaloes. Welp, it's early but I believe media naysayers might be eating crow…tastes just like chicken. Well done, Prime Time! 
PAC 12
So let's get this straight. PAC 12 would be undefeated right now if it weren't for the Arizona OT loss Saturday to Mississippi State. Ripped all summer as the PAC 2, they are going out with a loud BANG!
Texas
How long does it take for an Ohio State fan to pick a former QB who never saw the field as one of their own? One game. Quinn Ewers and his new hairdo took down the #3 ranked Alabama train and is the toast of Austin and possibly the Heisman Trophy race.
True Ohio State fans will say, "No, he's not one of our own. We claim Joe Burrow because he graduated from OSU." Whatevs.
— Some Guy Talking College Football (@sgtcfb) September 11, 2023
Miami
Is "The U" back? The Miami University win wasn't that impressive. Texas A&M? That's totally different. The Hurricanes are using the pass to set up…the pass! Tyler Van Dyke has amassed almost 600 yards in two games! At this rate, he might need a bionic arm! (Video and research courtesy of the Cleveland Clinic!)
Florida State
I've loved this program for some time. Think it was Bobby Bowden and his southern drawl. But they are back!
FSU is back in Doak tonight pic.twitter.com/T8ONXGyLeF

— Barstool FSU (@FSU_Barstool) September 9, 2023
In their past eight games, the Seminoles have tallied at least 35 points in each. That is the longest in the nation right now. That includes wins over LSU, Oklahoma, Florida, Miami and Georgia Tech. That's an impressive streak!
Army Air Raid
57-0! 
What a win! And…how many yards through the air did the Black Knights have? How about 238!! You think they are ready for the Navy game?? They lost their opener to Louisiana-Monroe by four points. Those turnovers? Killers.
But is it possible for this group to win against a true Division 1 school via the air? They play LSU later in October. One can dream, right?
The Bad from Week 2
The SEC
See what NIL does? It levels the playing field. After week two, the SEC is 3-6 in power five conference games. All six losses were by double digits!
Too early? Hell yes. But this will be interesting to watch! Will those Alabama haters be yelling: "Roll OVER, Tide!"
Nebraska
The Matt Rhule era has not had an impressive start. Already there's rumbling in Husker land! It was a tough road. First, a Big Ten conference game. Loss. Then a match with the surging Buffaloes! Loss.
When your most experienced offensive lineman has a Pro Football Focus grade of 0.00 for passing, that spells trouble! Also, since 2002, Nebraska has the most turnovers in all the power five conferences. Transfer QB Jeff Sims has had a rough start. Six quarters…six turnovers. Ouch!
At least Nebraska fans have the women's volleyball team! Over 92,000 spectators witnessed the largest crowd ever for any women's sporting event. Ever!!
This is amazing….Nebraska women's volleyball team walking out to 92K in the stands pic.twitter.com/wQqre7veZh

— Wu Tang is for the Children (@WUTangKids) August 31, 2023
The Ugly from Week 2
Two points. That's how many points they have scored in two games. Who is Texas College? They are an NAIA school trying to build a program. Their first game of the year was a 96-0 (YES!) loss to UT Permian Basin. Many factors were in play for the lopsided loss. But the biggest arguably were the 25 players (mostly starters) taken off the team bus before leaving the school because the players were not certified by the NAIA prior to the game.
Then, the schedule makers did them no favors with a titanic battle against Central Arkansas. But the Steers finally notched points. A team safety late in the fourth quarter. 
Here's to better days for the program decimated by the pandemic.
Delta State vs. Chowan
Or shall we call it, "The Melee in Murfreesboro?"
Footballscoop.com had the story.
"Delta State was rolling along in a Gulf South Conference matchup against Chowan, up 42-18 late in the game when a brawl unfolded along the Chowan sideline.

After Delta State handed the ball off to running back Tamaj Hoffman and he was shoved out of bounds following a 19-yard gain, players from both teams began to exchange words.

While both the visiting Statesmen and home-standing Hawks jostled with one another, grainy video from the game's online broadcast appeared to show a player repeatedly striking another player with a helmet…"
Video footage showed the home Chowan fans throwing helmets from the stands as the Chowan players held a Delta State player against the fence.
So we have helmets coming from the bleachers. Wow. That's the tweet! pic.twitter.com/kyID3ZVyxJ

— Todd Cooley (@CoachToddCooley) September 10, 2023
Officials ended the game immediately after. The Gulf South Conference and Chowan listed disciplinary measures today.
If this is just week 2, what in heaven should we expect next week?
What other stories have you heard about? Please add them to our comment section!

NEO Sports Insiders Newsletter
Sign up to receive our NEOSI newsletter, and keep up to date with all the latest Cleveland sports news.