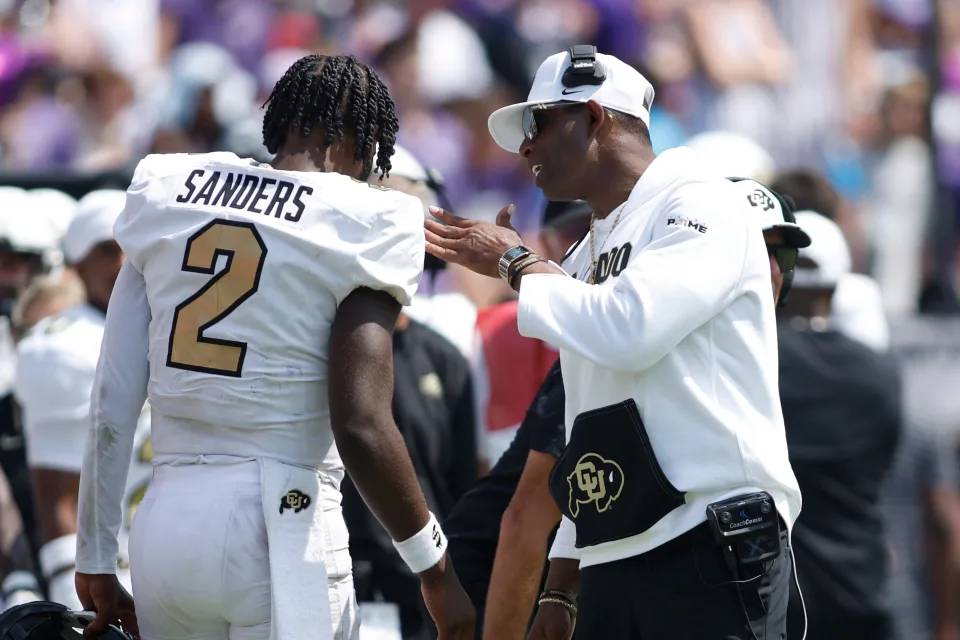 Week three in the NCAA college football season started with a challenge by two rival coaches and ended with criticism for the NCAA themselves. Drama at the collegiate level is the best advertising for the sport!
Colorado vs Colorado State!
First, Colorado State's head football coach, Jay Norvell, criticized Coach Deion Sanders for always wearing his sunglasses and hat. Take a listen!
Colorado State HC Jay Norvell criticizes Colorado's Deion Sanders for not taking off his hat and sunglasses while doing interviews 👀

Saturday night might a war between both teams 😬pic.twitter.com/s8jExtTd5o

— The Sporting News (@sportingnews) September 14, 2023
How did Prime Time handle the criticism? By purchasing a pair of sunglasses for each of his players!
After Colorado State HC Jay Norvell criticized him this week for always wearing his sunglasses, Colorado HC Deion Sanders gifted sunglasses to his entire team. pic.twitter.com/mmx49x5PIj

— Adam Schefter (@AdamSchefter) September 15, 2023
Oh. By the way. That game will be televised on ESPN and streamed on ESPN+ for the 10 PM EST kickoff Saturday night! Popcorn, wings and drinks ready!
How will Coach Prime handle the handshake after their titanic struggle today?
Deion gives a preview of his postgame handshake with Colorado State HC Jay Norvell
pic.twitter.com/uhEVg8iDAp

— MyBookie – Bet With The Best (@MyBookie) September 16, 2023
IU and Louisville cancel their remaining games?
Indiana and Louisville have terminated their final two games in a three game series. Louisville was home in 2024 and IU in 2025. No reason was given yet. This will be interesting to see why all of a sudden they canceled. So today's game will be the only game played between these two schools only 100 miles apart.
Someone is paying a huge fine!
New Ohio Coaches in college Football
Trevor Andrews is enjoying his first year coaching the University of Dayton Flyers for football. He recently celebrated his first win over Central State. A former Flyer footballer, he returned to his alma mater when Rick Chamberlin retired at the end of last year.
In a recent interview for the Flyers online athletic site, he shared the story of telling the team they were going to see the movie, Mission Impossible! Here's the scoop from the UD site:
'At the end of a meeting, I told the team that we were going to go to a movie.  It was one of the team-building activities we did during camp.  Some of those were pre-planned but this one was a surprise.  It was such a surprise that when I said 'We're going to a movie' I got absolutely no reaction.  I thought maybe they thought I was joking…So I told the team, 'That was not the reaction I expected.  We. Are. Going. To. A. Movie.  Mission Impossible.' Chase Brown (DE) stood up and asked 'Coach, are you being serious?'  When I answered 'Dead serious.' Then they went nuts.'
Trevor isn't the only new hire for Ohio colleges. Kenni Burns, a former assistant with PJ Fleck with The University of Minnesota was hired by Kent State to help their program dominate the MAC.
Kenni Burns and Kent State
Dix Stadium is rocking for @KentStFootball home opener! The Flashes host @CCSUfootball as they look to cash in their first win in the Kenni Burns era

I'll be on the sidelines with @RobPolinsky @CHS_super77 on the call at right now at noon! https://t.co/ErRAqAjhjO pic.twitter.com/8UEYQZB4Oi

— Dane Richardson (@DaneRichardso16) September 16, 2023
A former Indiana University running back, Burns has coached since he graduated from Bloomington, but his schedule offered no breaks until this weekend. The Golden Flashes 0-2 record and 12 points scored versus 84 against represent the tough non-conference part of their schedule. Their losses were to undefeated teams, Central Florida and the University of Arkansas, both programs looking to make big moves in their conferences.
But the buzz around Kent has been extremely positive, so we look forward to Kenni's first year. Need to get Dix Stadium packed for their home games!
SEC problems already?
Week three sees the SEC struggling. They are 3-6 in power 5 matchups. So what will happen as SEC foes tackle each other?
My takes!
Watch Mississippi State take down LSU. Imagine that. LSU's season down the drain before September 17th! Tennessee was a darling last year but with their showdown with Florida this weekend, they could lose their opener, too.
So much fun to watch the SEC have issues!
And speaking of Kent State…
UNC and Devontez "Tez" Walker
Mack Brown, the University of North Carolina football coach, was extremely critical of the NCAA after the decision by the governing body NOT allowing the talented transfer WR from Kent State to play this year for the Tar Heels.
Full Mack Brown here. Scorched earth. pic.twitter.com/Uv4wYI6Nk2

— Pete Thamel (@PeteThamel) September 7, 2023
But what happened this week opened the door for anyone with an opinion to shout it loud from their mountain top! The NCAA released statements that brought ire to the beleaguered institution.
Interesting article by former judge Robert Orr on whether the NCAA truly cares about athletes' mental health. https://t.co/oII75IggXT

— Jay Bilas (@JayBilas) September 15, 2023
Background
Technically, this is Tez Walker's second transfer. And according to the NCAA rules, the school must apply for a waiver for this transfer. He is from the Charlotte area and his aunt, battling an illness, has never seen her grandson play college ball in person. UNC authorities thought it would be a no-brainer. But it's the NCAA…nothing is a no-brainer! (Search CheeseBurger Gate with Michigan!)
When the waiver request was denied, Coach Brown decided to go full Rambo!
"Plain and simple, the NCAA has failed Tez and his family and I've lost all faith in its ability to lead and govern our sport," Brown said.

"Shame on you, NCAA. SHAME ON YOU!"
This week, the NCAA noted that administrators on the committee have been threatened by numerous individuals online. 
This is not the first time a waiver request was denied by the NCAA. Colorado offensive lineman, Tyler Brown, also was denied a waiver for his "mental health struggles." Coach Deion Sanders also criticized the NCAA at that time.
From Chip Alexander, who has been covering this for The Charlotte Observer, wrote:
The NCAA statement said the Division I Board of Directors believed NCAA staff and the committee are "applying transfer waiver guidelines as intended by member schools and giving proper and full consideration to individual cases, including consulting a panel of licensed mental health experts for cases in which mental health is cited as a reason for transfer."

It noted the new guidelines were supported unanimously by all 32 Division I conferences in January, and have been supported by coaches associations.
After the NCAA released their statement with the added idea that "serious threats" have been made to members of the committee after Brown's statement last week, Brown doubled down by saying:
I'm not going to apologize for standing up and trying to do what's best for our young person, and making sure that he understands we have exhausted every possibility that we can to help him.
The UNC Board of directors had a meeting this week to discuss legal options for this case. This is NOT over in any fashion!
And what's college football without OSU and Michigan news?
OSU and Michigan?
OSU battles Western Kentucky and if Ryan Day's Buckeyes don't cover the spread again, fans in Columbus just might go full Mack Brown Rambo!
Western Kentucky WR Malachi Corley @CorleyMalachi has been called the "YAC God" for good reason. We diving into Corley's 2024 NFL Draft scouting report.

PS- don't be surprised when WKU gives OSU some hell early on today. https://t.co/EcDgu0UScN

— Ian Valentino (@NFLDraftStudy) September 16, 2023
Michigan has Bowling Green! And Harbaugh's dad, who graduated a Falcon and married a Falcon after the two met in English class, made it clear who better win!
Jim Harbaugh's parents met at Bowling Green. His dad Jack coached there, too.

"My dad has been right there now for a couple weeks, telling us, 'Bowling Green is gonna come up here and kick your @$$,'" Harbaugh said about Michigan's upcoming game. 😂 pic.twitter.com/j7NVZY7Xn6

— Brad Galli (@BradGalli) September 12, 2023
His son made it clear that dad knows that program well!
Have a great weekend, everyone!

NEO Sports Insiders Newsletter
Sign up to receive our NEOSI newsletter, and keep up to date with all the latest Cleveland sports news.