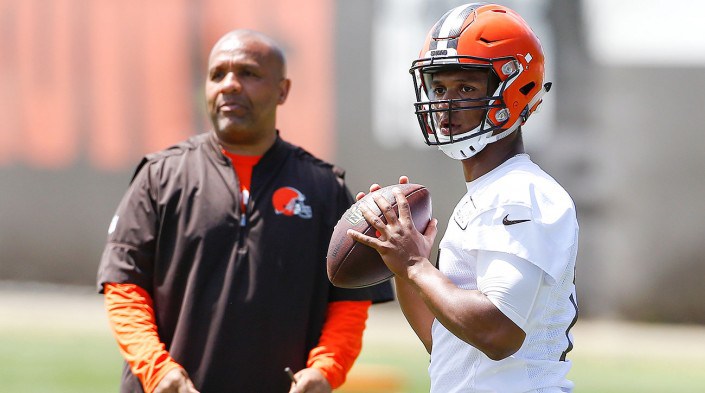 CLEVELAND – The Cleveland Browns' No. 1 overall pick, Baker Mayfield made it abundantly clear on Friday's opening day of rookie minicamp that his battle with veteran quarterback Tyrod Taylor won't divide the locker room. The Heisman winning QB seems clearly comprehends where he stands on the positions totem poll.
"[Tyrod] is the starter, and all I can do is help us out," Mayfield said. "When you get a guy like that, it helps out the locker room in just the best way possible. He is a grinder. He comes in early and he is the last one to leave. I can only aspire to be like that. It is not going to be something that separates the locker room. We are not going to be fighting over who is the man in the locker room. I am a team-oriented guy, and we just want to win."
Those remarks came after head coach Hue Jackson reiterated yet again that Taylor will enter 2018 as the team's starter. This time he claimed that he's "not going to back off of this," and that it "won't change." It's obvious that Jackson wants to nip this story in the bud now before it drags into the fall.
Too bad it will regardless. This story is far from over.
What if Mayfield dazzles at training camp and in the preseason? Enough where he legitimately threatens Taylor for the starting job? It's not a far-fetched thought, really. Just last year Taylor faced a similar situation with the Buffalo Bills, after looking utterly miserable and out of sync with his offensive teammates during the preseason. The clamoring for rookie quarterback Nathan Peterman to start was deafening by Week One. Ultimately, Bills head coach Sean McDermott stood his ground and opted for starting Taylor under center. But lo and behold, as things went south just past the midway point of the season, McDermott wasted no time handing the reigns to Peterman.
Perhaps the disastrous results that ensued – Peterman threw five interceptions in a half as the Bills were smoked by the Chargers – will serve as a learning experience for the Browns to not thrust Mayfield into action too soon. Then again, Peterman was a fifth-round pick with a much lower ceiling than Mayfield.
That one example won't do much to suppress the pressure that comes with beginning a season housing your potential franchise quarterback as a backup to a stopgap veteran. In theory, that concept is perfect, and yet in execution patience often falls by the wayside. In Cleveland patience is at even less of a premium following a 0-16 season for a franchise that now holds the NFL's longest playoff drought.
It's easy in May, one week after the draft to laugh off the thought of a rookie QB, who has never played a single snap in the NFL, starting. But again, what if Mayfield outperforms Taylor in training camp? And what if things go south quickly for the Browns quickly out of the gate?
Jackson enters 2018 on a short leash. His job is at stake here. How long can he honestly ride or die with Taylor if the Browns are struggling? Hard as he may try to stick to his guns, outside pressure will creep in. It always does. Having the "quarterback of the future" is a nice safety net for a coach to have in his back pocket, but you can only hold onto that card for so long.
Not only that but Jackson was hired partially for his ability to supposedly develop quarterbacks. That hasn't happened with Jackson's QB ventures up to this point. 2016 third-round pick Cody Kessler was traded for peanuts this offseason. 2017 second-round pick Deshone Kizer was also dealt, after getting completely toyed with by Jackson constantly starting and benching him last season.
Mayfield is Jackson's last chance to prove his reputation as a QB guru is legitimate.
For now, the Browns can sell that Taylor will start while Mayfield essentially takes a redshirt year, and a hearty amount of fans are buying into that philosophy. Cleveland hasn't shown patience with a young quarterback this century so it sounds good right now. But by September, Mayfield-mania could reach its climax, should the rookie outduel Taylor. And if not then, it'll come the instant Taylor struggles.
For now, this conversation may be over inside team facilities, but outside, don't expect it to go away anytime soon. We're having it in May, we'll be having it in August and beyond. And eventually, the pressure to play Mayfield could become too overwhelming for even Jackson and company to ignore.

NEO Sports Insiders Newsletter
Sign up to receive our NEOSI newsletter, and keep up to date with all the latest Cleveland sports news.