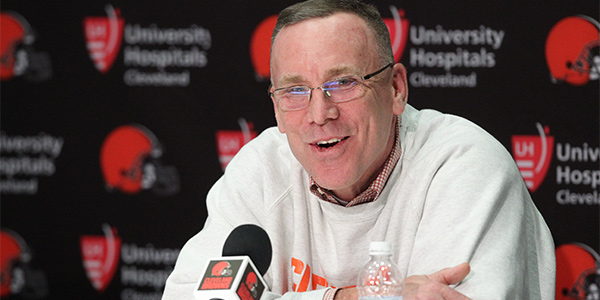 BEREA – Hue Jackson's firing Monday, was hardly a surprise. Jackson began the season on the hot seat after winning just one game in two seasons. Ultimately, his dismissal was about much more than wins and losses.
"I think the message today is we are not going to put up with internal discord," Haslam said. "We want people who are collaborative and work together."
The "internal discord" Haslam was referring to was the public feud between Jackson and offensive coordinator Todd Haley, which played out on everything from episodes of Hard Knocks to postgame press conferences. It reached its climax following Week Seven when Hue Jackson addressed the media following an overtime loss to the Buccaneers and essentially threatened to take over the play-calling duties from Haley.
That battle of egos was becoming a distraction and was seeping into the Browns locker room where it was soiling the culture that Dorsey has worked so hard to correct. The message Dorsey wants to send the team is a simple one.
"Treat people the way they want to be treated," the Browns GM said. "Come into work every day willing to work. Love what you do. Just take ownership in what you are doing. Come to work every day and treat people the way you want to be treated.
"It is a hard day because it impacts the players. You have to be empathetic towards their feelings in that regard but also remind them that they are a bunch of talented young man and there is a lot of football left. We are going to put them in a position and the best environment moving forward."
As the owner, Haslam took the brunt of the blame for letting the toxic culture fester as long as it did. Still, he didn't regret giving Jackson as long of a leash as he did to succeed here in Cleveland.
"Hindsight is always 20-20," he stated. "I like and respect Hue. You wanted to give him every chance he could to be successful."
Reports indicated that the Browns brass was also concerned with how either of Jackson and Haley could handle the development of the team's young players, particularly rookie quarterback Baker Mayfield. Now, the task of developing Mayfield falls on interim head coach Greg Williams – who for now will still handle the defensive coordinator responsibilities as well – and promoted offensive coordinator Freddie Kitchens, who was serving as running backs coach and associate head coach.
"I think that the whole scheme is the same. The quarterback's coach (Ken Zampese) is the same," Dorsey said. "I think he has a great familiarity with Freddie there. I think it is a personal relationship that he made have had with Todd, but I think the everyday relationship that he has with his quarterback coach is really big in the development of it, and he and Gregg have a fairly good relationship, too."
These sweeping changes come at an interesting time for the Browns. Fresh off a loss to the Steelers, Cleveland has to move on from Monday's madness and get ready for a showdown with Patrick Mahomes and Kansas City Chiefs on Sunday. As hard as that may seem, both Haslam and Dorsey continued to reiterate that Monday's changes shouldn't be seen as a concession of the rest of the season. Their hope the second half of the season serves as opportunity to continue fixing that environment left in shambles by Jackson. In an ideal world that includes more wins for this young roster.
As far as the long-term outlook at head coach, neither Dorsey or Haslam would make any promises about Williams future, or guarantee that another head coaching search was looming this offseason. The duo is only focused on the present.
"I will just repeat what I have said that we are focused on winning these next games and helping Gregg with everything we possibly can," Haslam said, to wrap things up.
"I think I have said very clearly that our focus is on the last eight games, winning as many of those as we can and helping Gregg anyway that we can. At the end of the year, depending on what happens, we will evaluate everything."
Follow: @Spencito_

NEO Sports Insiders Newsletter
Sign up to receive our NEOSI newsletter, and keep up to date with all the latest Cleveland sports news.