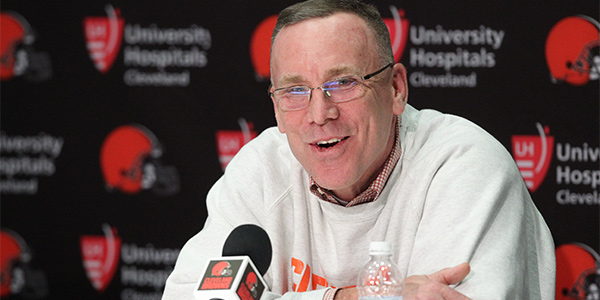 CLEVELAND, Ohio — If you haven't heard the news, the Cleveland Browns have fired head coach Hue Jackson according to Adam Schefter (ESPN). Jackson, the ninth head coach since the franchise returned to Cleveland in 1999, went 3-36-1 as head coach of the Browns. According to Mary Kay Cabot of Cleveland.com, defensive coordinator Greg Williams is expected to serve as interim head coach. The team has not made that official yet.
Monday's coaching purge means the Browns will embarked on yet another head coaching search this offseason. By now, one would think this team should have this process nailed down. The team has a bright future. It has talent. But lets see if owner Jimmy Haslam has finally learned from his previous mistakes.
Here are five potential coaching candidates:
1. Lincoln Riley: Going the college route could be an option for the Browns. The top candidate will be Oklahoma's coach Lincoln Riley. Riley was the head coach of the Browns starting quarterback Baker Mayfield. Riley should have heavy interest from the Browns this off-season. Whether or not they can convince him to leave the college ranks is going to be a tough task. Riley has made known that he does have interest in the NFL at this moment. But a pairing with his former quarterback could change his mind.
2. John DeFilippo: Once upon a time, DeFilippo was the offensive coordinator for the Cleveland Browns. That was in 2015. Not that long ago but considering the events that have taken place with the Browns organization, it seems like an eternity. DeFilippo is currently the offensive coordinator for the Minnesota Vikings. Like Riley, DeFilippo would be a good pair up for Baker Mayfield. Both of them are offensive minded coaches. Not only is DeFilippo a connection to the Browns because of his recent history team but he was also born in Youngstown, Ohio.
3. Matt Campbell: Here's another offensive minded coach in the college ranks that will likely get consideration to be the next Cleveland Browns head man. Campbell has the been the head coach of Iowa State since 2016. Here's where the connection for him to the Browns is. Campbell was born in Massillon, Ohio. He has coached at Bowling Green, Mount Union, and Toledo before arriving at Iowa State. This is a job Campbell will probably have major interest in due to his past. Is it enough for him leave ISU? Only time will tell.
As you can see, each head coach has a connection to the team one way or another. For John Dorsey, the focus will be the fit for the team. It's about changing the culture. Most importantly, it's about the best interest of Baker Mayfield.
The Browns host the Kansas City Chiefs at First Energy Stadium on Sunday. Kickoff is at 1:00 p.m. on CBS. The Chiefs are an -8.0 road favorites.