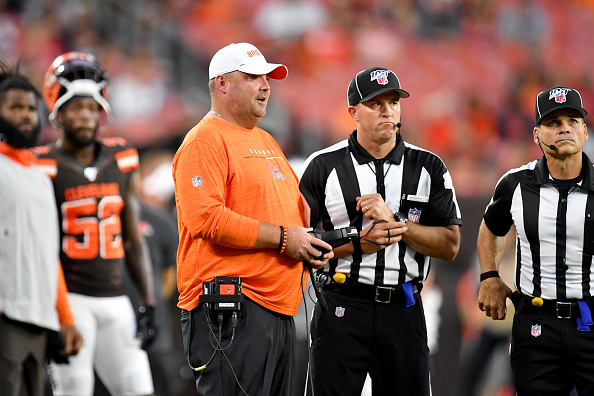 Accountability is one of the most respected qualities a person can have. Parents hope to instill accountability in their kids. Society expects it from public figures. And in sports, we expect it from players and coaches.
If you make a mistake, just own it and fans will respect you more for it. Hue Jackson never showed accountability during the worst era of Browns football and instead resorted to throwing his fellow coaches and the players he was expected to lead under the bus. Eventually, it cost him his job.
Freddie Kitchens is not Hue Jackson. Not even close. And as Kitchens stood up at the podium on Sunday night after a frustrating 20-13 loss to the Rams and took accountability first for an unfathomable fourth-and-nine draw play and then for a perplexing series of plays and decisions that left the Browns four yards short of a game-tying touchdown in the final minute of play, it was a welcomed sight.
"We were trying to win the game," Kitchens said of the fourth down draw play. "We were on their side of the field. Bad call."
Bad call indeed. And he doubled down on it Monday.
As for the befuddling play calling from the four, "I should have run it once. Should have run it three times," Kitchens said. "I should have ran it one time. I should have. That is why I am kicking myself in the ass for it right now."
Those remarks are a far cry from Jackson. It takes some serious pride to own your shortcoming and Kitchens did it. It's that sheer honesty and blunt personality that won him over with fans these last eight months. Kitchens comes off as transparent and personable, while still maintaining a demanding aura over his team.
Accountability is very on brand for Kitchens and taking blame for the costly play-calling that likely cost the Browns a W in their biggest game this century will play great publicly. It was the right thing to say because well, it was his fault. Your reputation precedes you and while Kitchens is well-respected off the field, on it he's quickly developing one for being a terrible situational coach. That's alarming.
Accountability looks great in the media and should garner plenty of respect. But accountability only matters if things improve.
So will they?
Kitchens, like any first-year head coach, deserves some leeway. It's an adjustment that even he himself has noted no one is every really "ready for." But the Browns head man looked his worst on the NFL's grandest stage and with the quarter pole of the season fast approaching something needs to change.
Some have suggested handing the playcalling over to established NFL offensive coordinator Todd Monken so Kitchens can focus more situational decisions. He had enough pride to take the blame, does he have too much of it give up the playcalling? Hue Jackson didn't and, well, that's another reason he lost his job.
For what it's worth there were moments against the Rams where the offense looked more like the unit that earned Kitchens the head coaching job in the first place. Maybe that's a sign they're turning the corner but the group still mostly lacks an identity or creativity. Browns fans didn't want to buy into concerns over Kitchen's inexperience as a play caller but three weeks into the season they're looking pretty real.
So go ahead and praise Kitchens for falling on the sword in the aftermath of Sunday night's debacle. It was the right thing to do and he's vowed to fix it moving forward. But man, he better. Cause if we're talking about the same issues one, two, three, four week from now, a parade of torches and pitch forks may parade down to Lou Groza Blvd. And the accountability he showed over the last 24 hours will lose it's gusto.

NEO Sports Insiders Newsletter
Sign up to receive our NEOSI newsletter, and keep up to date with all the latest Cleveland sports news.