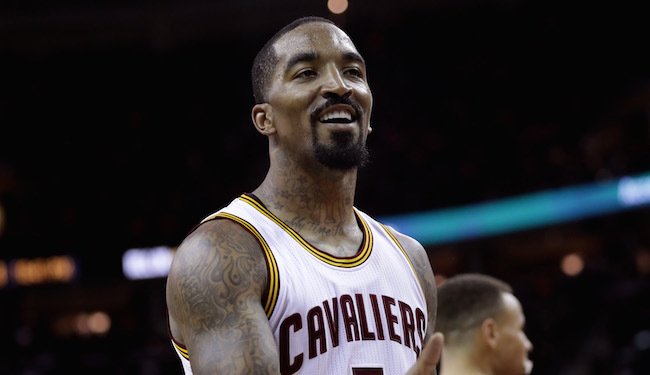 When the Cleveland Cavaliers host the Indiana Pacers in Game 2 of the Eastern Conference Quarterfinals on Monday, April 17, all eyes will be fixated on the usual suspects: LeBron James, Paul George and Kyrie Irving.
Kevin Love, who also had a big game on Saturday, scoring 17 points, is capable of erupting any given night.
However, one player who I'll be keeping a close eye on is J.R. Smith.
It's been an up-and-down month of action for Smith since he returned from his thumb injury.
Aside from a four-game hot-streak in late-March/first week of April, it hasn't been pretty.
One thing the Cavs can almost always rely upon Smith to deliver is his solid defense.
And for a team that has been struggling as a whole on that end of the floor, he'll be needed as much as ever, going up against George, one of the game's elite scorers.
When the Cavs hosted Indiana in their final regular season meeting, LeBron took the challenge of guarding George in a game that went to double overtime. Both All-Stars were on their best offensive games that night, each eclipsing 40 points.
However, in Game 1 of the Eastern Conference Quarterfinals, Smith was given the assignment of guarding George most of the day.
"It just came from him taking the challenge," LeBron said at Monday's shootaround.
"Coach Lue gave him the challenge… but it's not just about J.R., it's about the whole five. We all have to be in tune on what the gameplan is on Paul George because he's that great of a player, but J.R. is getting the individual matchup, but it's never just him by himself. We have to have the communication, we have to have the eyes and the schemes behind to him to allow him to know that he has safety guards behind him. But J.R. is always willing and he's always up to a challenge when you challenge him."
George scored 29 points on 9-of-19 shooting and when it came down to the last possession, the Cavs doubled him to make sure they made one of the other Pacers have to try to beat them. The move paid off and the Cavs are up 1-0 in the series.
Smith played 37 minutes in that game (the third-most on the team, only behind LeBron and Irving) and he only took four shots on the day, finishing with six points.
Although Smith doesn't always take a boatload of shots, four field goal attempts is unusually low for the three-point marksman.
The most logical explanation for his lack of aggression on offense was that the task of guarding George all game can have an effect on the other end of the floor.
We see it all the time with guys who have to guard elite offensive players.
But with Smith, something to keep in mind is that his regular season as a whole was not great and wasn't quite up to par with 2015-16.
It's been a rough year for him, both on and off the court.
No one would question his effort on the floor and with the state of the Cavs right now, his defense and energy are probably more valuable than what he can do on offense anyway.
However, this postseason, there will be times where other guys need to step up.
The Cavs' role players/supporting cast all know that.
We know what to expect out of James, Irving and for the most part Love and Tristan Thompson.
It's the guys like Smith, Kyle Korver and Channing Frye who can become that fourth option and take advantage of how often teams load up on the Big Three.
Korver only scored two points in Game 1, but for obvious reasons, he's not going to get as much playing time as Smith, especially when the Cavs need a defensive stopper on the floor at all times to match up with George. (By the way, it won't get much easier in that regard in the round(s) to come, assuming the Cavs advance.)
When it comes to Smith's presence in this Pacers series, there are a few things I'll be watching for in Game 2 and going forward in the series:
Will he be more aggressive with his shot selection?
Will he continue to "contain" George and not allow him to take the game over completely?
Will he finally start to hit that groove we know he's capable of when he gets on a roll?
The energy in the building is completely different when J.R. starts knocking down three's in a short span of time.
In that last regular season meeting with Indiana, Smith knocked down a cold-blooded three in the closing seconds of overtime, which sent Quicken Loans Arena into a frenzy. It was the type of J.R. Smith dagger the Cavs have not seen much of in 2016-17, even when he's been healthy.
It's not uncommon for Smith's first three-pointer of the night to lead into a mini-run, where he starts to knock down two, three, or four in a row.
He's always been a streaky shooter, but there's a different feeling in the air in front of his home fans when he gets going. It also might be a bit deflating for opposing teams to see him heat up and see the crowd get fired up. The Cavs are already a great offensive team on an average night to begin with, but when he gets going, it propels them up to another level.
Smith is beloved by Cleveland and if he was not such a fan favorite, there might be more talk in the town about how his play has regressed after signing a big contract in the offseason.
This is just my theory, but Cleveland fans seem to be giving him the benefit of the doubt because he's such a like-able guy in the city and at least from my standpoint, it doesn't appear Smith has given any less effort this season than the two prior seasons.
No one could expect him to come right back from the injury and immediately get into rhythm, but after more than a month of game action, this is particularly an important time for Smith to get back to doing what we know he's capable of.
Iman Shumpert didn't even play in Game 1 of the series, which further indicates the point that the shooting guard position is primarily going to come down to the play of Smith and Korver.
Maybe we see more of Shumpert depending on the flow of the game (and the margin of the score), but this is the time where Smith can jump back out in front of the home fans and provide a lift on both ends of the floor, just in time for his team to hit the road for two games.
Every game is crucial in the Playoffs, but after a lackluster offensive performance in Game 1, this could be a pivotal night for J.R.

NEO Sports Insiders Newsletter
Sign up to receive our NEOSI newsletter, and keep up to date with all the latest Cleveland sports news.