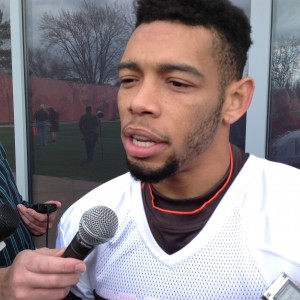 Today was the last day of practice for the Cleveland Browns before their home opener match up against the Baltimore Ravens Sunday afternoon at First Energy Stadium. The media caught up with a few of the player after practice to talk about the upcoming contest.
They were asked about the transition from Robert Griffin III leading the offense to veteran Josh McCown getting the start at quarterback.
"Pretty seamless, honestly." OL Joel Bitonio stated. "Both of them were really on top of the game, like when it came to blitz pickups, checking into plays and protections. Josh is so savvy and RG is a vet himself. To have both of them there, it has been pretty seamless. We had Josh last year for most of the time so I was pretty used to him, and he is doing a really good job so far."
CB Joe Haden also gave his thoughts on the 37-year old signal caller.
"I am super excited. Everybody is excited about Josh. They know what kind of leader he is. They know what kind of player he is. They know what he can do for this team. Really, I just felt back for RGIII, honestly. I know how much he wanted to go out there and play and perform and all the work that he put in and how much it really means to him. I am just upset about that. As far as Josh coming in, I am just super excited that he is still on this team."
RB Isaiah Crowell also has the utmost confidence in McCown, saying "I feel like Josh can get it done. He has been getting it done in the league for a long time, and I am very confident that he has what it takes to win the ball game."
He also went on to talk about how the Browns can run the ball more effectively on one of the better defenses in the league for the past 10 years. "Just execute, get the play call and just everybody, all 11 men on the field just execute and do their job."
Haden knows that last year was a fluke year for the Ravens and that they are always a contender for the AFC North title. He will be going up against familiar foes in WR Steve Smith Jr. and QB Joe Flacco but a old division rival returns to the north in former Pittsburgh Steeler WR Mike Wallace. Here's what he had to say about the Ravens passing game.
"Joe Flacco, he is a Super Bowl winning quarterback. He can make all the throws. He is in control of the offense. They have very, very fast capable receivers. Every time, we have to make sure we stay on top, making them catch the ball coming back to the quarterback. Mike Wallace, I don't feel like he has lost a step. He is still the same guy. Steve Smith, very physical, veteran, very crafty. They have very capable guys so we have a big challenge ahead of us."
The Browns had their last practice of the week today and will have a walk through tomorrow before the game Sunday.

NEO Sports Insiders Newsletter
Sign up to receive our NEOSI newsletter, and keep up to date with all the latest Cleveland sports news.