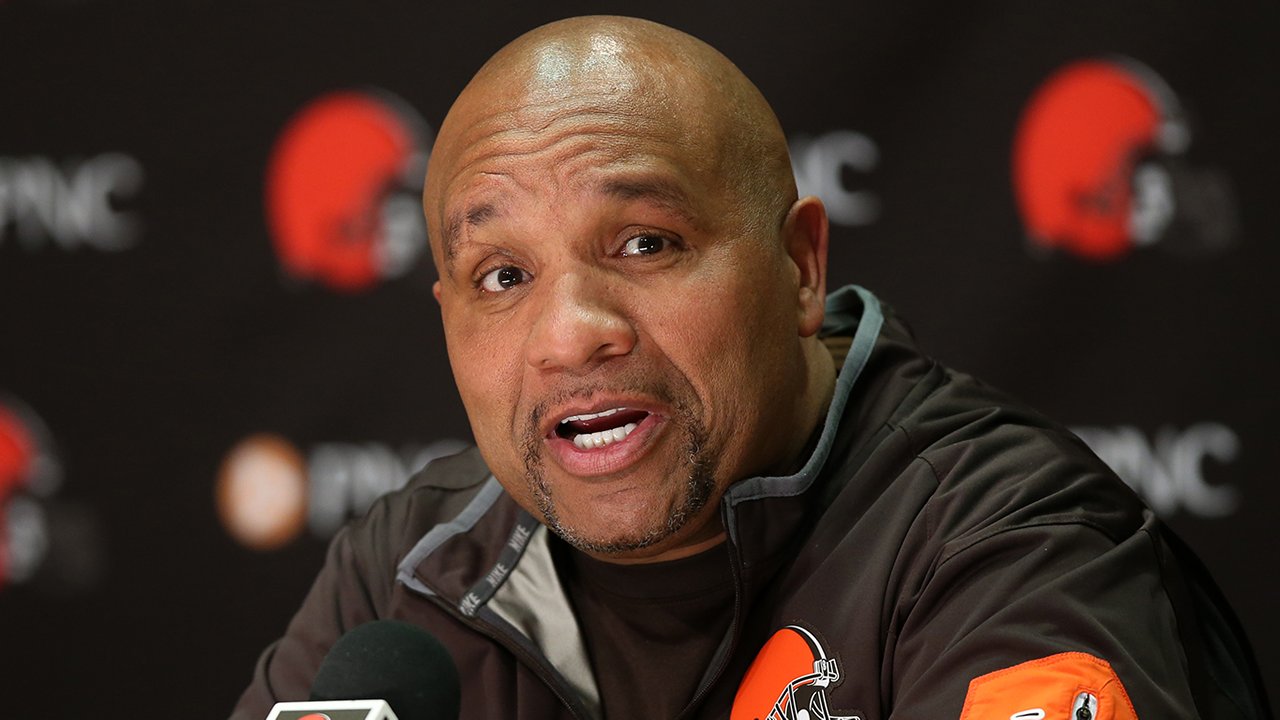 The Cleveland Browns hope to surprise the Baltimore Ravens when they face off in a week two matchup this Sunday at 1:00 p.m. Cleveland is coming off a horrific loss to the Philadelphia Eagles in which the offense only produced one touchdown and a field goal.
Head coach Hue Jackson sat down with the media this week and discussed the entire Josh McCown situation, Danny Shelton's solid performance, and the run game and how it needs to start to get going.
Let's take a look at what Jackson had to say and hopefully these Browns can come away with a week two victory on Sunday.
On the Browns focusing on the running game, even though the running game has been devalued across the NFL in past years:

Obviously, they are a huge part of what we like to do. There is not a substitute for a good runner. If you have a guy who can wear the defense down a little bit and a guy who knows how to carry the ball, be physical and make those tough yards, there is no substitute for those guys. You have to have them. We have not kind of turned our guy (RB Isaiah Crowell) loose yet, but he has some special ability that way. We are going to find out here pretty soon.

On the Browns running game against the Eagles:

It wasn't as good as I liked. I thought the yards we made were at the end of the game when they were playing really soft. I didn't put any stock into what we did as far as running the ball there last week. We just have to keep working at it and keep getting better.

On if the Browns will run a similar gameplan with QB Josh McCown as QB Robert Griffin III:

Yes, there is no question. There is nothing that we are changing because Josh is playing quarterback. I will tailor the things we do to his strengths, but we are not changing our offense because he is playing quarterback.

On what McCown does better than Griffin III:

I don't think it is good to compare what he does better than RGIII. I just think Josh has a unique skillset, and he can throw the ball with anybody. He is more athletic than I think a lot people give him credit or say he is. He is very athletic. He is a leader. He knows how to play. It is not about comparing him and RG. I just think his skillset fits our offense. He will be able to help our offense play good.

On DL Danny Shelton's performance in Philadelphia:

I thought there were some things he did really well. At times, he got some knock back on the offensive line. That was a huge improvement. We just need him to do it consistently and do it every game. I think he is trending in that direction. We are looking to forward to watching him play this weekend.
What really impressed me against the Eagles was the production of nose tackle Danny Shelton. He looked a lot better out there and could have a breakout season. He might still have a long way to go but he has shown huge improvement.
This week will be a difficult task for this organization. When you lose your starting quarterback for several weeks it's never a good situation. For the Browns they have a solid backup in Josh McCown and the entire team believes in him. The running game needs to get going early and often if this team wants to have a chance to win.
Let's just hope that the offense puts more than ten points on the board.
Go Browns! 

NEO Sports Insiders Newsletter
Sign up to receive our NEOSI newsletter, and keep up to date with all the latest Cleveland sports news.