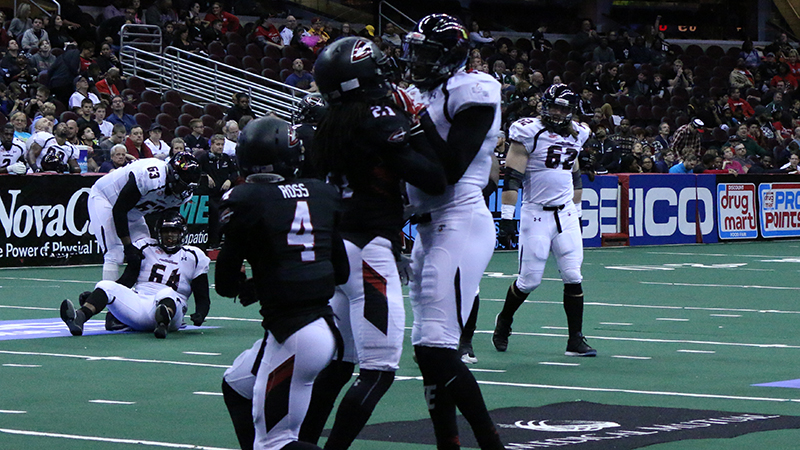 The Orlando Predators come to town with a 4-0 record and looking for a win. In a pre-game meeting with the NEOSI crew Gladiators beat reporter Tom Farmer told me that this game would be either a very high scoring or extremely low scoring game.
It was definitely an action-packed game for the two adversaries as they squared off with a third-string quarterback in Avrill Nelsoon for the Glads. Randy Hippeard in the pocket for The Predators.
Hippeard connects with Brandon Thompkins for the first strike from Orlando. Not to be outdone, Beavers and The Glads answer right back with a touchdown run from 3 yards letting Orlando know not in our house.
---
---
The scoring went back and forth as The Predators answered back with another and The Glads did the same.
---
---
Above you see Quentin Sims split the defenders and high-steps his way into the end zone. This touchdown brings the score to 42-41 after the point after by Adrian Trevino. The remainder of the half gave possession to The Predators that were unable to capitalize due to the strong defensive play of The Gladiators defensive line.
The 3rd quarter action was just as that in the first half. ollin Taylor and Arvill Nelson connected for a 23 yard pass for the initial strike by The Gladiators. Predators Brandon Thompkins and Kendal Thompkins answer right back with Brandon running back a kick off and Kendal catching a 45 yard pass from Hippeard.
Taylor and the offense get into the end zone one more time before the quarter ends making the score 56-55 Gladiators.
Then trouble found it's way into the game  as The Glads turned the ball over three times without creating any turnovers themselves. Arvill Nelson threw two interceptions and fumbled one as he was marching the team down the field toward goal.
---
---
Despite all efforts The Gladiators were unable to play a solid four quarters of football and that's what it is going to take to win games in arena football.  Joe Powell and Greg Carr had words on more than one occasion during the fourth quarter.
---
---
Even though the score does not reflect it, the defense made goal line stances that would make most NFL teams envious until Hippeard made a 1 yard run to seal the deal 76-56.
---
---
The Gladiators are resting on Saturday as they will return to the team room on Sunday to review film before taking to the practice field to prepare for Jacksonville next Friday.
Stay tuned to allsportscleveland.com and neosportsinsiders.com for all of your updates and all the best Cleveland has to offer. Be sure to like us on Facebook  to get all the Facebook Live action as it happens and follow us on Twitter @neosportsinside. Subscribe to our YouTube channel as well and get pre and post game interviews and behind-the-scenes video updates from all of the events.