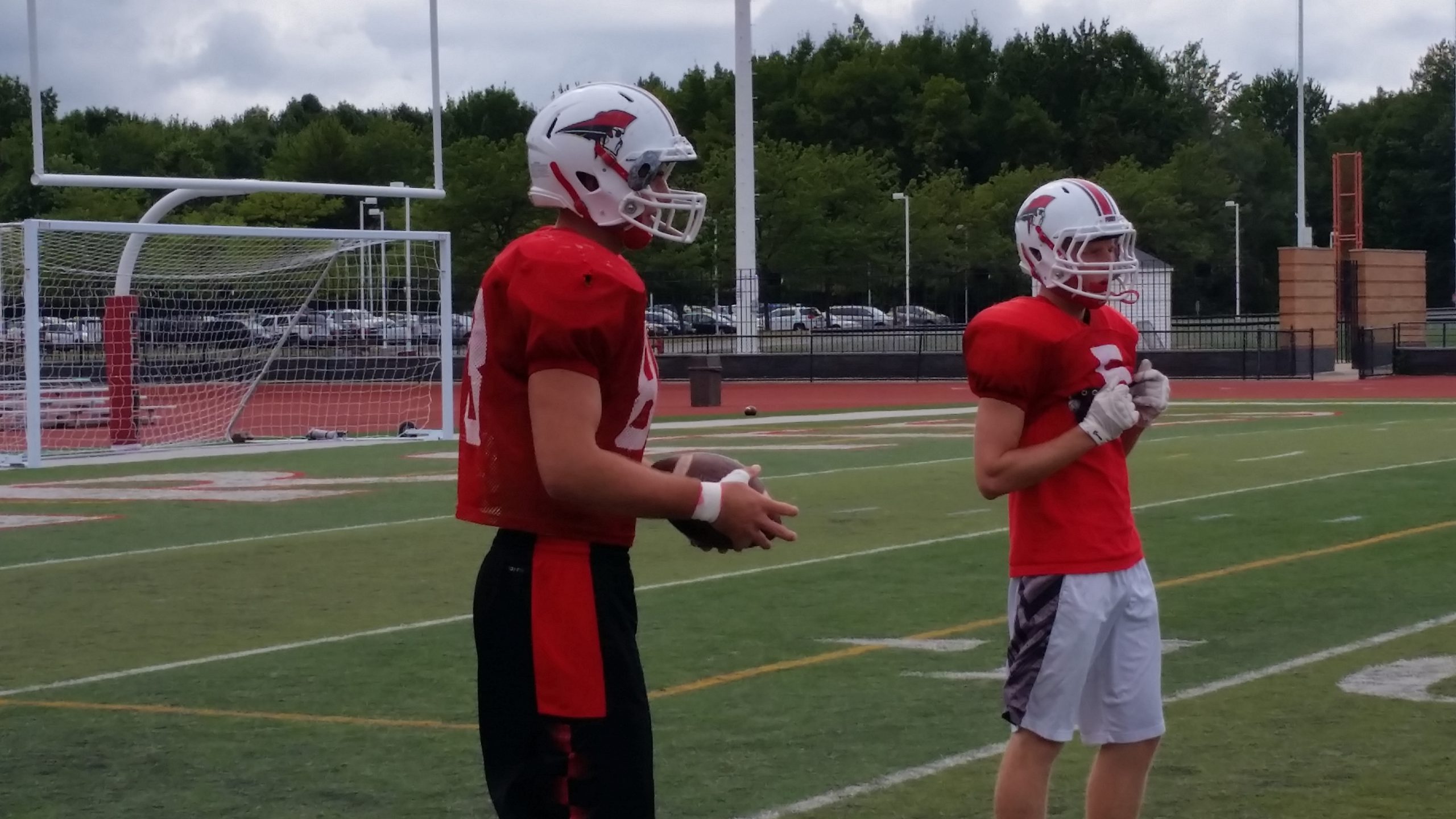 By Scott Piker
The Perry Pirates Football team will look to make their neighborhood rivals, the Madison Blue Streaks, walk the plank for the first time since the 2010 season and win back the "Little Brown Jug" when the two teams meet at Perry Alumni Stadium on Friday night.
The Pirates enter Friday's showdown at 2-0 and are coming off wins at home over Painesville Riverside and at Brush. This will mark the eighth straight season the Pirates and Blue Streaks will battle for the "Little Brown Jug." The rivalry was renewed back in 2008 after a 12-year hiatus following the 1995 season.
The Pirates won the first three meetings between the neighborhood rivals in 2008, 2009 and 2010. The Pirates are now on a four game losing streak in the rivalry. Nothing would be better for head coach Matt Rosati's Pirates than spoiling the Blue Streaks drive for five straight victories in the series.
"We're going to have to be a disciplined team and we're going to have to make plays," Rosati said. "Offensively, we're going to have to take care of the football. Defensively, we're going to have to do a great job tackling. Playing at home we're hoping it's going to be an advantage for us. We're going to have to be tough, we're going to have to gut it out."
Two guys who will have to be key contributors to a Pirates victory are senior tight end Luke Farrell and junior wide receiver Josh Petruccelli.
Farrell hopes to end his high school football career with the "Little Brown Jug" in Perry's possession. At 6′ 6″ and 245 pounds, Farrell is not only only of the best tight ends in Northeast Ohio, but throughout the state and the nation. Farrell has already committed to play football for Urban Meyer and the reigning national champion Ohio State Buckeyes.
With all the pressure of recruiting visits, letters of interest and a final commitment behind him, Farrell can focus on his senior season with the Pirates starting with a win against the hated Blue Streaks.
"It's a big motivation I mean we were close my freshman year even though I didn't play a lot," Farrell said. "We're preparing like crazy to get it (the "Little Brown Jug") back. We have to play very hard, be tough and play fast."
While Friday's game is important for the entire Pirates football team, it's extra special for Petruccelli. The wide receiver will be wearing the home jersey for a second straight meeting in the rivalry.
Last year Petruccelli was a key contributor to a very patient Blue Streaks offense. This year, Petruccelli has traded in the royal blue and snowy white of Madison for the red, white and black of Perry. Nothing would be more satisfying for the junior wide receiver than to get a win against what he calls the team over there.
"It's going to be a lot different playing them," Petruccelli said. "I've played with them all my life so it's going to be different playing on the other side of the ball."
"Josh is a great young man, we really enjoy being around him," Rosati said. "He works very hard he has a great attitude, he's really a super athlete. He's been a lot of fun. We will do anything for Josh. he's one of us now."
On offense, the Pirates will also hope to get plenty of contributions from quarterback Jackson Burdyshaw running back Christian Cooper and wide receivers Andy Foley and D.J. Aultman.
Senior lineback Nick Lauria and junior linebacker Evan Schenk lead the Pirates defense. Farrell also plays on the defensive line and expects to see plenty of opportunities to shut down the Blue Streaks running game.
There is already plenty of hype for Friday's battle with both teams undefeated. Now add the fact that the game is SportsTime Ohio's high school football game of the week and it will be an exciting night of football in Perry, Ohio.
"It just adds to the experience," Rosati said. "We know this is a huge football game for everyone involved so why not bring out the television cameras it deserves it in all honesty. It's a big football game and our kids understand the hoopla behind it. We're looking forward to it, but it doesn't change our approach to anything."
Friday's matchup could have even more television coverage as it is one of four candidates for the game of the week on WJW Fox-8's high school football show, 'Friday Night Touchdown.'
Check out Some Pics of Perry at Practice

NEO Sports Insiders Newsletter
Sign up to receive our NEOSI newsletter, and keep up to date with all the latest Cleveland sports news.